Here's how we did Taipei in a Day…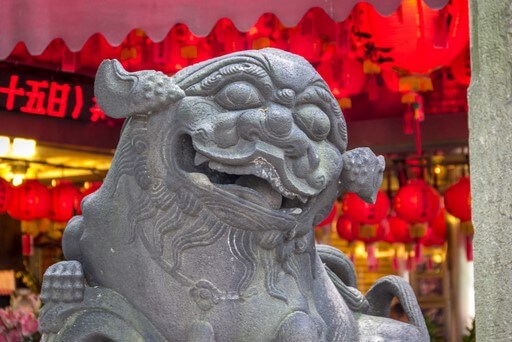 …Or 23 hours to be exact. I normally try to avoid long layovers, especially when I am going to be gone for less than a week. You never want the traveling process to cut into the time you have at your destination… unless of course the process turns into a destination all on its own!
I've wanted to explore Taiwan for a while now, so when I saw that one of my options to fly into Bali included a 23 hour layover in Taipei, I did a little happy dance as I pressed confirm. As it turned out, Shannon and Nathan (whose wedding I was headed to Bali for) were on the same flight. With the same layover. It was meant to be!
With the ticket purchased… it was over to the travel blogs to figure out exactly how much I could cram into a day in Taipei.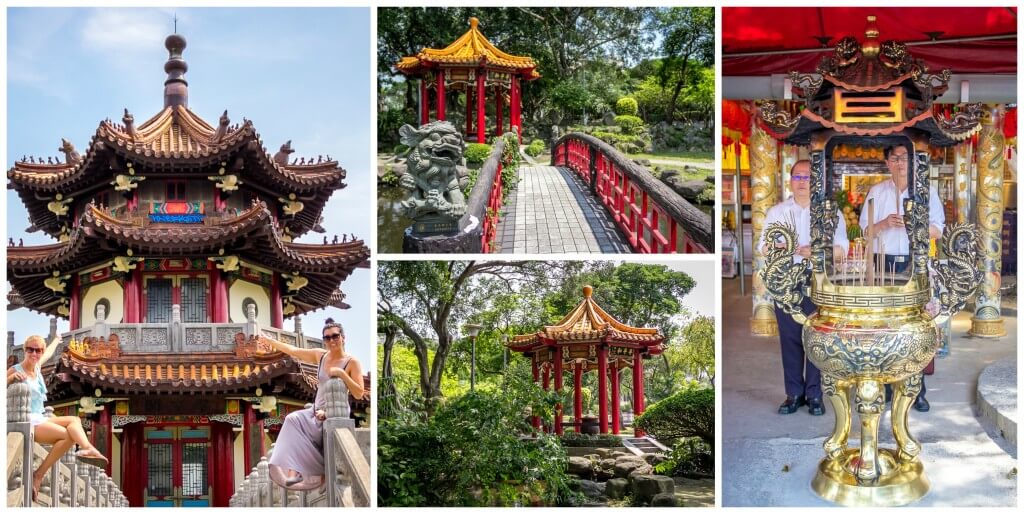 My friend Laura, at InspirationSparks.com had written a 5 day Taiwan Itinerary, so I took some notes from there. My friend Kassie, at Mr. & Mrs. O had given some details and shared fabulous pictures from her trip in a series of articles about her Thanksgiving Trip to Taiwan, so naturally I gathered some inspiration there too. Finally, I just googled 24 hours in Taipei (graciously allowing myself to imagine I had one extra hour) and started making a list in my "Idea Book".
Shannon and I joke about this journal/book thing that I carry everywhere with me as being my "idea book", because generally, as soon as I start writing something in it I come up with a good idea. She likes to tease me about it. I like to believe that it holds all kinds of idea powers. One way or another, it never lets us down.
On our way to Bali I momentarily lost my passport, that will be its own story sometime. But after I found it and my heart rate had returned to normal, I looked at her seriously and said… "At least I had my idea book." She rolled her eyes, but I think deep down she was relieved.
Anyway- Back to Taipei…

It seemed from my notes that the highlights of Taipei, in most people's opinions, were:
Longshan Temple (best at dusk)
Shilin Night Market
National Palace Museum
Maokong Gondola
I used this as inspiration, though as it turned out, our own Top Six Things To Do with a Day in Taipei varied a little bit. Some because we chose it, some because it chose us. Here's what we ended up doing with our day in Taipei:
Our flight landed at 10:15 a.m. We'd already made reservations at the A+ Motel (it may or may not have been a love hotel… we never figured it out for sure, but the private garages under many of the rooms and the lack of a lobby, led us to believe there was a good chance it was.) They didn't ask questions, and they didn't seem to have a problem with three of us sharing a room. Good enough for us.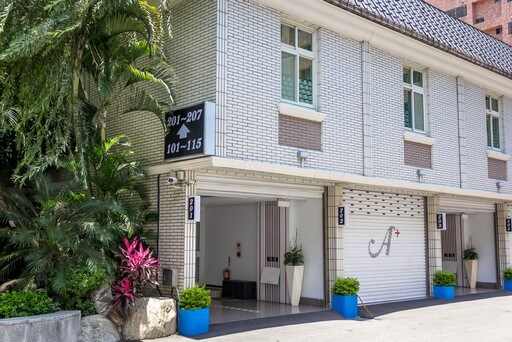 By the time we dropped our things off and found a cab driver to take us back into the city, it was 11:15 a.m.
11:30 a.m. the cab driver dropped us off at 228 Peace Memorial Park (3 Ketagalan Boulevard, Zhongzheng District, Taipei City, Taiwan 100). We walked around for a bit admiring the park and the pagodas. The memorial is a beautiful tribute to the 228 Massacre.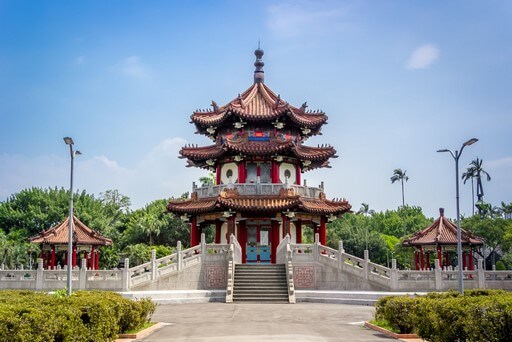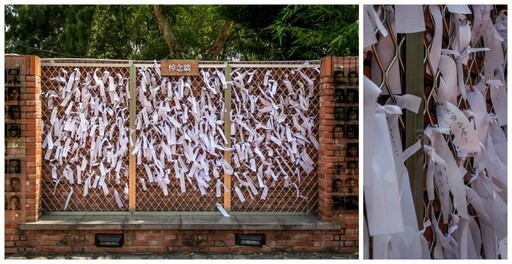 After the park, it was on to the National Museum. On the way I took a moment to throw some coins into a fountain and stand in traffic to snap a pic of the Presidential Office Building. When we arrived at the museum and started climbing the stairs, we noticed we were the only ones trying to go in.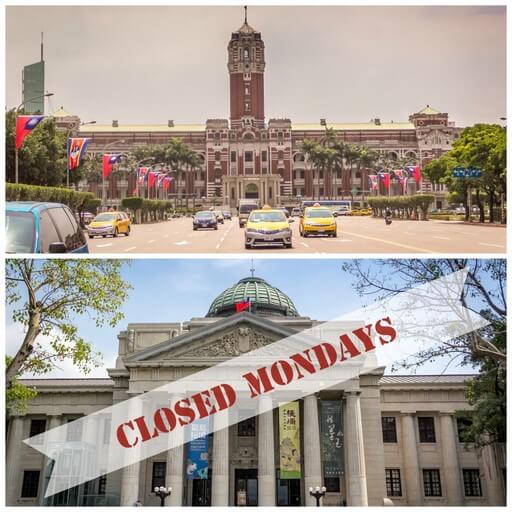 Closed Mondays. Damn. I had not anticipated this and had blocked off several hours for touring the museum. Oh well, we were not going to be discouraged. We still had over 20 hours to fill.
12:00 p.m. I have a love/hate relationship with zoos. Deep down, I kind of love them… But every time I go to a bad zoo I am overwhelmed by how much I hate them and swear I will never go to a zoo again. I go back and forth. Well, on this day, I was secretly thrilled that, with the museum closed, we'd freed up a few hours to check out the Taipei Zoo (also known as the Muzha Zoo), which is the largest zoo in Asia and one of the top conservation centers in the world. I knew I would love this zoo. And I did.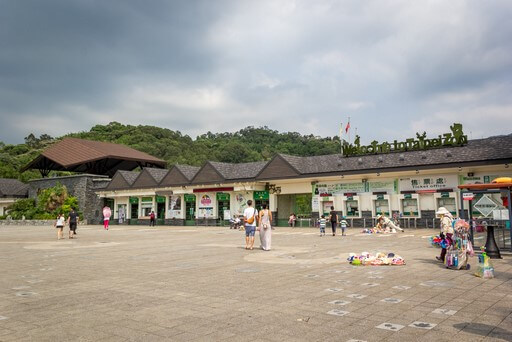 One of the biggest perks of making time to go to the zoo, was that we could ride the MaoKong Gondola, which is located at the same MRT (Mass Rapid Transit System) stop. The gondola cars have glass walls, and if you're lucky, some have glass bottoms as well. As they climb the mountain they provide breathtaking 360 views of the Taipei. I was excited.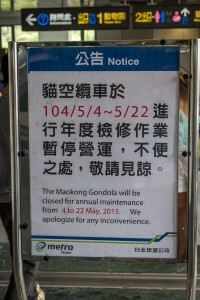 As we got off the MRT, Nathan started laughing. "Looks like the Gondola is closed too," he said, pointing to a prominently displayed sign. The Gondola was closed from May 4 – May 22, 2015 for routine maintenance. I would be coming back through Taipei on May 23, but I didn't think another trip out here was likely. In researching this article I also discovered that even had it not been closed for the month: "In order to keep the system operating safely, the system is closed on Mondays for maintenance except when a national holiday falls on Monday." Damn. Again.
Monday might not be the best day to plan a 23 hour visit t0 Taipei.
Oh well, we still had the zoo. And it was wonderful. I should also mention that entrance was 60 NTD which works out to about 2 USD. Unbelievably cheap as far as zoos go.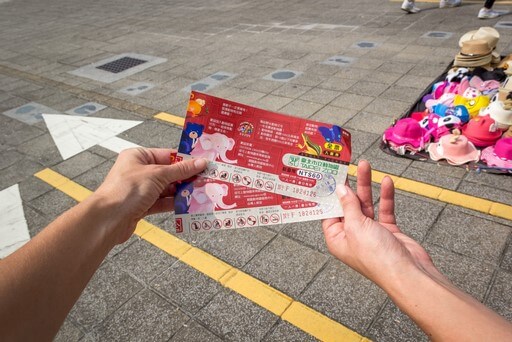 3:30 p.m. We left the zoo and took the MRT back to the city. Our next stop was Taipei 101 (110, Taiwan, 台北市信義區 Section 5, Xinyi Rd, 7號89樓). We took the Brown line to ZhongXiao Fuxing where we transferred to the Blue line and hopped off at Taipei City Hall. We got off and started wandering around looking for a giant building. "We probably need to find one that is about 101 stories high," I informed them. More eye rolling.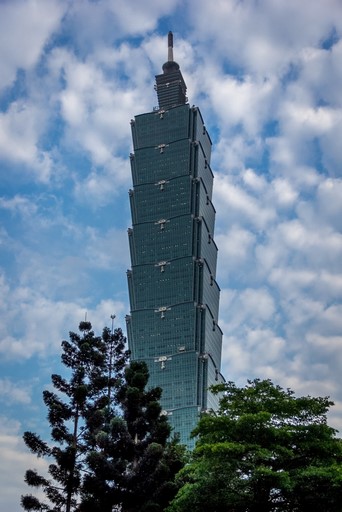 4:15 p.m. we arrived at Taipei 101. It turns out, it would have been a hard building to miss. This "super skyscraper" reaches 508 meters high and was the tallest building in the world from 2004 until 2010. There are 101 floors above ground (hence the name), and 5 more below. We spent our first hour there admiring the mall that takes up the first five floors.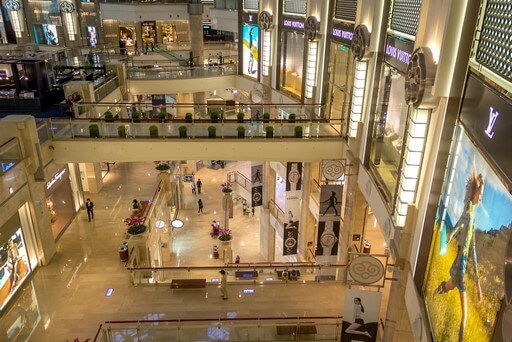 To visit the Taipei 101 Observatory, (which is probably why you came here to begin with) you have to buy a ticket. A regular ticket was going to cost us 500 NTD or 16 USD. The kicker is, you have to wait until your assigned time. The current wait time when we tried to buy our ticket was 3 hours. This is probably no big deal for those with extra time, because you could easily buy a ticket and spend a few hours exploring the shops and restaurants, but we had already spent our allotted browsing time. If we wanted to stick to our schedule, we had less than an hour to get to the top, take some pictures and make our way back.
"Is there any other way?" I asked the lady, wearing a carnation on her lapel.
"You can buy a fast pass for 1000 NTD and go up now," she offered. Done. We gladly handed over the equivalent of 30 USD and went to the front of the 3 hour line. Nice little bonus: for the extra 15 USD you get a keepsake book with tons of information about Taipei 101, a few coupons, and a post card. I was thrilled! (It's the little things.) One more plus about heading to the Observatory when you are on a time crunch: it's the world's fastest elevator, shooting you up 91 floors in 42 seconds. No wasting time getting to the top!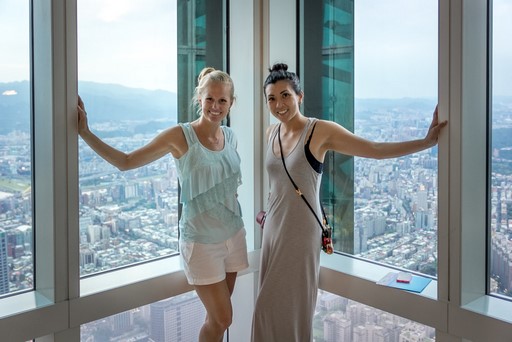 7:00 p.m. We'd heard great things about a jazz club called Brown Sugar (No. 101, Songren Rd, Xinyi District Taipei City, Taiwan 110) from Nathan's sister, and after spending the first half of the day at a zoo, and second half at a luxury mall– we were ready for a drink. Brown Sugar is less than a ten minute walk from Taipei 101 so we headed there next. Unfortunately, the music doesn't really get going until 10 p.m. and although I think they would have accommodated us, given that there was no one else in the lounge, I don't think they were thrilled that we were wearing flip flops. "Shorts okay," the hostess said, "Shoes.. mmmm."
"Daijoubu," I said, forgetting that not all Asian people speak the only Asian language I'm trying to learn. Flustered, I said the only thing I knew how to say in Mandarin: "Xiexie," I ducked my head and walked out. Oh well, at least "thank you" was somewhat appropriate to the situation. Not as appropriate as "daijoubu" or "it's okay" would have been though. Third "damn" of the day. Brown Sugar is a swanky lounge, and while we all agreed it would be nice on a night that we had showered, we decided to seek libations elsewhere.
7:45 p.m. We wanted drinks with a view, so we started asking around on the street: "Rooftop bar? Bar with a View?" The people in Taiwan are extremely helpful, so between my enthusiastic gestures, Shannon's English and Nathan's Japanese– we got the advice to check out the "ATT Phone" building, which apparently had a great rooftop bar. We walked around for a while scanning skyscrapers for the familiar ATT logo to no avail.
After walking in circles for a while, we noticed a big building, with a neon lighted sign that read: " ATT 4 Fun " Ahhhhhhhh. Another lost in translation moment. I have so many of those these days.
Check out the link above for all the details and pics, but I'll give it to you in a nutshell: ATT 4 Fun is at the top of my revisit list, and will be on my recommendation list to anyone who is headed to Taipei. Every floor captivated me in one way or another, but our goal was to get to the rooftop, so I will just focus on that for the purpose of this post. And let me say, when we reached the roof, it was truly the cherry on top of my visit to Taipei.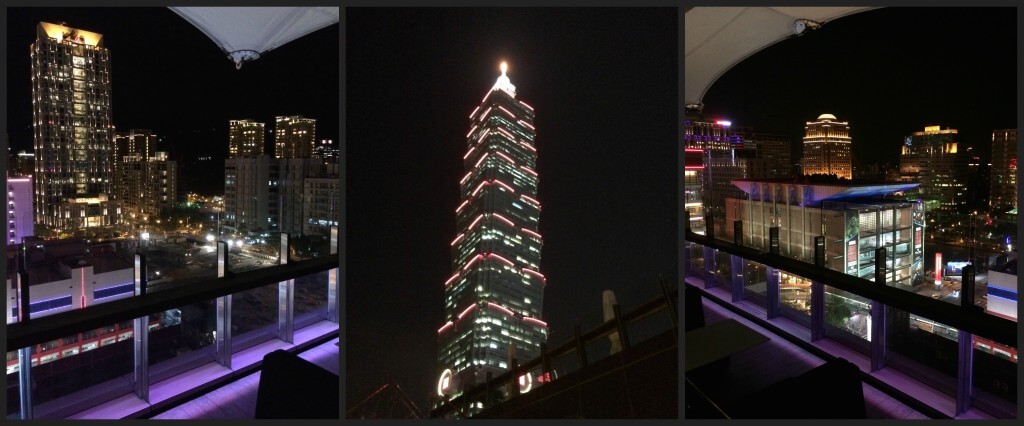 The view from the rooftop bar, Stream, is absolutely breathtaking; the craft cocktails are to-die-for; and the bartenders are true artists. Their showmanship is unbeatable. Although I had hoped to visit Longshan Temple around dusk, this bar was well worth the trade in my opinion. Plus I knew I would still get to visit the Ciyou Temple which is located right outside the gate to the Rahoe St. Night Market.
9:30 p.m. We took a cab from ATT 4 Fun and headed to the Raohe Street Night Market (105, Taiwan, Taipei City, Songshan District, 八德路四段) around 9:30. Although the Shilin Night Market is also supposed to be fantastic, we only had one night and Raohe is an outdoor market that goes up and down one street – (my guess is the street is called Raohe), while Shilin Night Market (from what I had read) is more of an indoor food court/market with lots of side streets that make up the full market. I'd read that Raohe was slightly less touristy and significantly more manageable, but the next time I come back, I will weigh in on Shilin as well.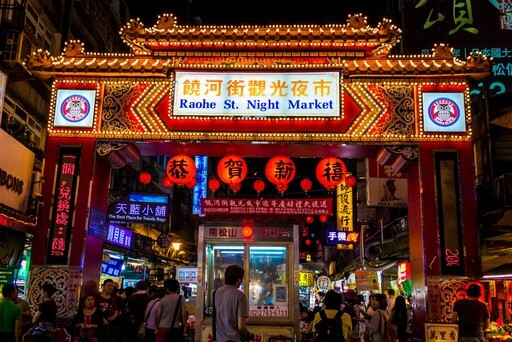 We spent several hours milling the street, buying discounted iphone cords (naturally), looking at all kinds of typical night market wares, and eating everything. Some highlights were: , bao xiao chang, torched beef, bowls of noodles, dim sum, and my absolute favorite: crispy pepper buns (think the most fragrant meat and veggies all wrapped up in a soft delicious bun- not at all what I was expecting), and then there was stinky tofu (because, "when in Taipei…").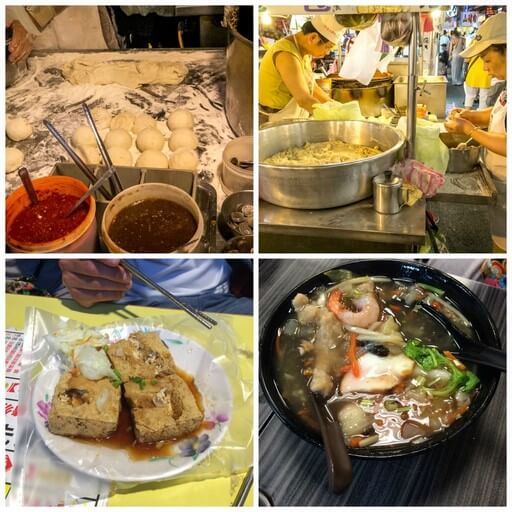 10:45 p.m. When we got to the east gate of the market, I exited the market to check out the Ciyou Temple (No. 761號, Section 4, Bade Rd, Songshan District Taipei City, Taiwan 105.) I know that Longshan is supposed to be one of the most famous temples in the city, and I can't really compare, considering I didn't have time to see it, but I truly did fall in love with this one. Despite the LED ticker lights, and what almost seemed like lottery windows set up on the right side of the building, this temple still completely dazzled me. Considering it's location, literal steps away from the night market gate, I was also surprised that there seemed to be many more worshippers at the temple than tourists (well, except for that blonde chick with her camera –> me).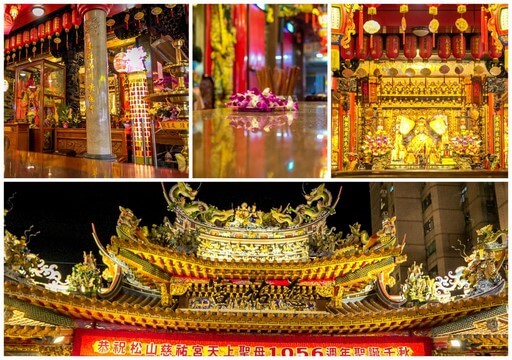 11:15 p.m. After the temple we headed back into the market, heading west this time. The market starts closing up around midnight, but just before we reached the far gate we decided that there would be nothing better than a massage to end this very long day of walking. We passed by several massage parlors and stands, but eventually settled on this one: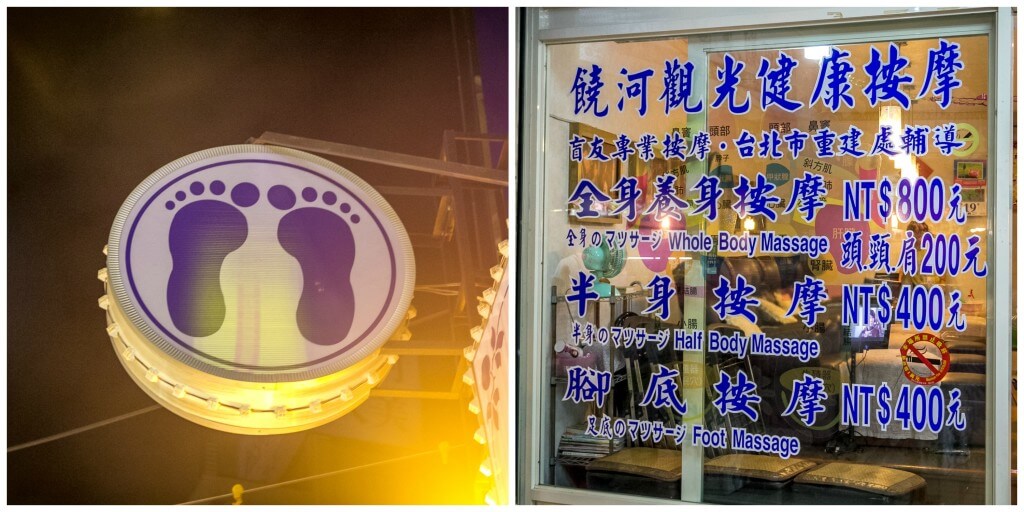 12:00 a.m. I got the best massage of my life. I walked out feeling like a new person. It's possible that if I had an entire week to spend in Taipei this would be the only place I'd visit all seven nights. The only problem with getting massages that were this good, was that we ran out of money wanting more.
Quick Tip: Taipei cab drivers WILL NOT take credit cards, so DO NOT spend all of your money getting massages after midnight. We couldn't find an ATM that would take our cards within walking distance and we had the hardest time communicating to a driver we needed to stop at an ATM. It all worked out in the end and we ended up getting money out while the meter ran.
1:30 a.m. We finally made it back to the A+ hotel, where it took us another 30 minutes to figure out how to turn off the music that played through the t.v. system whenever the power to the room was turned on (and we needed AC). By the time we had showered and finally made it to bed, we slept the exhausted sleep of three tourists who had spent a very thorough Day in Taipei. Well… until 6:00 a.m. when our taxi picked us up to head back to the airport for our 9:00 a.m. flight to Bali.