It may be only because I am coming from Okinawa that I got so excited about ATT 4 Fun, but let me tell you… I loved this place! Oki sidenote: We just got our first real mall in Okinawa a few months ago and people (no judgment, I'm included in this number) have been thrilled to have four stores in particular: Gap, American Eagle, Forever 21 and Old Navy. That's right folks, it's 1997 here in Okinawa and people are actually taking selfies with the Old Navy sign. That is how much shopping is a problem here. So Taiwan was a welcome change!
Anyway, we'd been touring the city by foot all day and had just left Taipei 101. If anything could whet your appetite for shopping, it's Taipei 101. But the reality of my life is: Dior = window shopping. So I was unlikely to do any real damage while I was drooling over the catwalks of Taipei 101. However, ATT 4 Fun is another story entirely.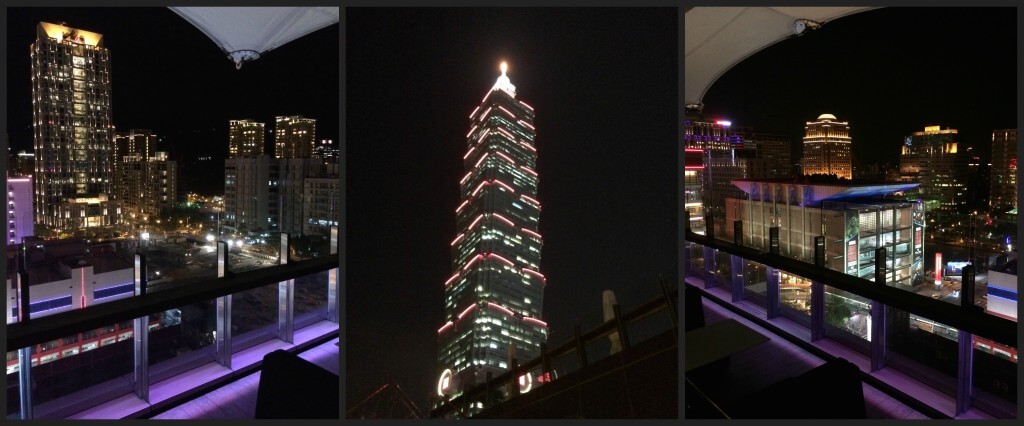 We'd decided we wanted drinks with a view. I googled the best rooftop bar in Taipei, but kept coming up empty, so we decided to do it the old fashioned way: ask. Several people had told us there was a good rooftop bar in the ATT Phone building, so we searched the skyscrapers for the familiar ATT logo. Again I turned to google. No luck. Finally we noticed neon lights blazing across the side of a giant building "ATT 4 Fun". Ohhhhh.
We walked in and started our way up the maze of escalators when Shannon and I stopped in our tracks… Zara. Again, I blame our incredibly limited shopping options in Okinawa for our intense interest in a shop that I used to walk by on my way to work every day. We had promised Nathan we weren't in the mood to shop, we had every intention of going straight to the bar, but it couldn't be helped. Just when I thought life couldn't get any better… Zara Home. We were on a strict time schedule, with only 23 hours to spend in Taipei, so after browsing briefly, we forced ourselves to continue up to the rooftop.
On the way up there are hundreds of distractions, including an entire Wonderland themed floor. I mean really, for a girl whose blog is called Wonderland, how am I supposed to resist such things?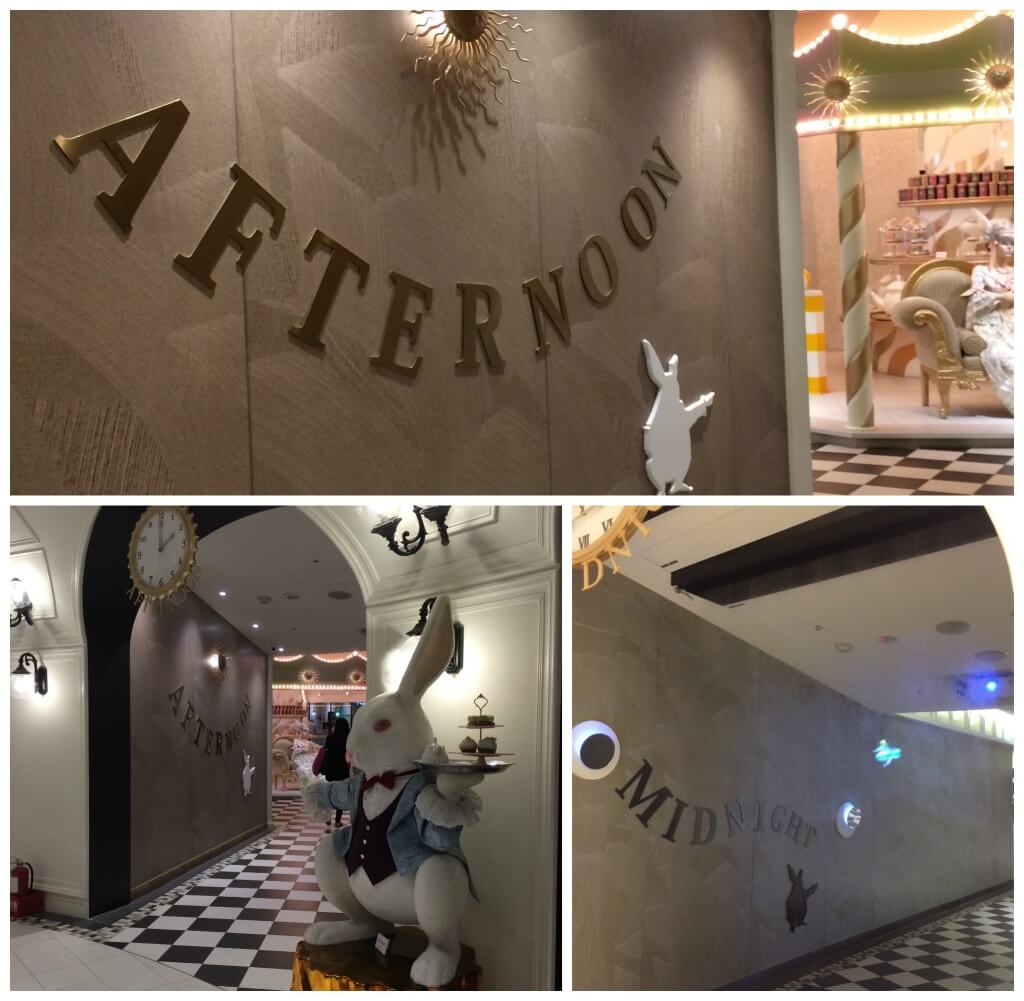 I walked through a mist that had scenes of wonderland projected on it, begging Shannon to quickly snap a few photos. We're late, we're late! I kept thinking as I watched Nathan holding the door to the escalator. How very fitting.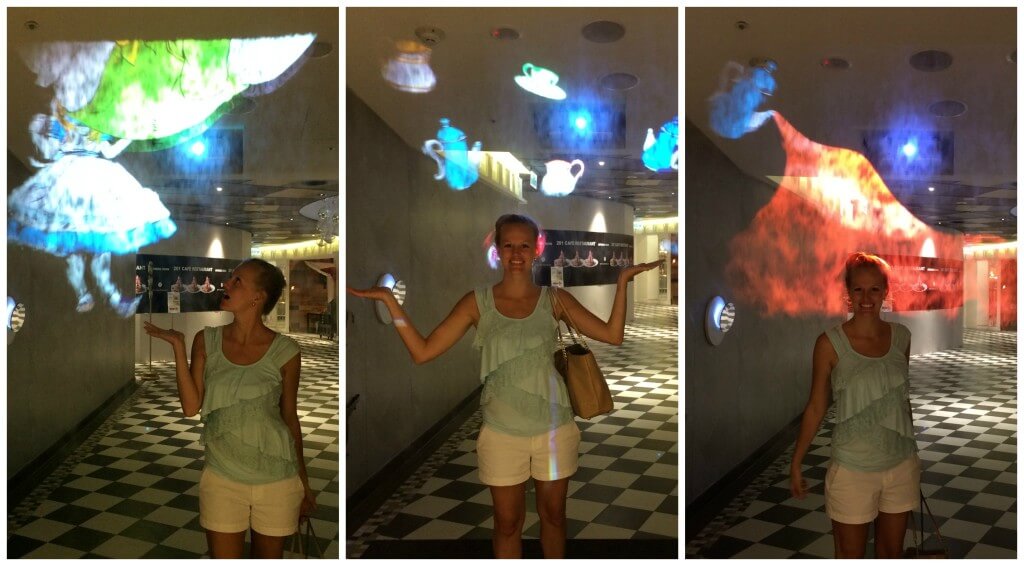 I could have gone completely mad, finding myself in wonderland… but alas a few floors above me the best rooftop bar in Taipei was just waiting for. I got in the elevator and promised: no more distractions!
The rooftop bar Stream Restaurant & Lounge (10, Taiwan, Taipei City, Xinyi District, Songshou Rd, 12號10F) turns into more of a club at night, when they open the balcony and the lasers get going. However, around 8 p.m. this place was just my speed.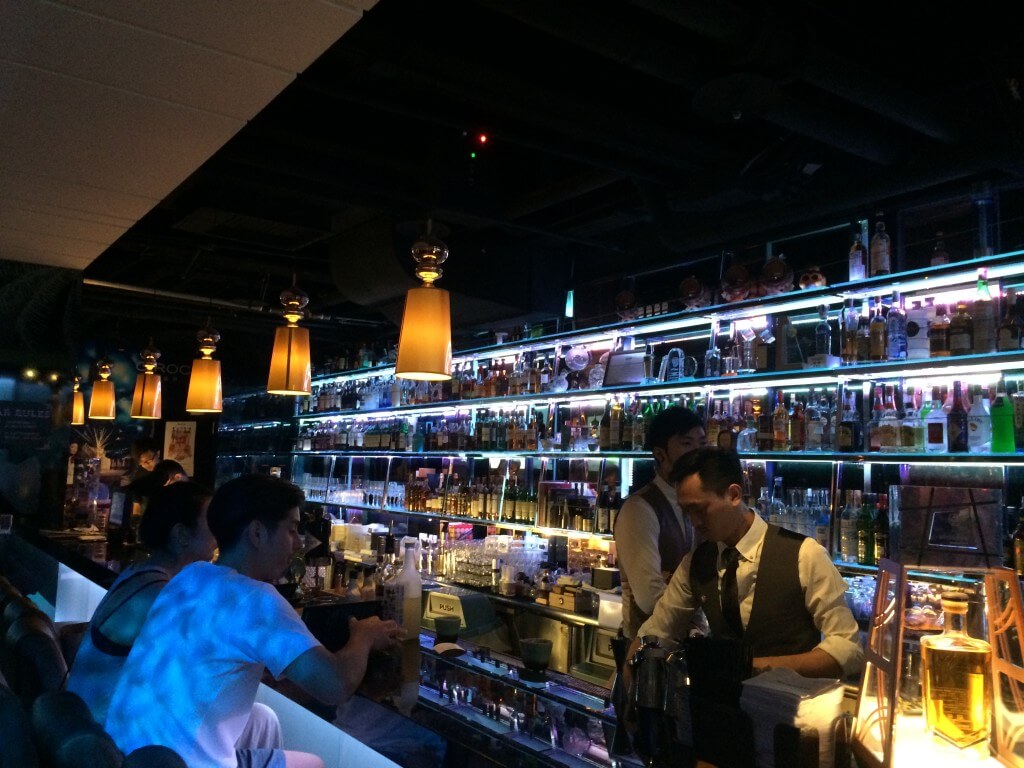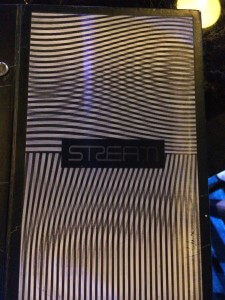 We sat at the bar, and the bartenders dazzled us from the moment we arrived. They provided us with an English menu full of craft cocktails that ranged from pretty traditional to completely novel. They were organized by region, and I was feeling pretty daring so I pointed at one I'd never heard of listed in the Eastern section.
We watched for about 15 minutes as one of the bartenders measured Rhubarb Bitters, Plum Liqueur, Muscat, a touch of Peroni… and kept wondering, what was he concocting? Was it mine? Was it for one of the tables? He brewed tea, lit something on fire, grated something else. It all just kept going into the same drink. And then… he reached for a green bottle, unmistakeable to any who have ever over indulged in the green fairy. "Please don't be mine, please don't be mine," I said aloud. Nathan grimaced and nodded his understanding. "You too, huh?" "Oh yeah… only once." "It's always only once with that stuff."
drop.drop.drop.
Into the strange tea cup concoction it went. By the time he added cloves to the mix I was pretty sure I could never accurately describe the drink again, so I quickly wrote down all the ingredients we had seen him add. I'm still not sure what else was in there. But when he finally set the drink down in front of me… I couldn't help but be impressed. It was interesting, and it was potent. It was well worth the 9USD just for the experience of watching him make it, but I couldn't stomach it. Even those few drops of absinthe were too much for me.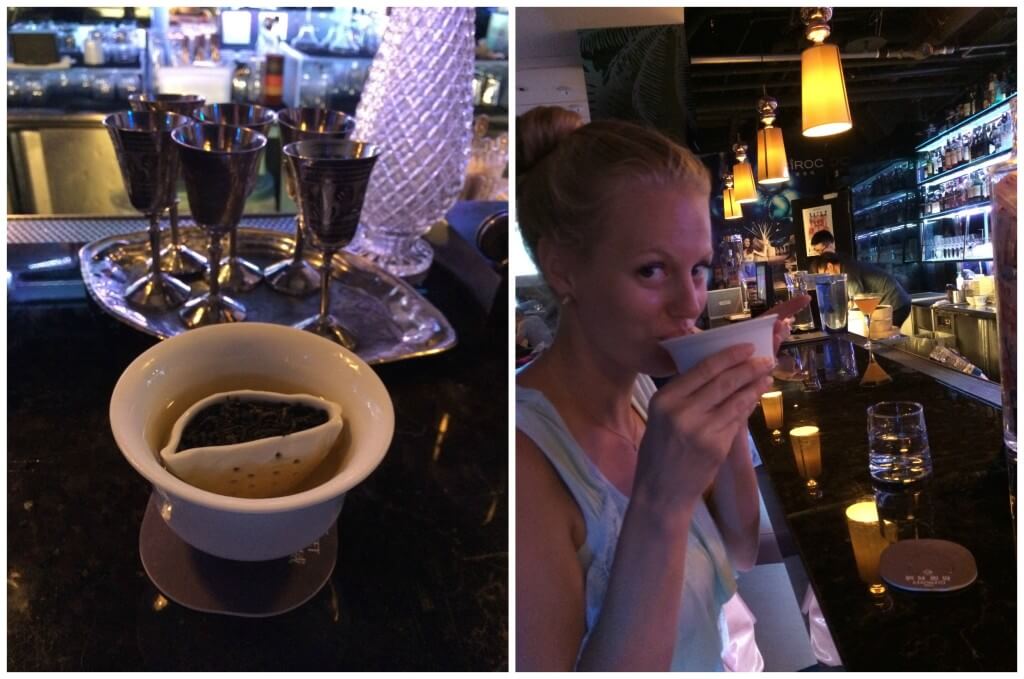 The lounge is just nice enough to feel like it's worth the price of the drinks, but still casual enough that we were okay in shorts. I'm guessing, however, that the dress code changes dramatically as it gets later. Around 10 p.m. they open the outdoor club, the lights go down, and the lasers go up. You're probably more likely to find stilettos than sandals at that point. But whether you are looking for a party or just a spot to have a cocktail with a view, this rooftop bar shouldn't be missed.
We only stayed for two drinks, because the night market was next on our list, but if I ever return to Taipei, ATT 4 Fun is at the top of my re-visit list. Even if it's just to get lost in wonderland again.