After we had washed away the dust of our first safari day in Tarangire (and basked in the awesomeness of our tent for a while), we got dressed and met Pauline for a more thorough tour of the Chem Chem lodge. I was especially charmed by the library. I'd almost put money on it that if ten-year-old Mindy had ever set foot in that library, complete with globes, maps, charts and a magnifying glass… I would have pursued a career in wildlife management, just with the hope that someday I could work there.
We took a seat out by the fire pit, and Peter instantly materialized with two glasses of wine and a small plate of banana chips and roasted cashews. We sat under the African stars, sipping wine, snacking on the worlds best cashews and exclaiming again and again that we couldn't believe this was our life.

"Your table is ready," Peter said, escorting us to a private table, surrounded by candles that had been set up next to a crackling fire. Even the napkin rings were exquisite. We started with beef tartar and quail eggs, followed by chicken ballotine. Dessert was some of the best tiramisu I have ever tasted.
Our guard escorted us back to our room that evening and, knowing we were in good hands, I silently prayed for a lion sighting. There wasn't one.
I was up before the sun the following morning (which almost never happens) and sat outside on the daybed, quietly watching the moon and stars. Tanzania is even beautiful in the dark. When the sky finally started warming up, I went in and woke Dane. We were still here. This was still our life. I thought he'd be happy to know it wasn't all a dream.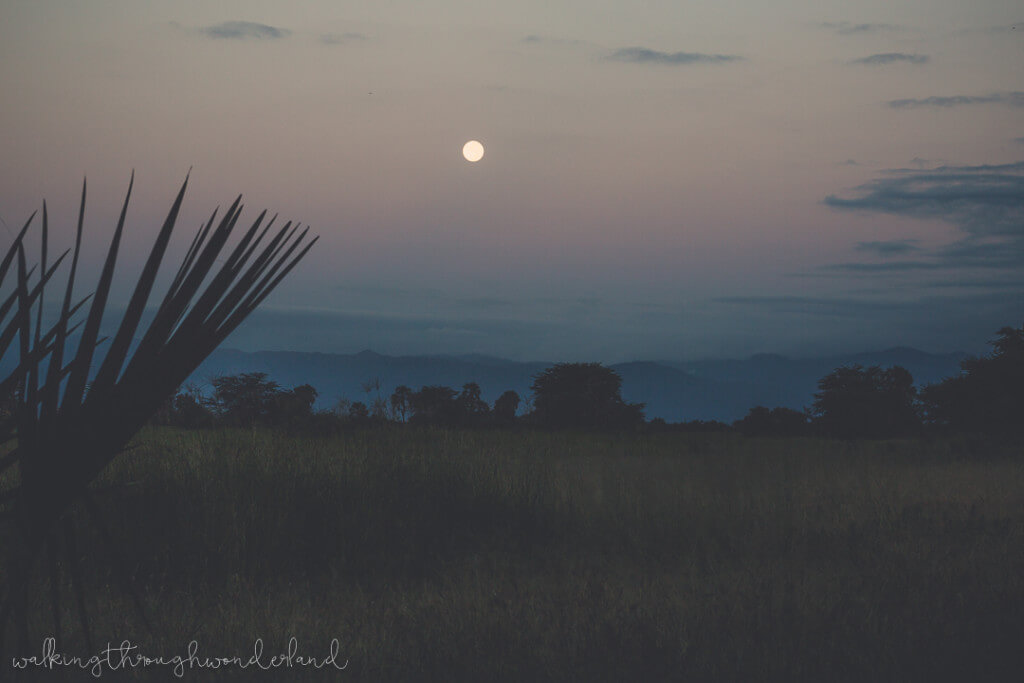 Breakfast at Chem Chem is an event. Again we had the entire place to ourselves, spare Mongoo the mongoose who snuggled on our feet and tried to crawl up Dane's pant leg.

We filled ourselves on croissants, fruit, dried figs, meat, cheese and biscuits from the buffet. Just as I told Dane I couldn't eat another bite, Peter walked out with the breakfast menu. Ummm, what? "That wasn't breakfast?" I asked him, shocked. "No, no," he smiled. "Just the appetizer." Dane ordered the breakfast burrito and green smoothie. I said I'd just have a bite of his, but made a mental note to self to save room the next morning.
We spent the day on safari again with Gaudence, this time in Lake Manyara National Park, but before we left, Pauline reminded him to have us home around 4 p.m. "We have a very special surprise for you," she whispered to me as she put our packed lunches into the 4×4.
If this is how the "other half" lives, I could get used to it. Now let's fast forward past the safari. The next two posts are all about our Lake Manyara Safari Day, but this post is all about Chem Chem sweeping us away.
After a long and wonderfully fulfilling safari day, we arrived back at Chem Chem. Again, the whole staff was waiting for us outside. Accompanying them today, was a Masaai tracker and a new guide we hadn't met yet. We were late and I'd spent half the drive back worrying that we were going to miss our "surprise", but Pauline immediately put me at ease. "You only missed the bush walk, but the best is yet to come," she said. We hurried off to change and then raced back to jump into a new open 4×4.
Off we drove, into the sunset, on what would turn out to be the best, and most "bachelor-worthy" date <- read that post for all of the details) of my life.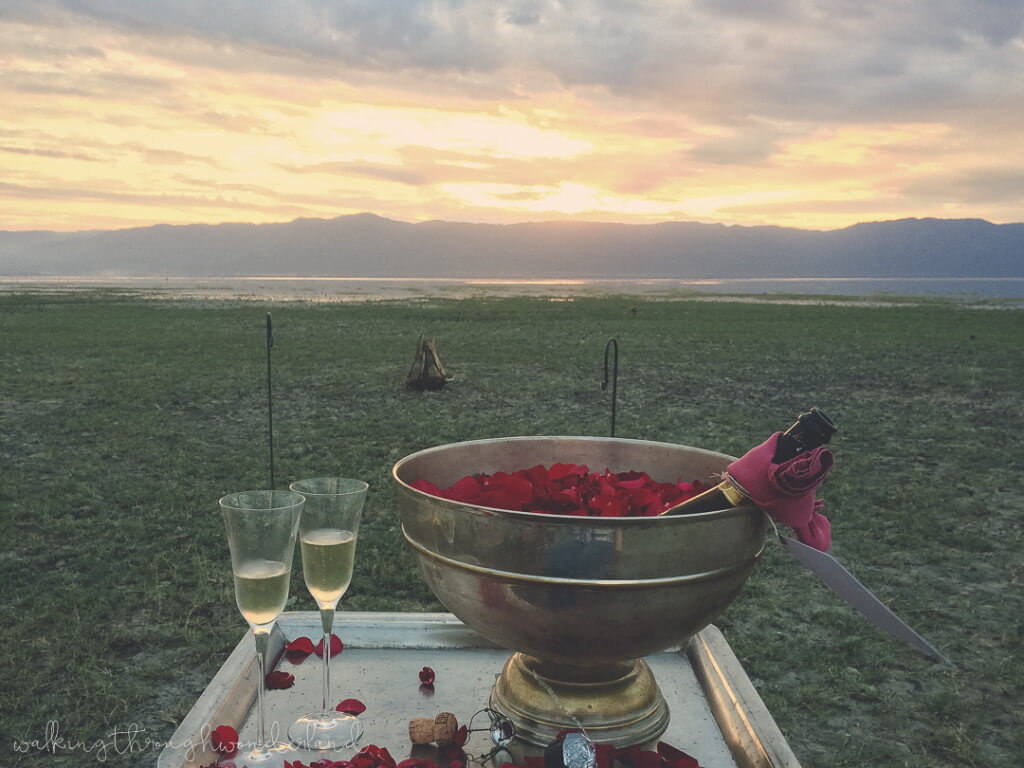 After sipping champagne while the sun set on a flamingo-covered Lake Manyara, we returned to Chem Chem, hours later than they had expected us for dinner. I'd completely forgotten about dinner in the wake of all the romance.
Pauline led us down a candle lined path for yet another surprise. No one is worthy of the attention they shower you with at Chem Chem Safari Lodge. We followed her lantern toward a giant wall of candles with another private table set for two. Upon closer examination, the "wall" was a ten-foot termite mound, which someone had expertly carved to hold beautifully glowing candles. After all, my friends, this is Africa.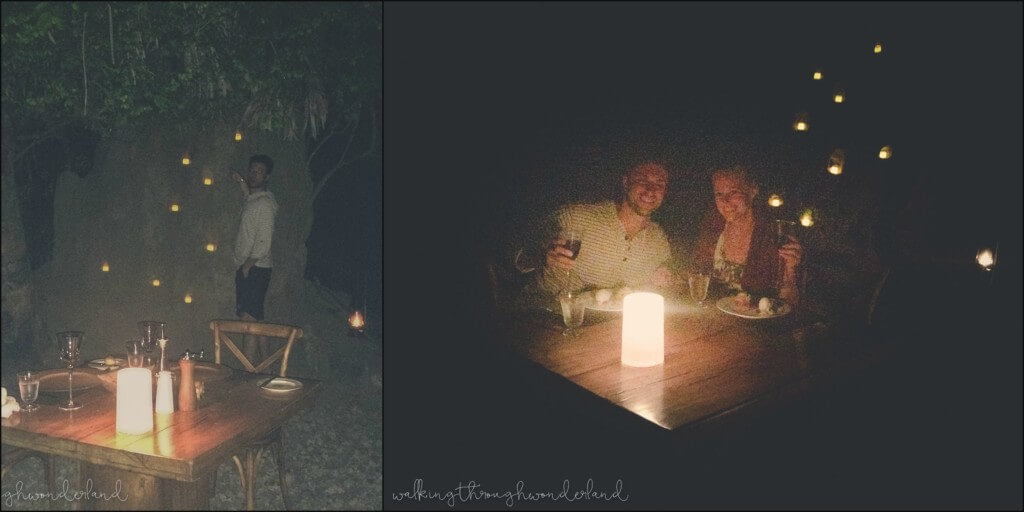 (I only had my cell phone with me at this point so- go figure- the photos didn't come out quite as well as a photo I later found on the Chem Chem website, so I decided to bend my own rules and include a photo I didn't take. But trust me, in person… it was even more beautiful than this! Click on the photo to go to the Chem Chem Gallery of photos- it's worth it!)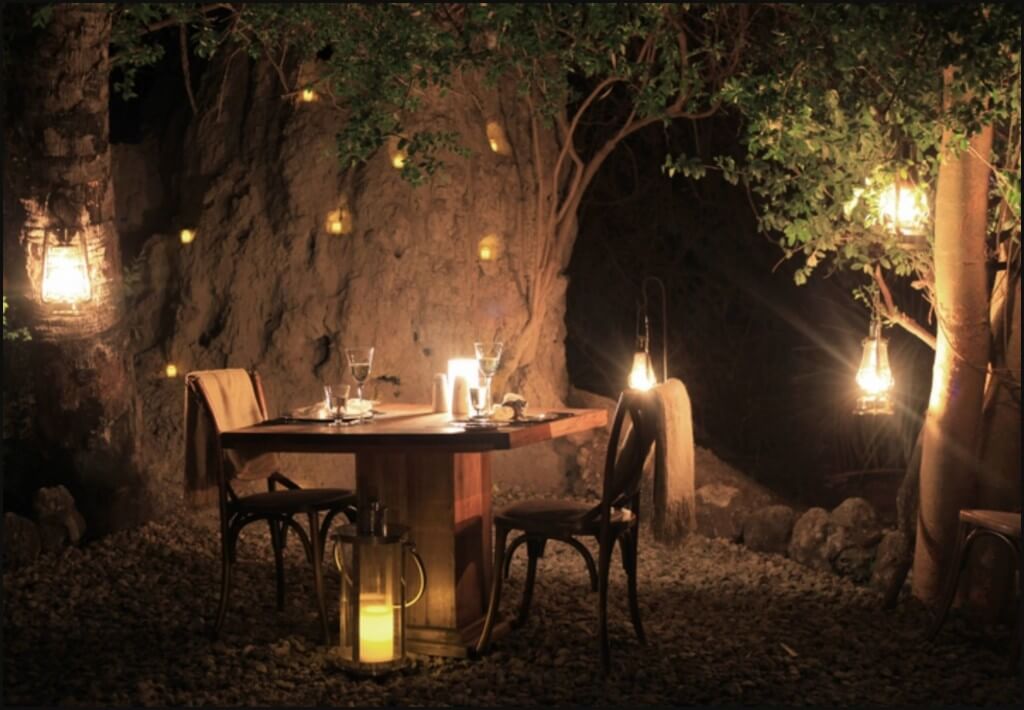 We dined on french onion tarts and a mushroom and rosemary bread pudding. Dessert was an apple cake with vanilla ice cream and of course, Peter never let our wine glasses go below the half way point. The glass is always more than half full at Chem Chem.
We retired to our tent that night, escorted by our guard (naturally). Dane walked into the tent first and I just heard him say, "You have got to be kidding!" There was a silver vase filled with at least 3 dozen red roses. Our slippers were surrounded by a heart of petals. Rose petals covered the bed and filled the bubbly tub. It was the kind of ending to the kind of day that you only find on over-the-top shows like The Bachelor, and apparently… in real life at Chem Chem. Welcome to the fantasy suite.