We've done the over-the-top romantic dating thing. On one of our first dates, Dane rented a plane to fly me across the state for lunch (we'd been talking about doing that for years). But even with the plane date on the books, this date in Tanzania was the most bachelor-worthy date (yeah, I'm referring to the t.v. show) Of. My. Life.
We left the Chem Chem lodge and drove off into the African sunset, just: me, my husband, a masaai tracker, and Olais, our trusty guide. Sound romantic yet?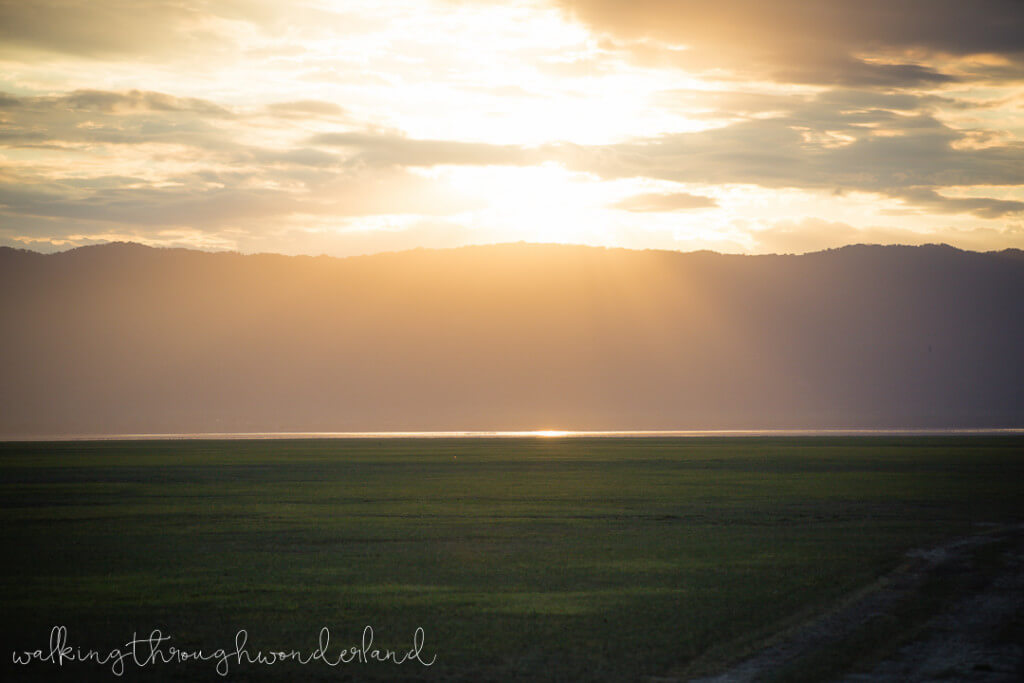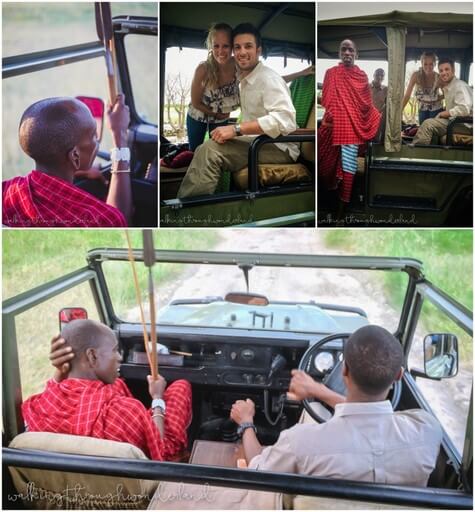 First we saw an ostrich. "Do you want to get close?" Olais asked us. Is that even a question!?! Of course we did! So we got close. Really close. The ostrich ran and we followed him. After a minute or so, he decided that we were more a nuisance than a threat and stopped running. We snapped a few pictures and moved on.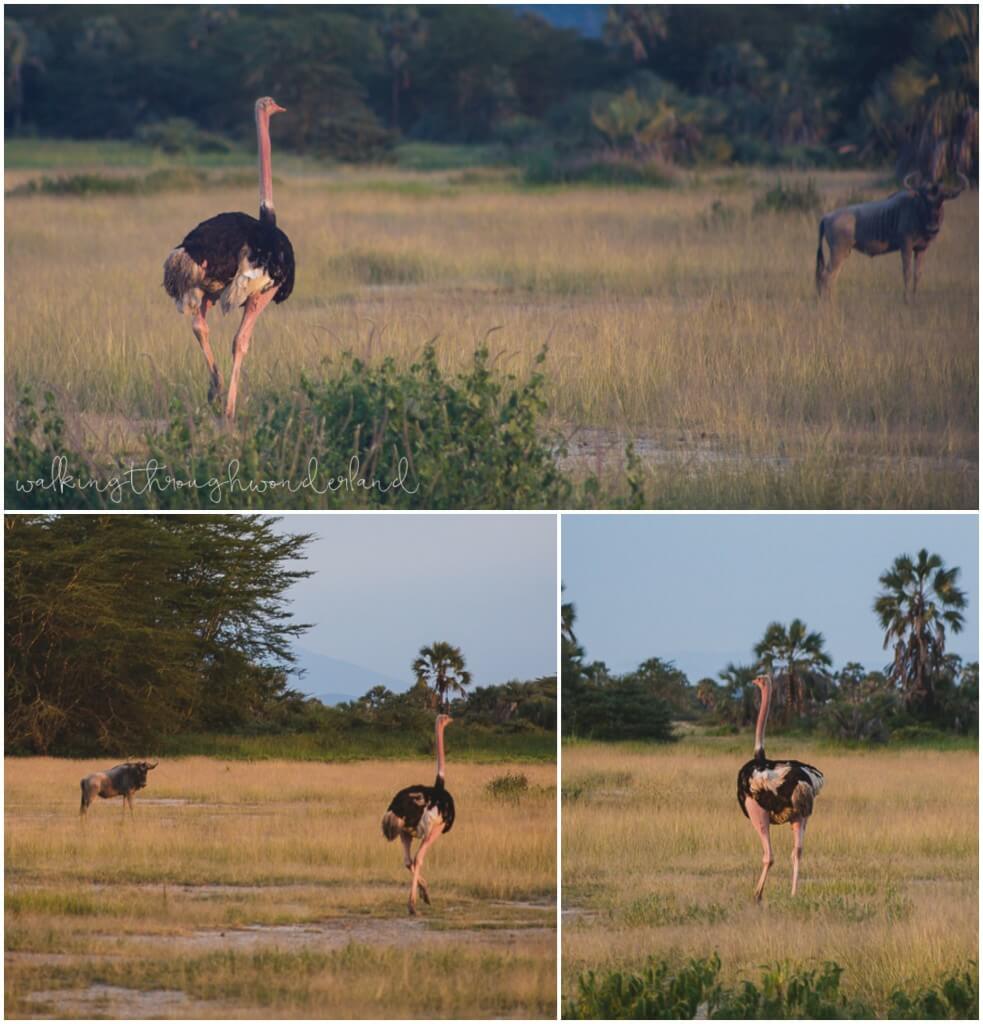 We also came across a herd of water buffalo and spotted an African fish eagle which looks remarkably like a bald eagle.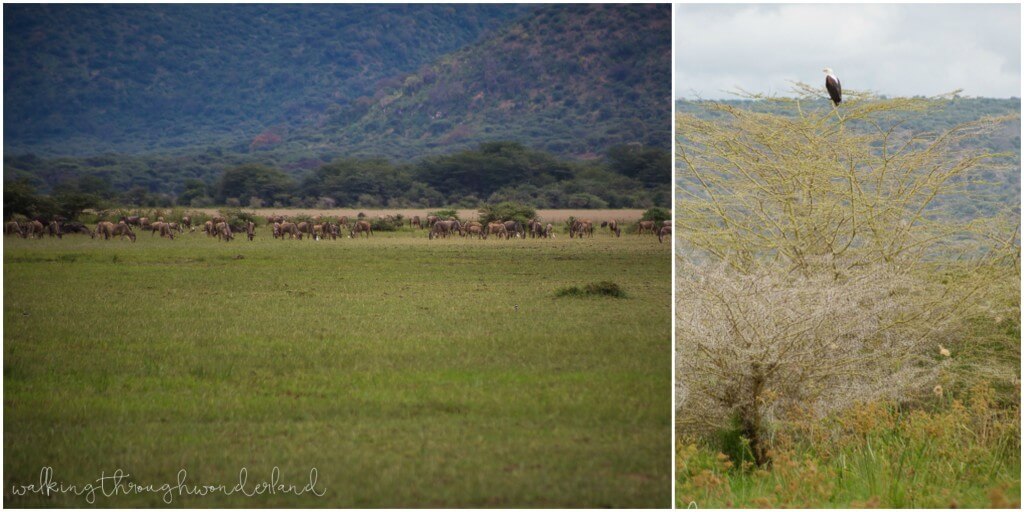 As we drove, Lake Manyara came into view. We continued toward it and I noticed for the first time that there was a cooler between the two front seats. I silently patted myself on the back for having put this together. Lakefront sunset drinks- a marvelous surprise!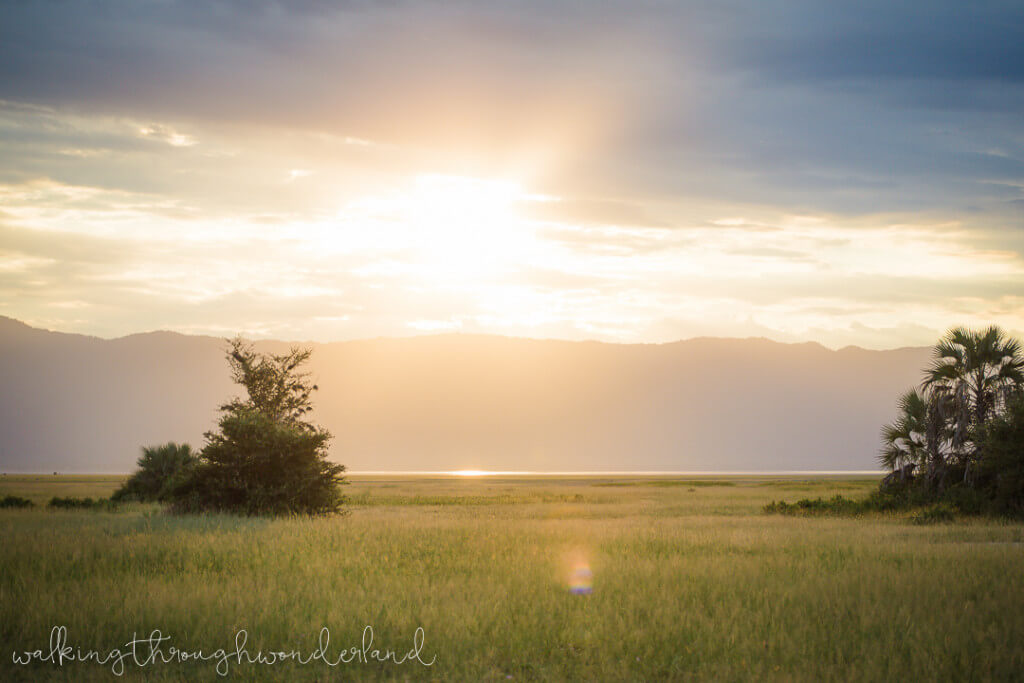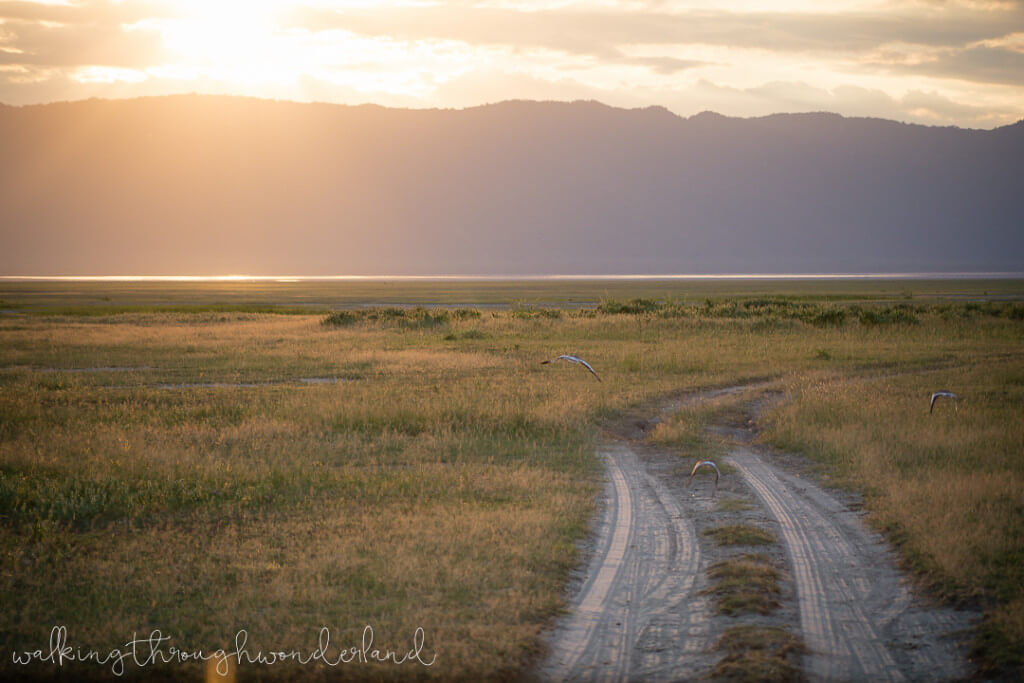 The plains were vast and completely empty for miles and miles except for one lone jeep off in the distance. From afar the lake looked blanketed in white. As we neared, it took on an almost pink hue. If you look at the picture below you will see there is almost a pink line that goes straight across.
"Are those flamingoes?" I asked incredulously. The lake was covered by hundreds, maybe thousands of flamingos. "You are welcome," Olais answered smiling. We took a turn and drove along the lake's edge, heading in the direction of the other jeep.
"Damn," I thought. "All this empty space and we are headed toward the only other people on the lake." I had to remind myself that this was a reserve and perhaps there was only a certain amount of space people could occupy. But then as we got closer, I recognized Peter's familiar frame standing with several other men. I looked from Peter to the Jeep to the chairs set up facing the sunset as we neared and tears flooded my eyes.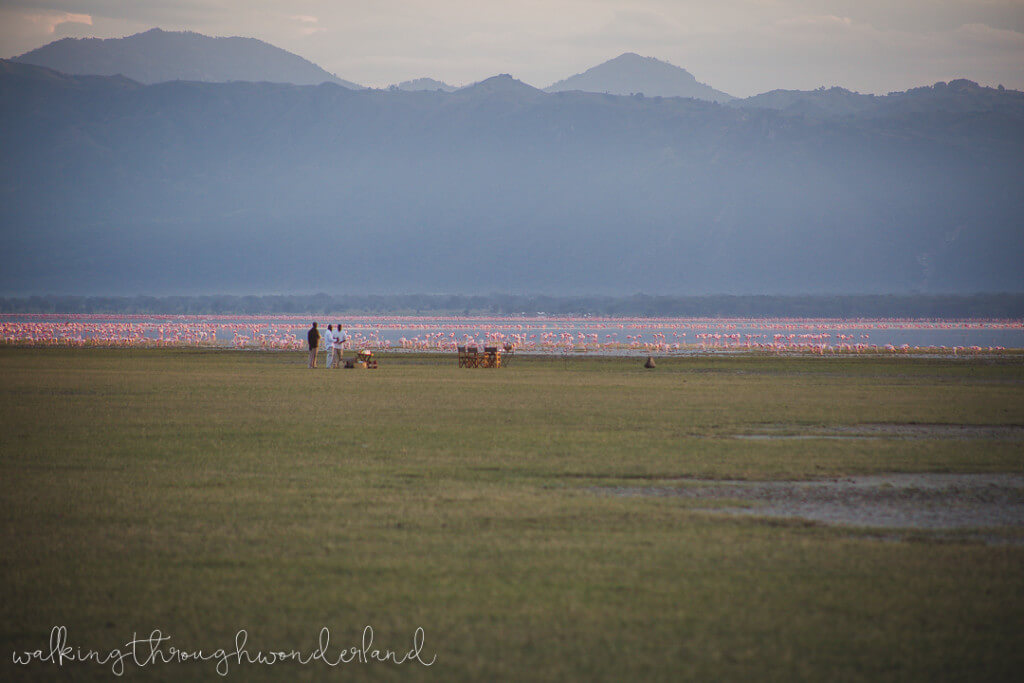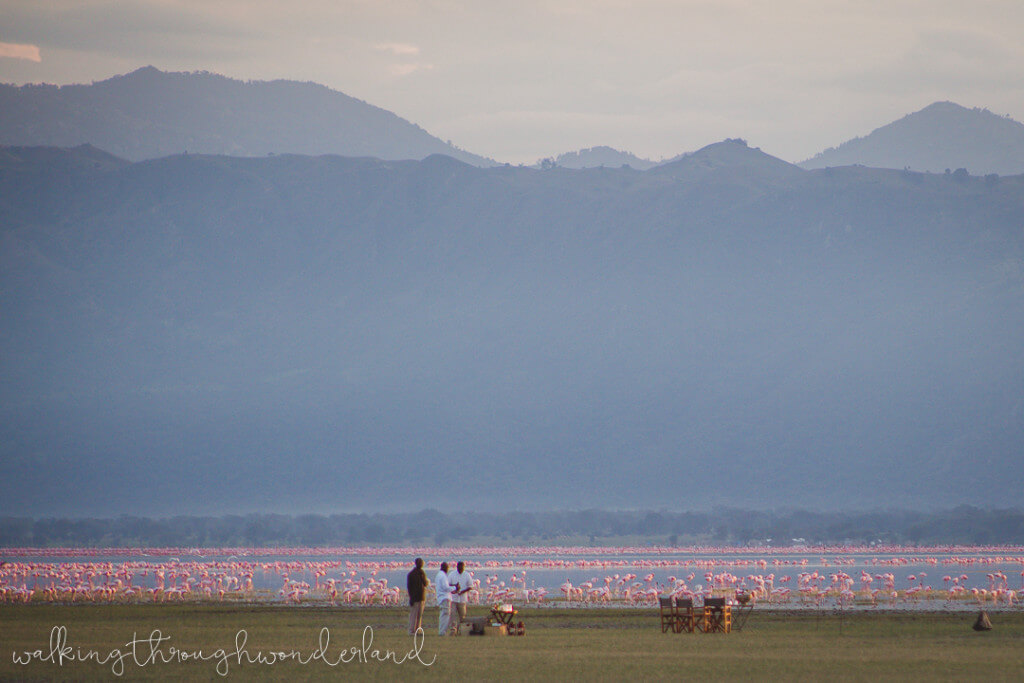 Rose petals covered the earth. Three chairs sat on top of a rolled out rug. A small wooden table held our favorite appetizers. A bronze champagne bucket was filled with rose petals, and a bottle sat chilling in the middle of it.
"Is this for us?" I asked, as Peter took my hand to help me down from the 4×4. (It would have been a terrible surprise if it wasn't, so luckily, he nodded.)
"You are welcome," he smiled. I couldn't keep the tears from spilling down my face so I embraced him. It just felt right in the moment and I didn't know what else to do.
I stepped back. All five men looked at me, bemused by my emotion. "I'm sure this happens all the time, right?" I choked out. "I mean… people must always cry when you do something like this …"
"Um, no actually," Peter said shaking his head. "This is the first time," Olais added. "But it is wonderful."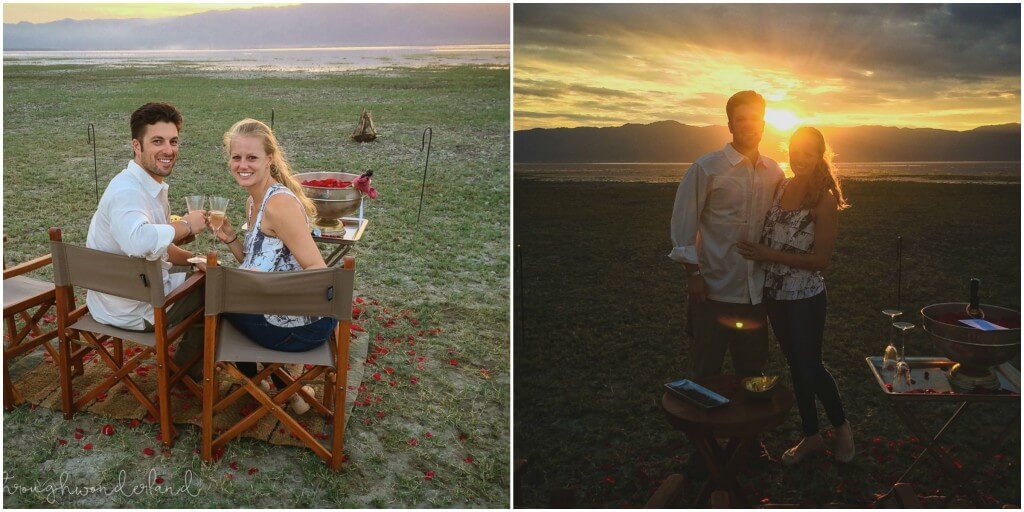 Dane and I popped the champagne and I scampered off to find the cork. If there's ever been a cork worth holding on to- it's the one from this very bachelor-worthy date. "Haven't we basically seen this date in an episode before?" I asked him. (I guess at this point I have to cop up to the fact that the show is one of our guilty pleasures. We love watching together! Sorry, Dane.) We had. We were basically living an even better version of Brad's season- plus we got to spend every date together!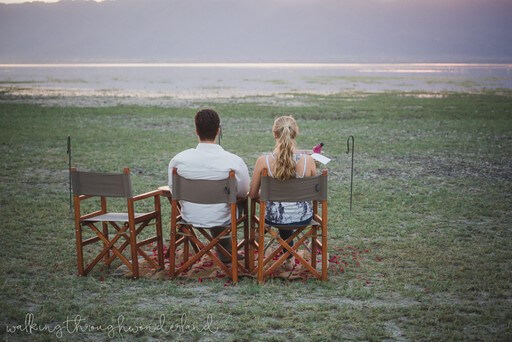 We sat arm in arm watching the sunset. Peter approached and asked if we would like anything else to drink. He'd brought a bottle of the wine we'd ordered at dinner the night before in addition to a pretty well stocked bar. Of course he had. Perfect Peter. After the sun sank down, he lit lanterns around us and built a small fire.
We invited Olais to join us and he charmed us for hours with his knowledge of this beautiful land and the animals that inhabit it. Although we knew we should go back to Chem Chem, I found myself continuing to ask him questions, genuinely interested in his answers and wishing the night could last forever.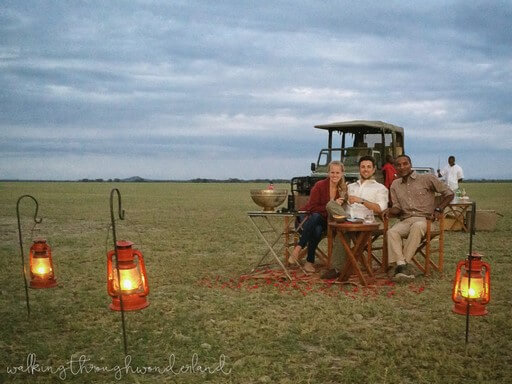 With our last sips of champagne, Dane and I shared one last little toast to this adventure and all of the adventures that will come, but mostly…to Africa.