I love baby elephants. Actually the baby version of almost anything is infinitely cuter to me than the adult versions. (Likely why I ended up with a perma-puppy.) While we were in Tarangire we saw the most darling baby elephant, but on our Lake Manyara safari, we saw one even smaller.
I know I should have been taking pictures of all of the elephants equally. When I was a kid I rotated which stuffed animal slept with me so I wouldn't hurt any of their feelings. But as I snapped picture after picture of the little guy I wanted to tell the others… it's not that you aren't cute, it's just that, well, he's cuter. Good intentions aside, I just couldn't pull my lens away from this itty bitty guy with his itty bitty trunk and his itty bitty ears.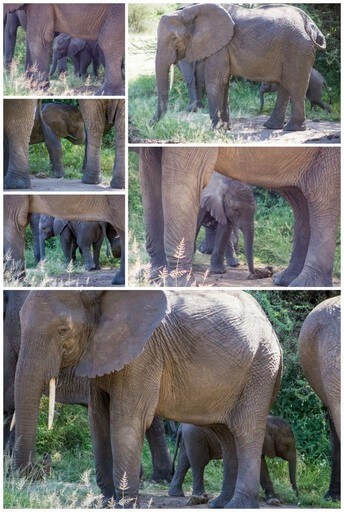 A bit later we came across another herd with yet another little guy. We were hitting the Tanzania baby elephant jackpot.
This little man, just like the ones we had seen before, was constantly surrounded by the larger elephants. I loved watching them fawn over him, constantly petting him with their trunks and swatting flies away from him with their tails. I felt like I could see him smiling as he basked in the attention. They kept themselves circled around him always facing out. Nothing, and I mean nothing was coming near that little one.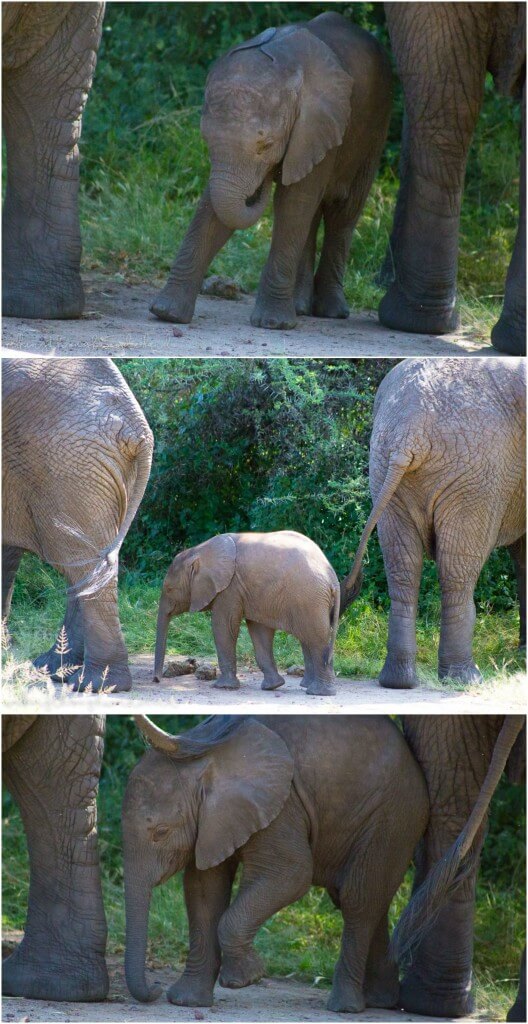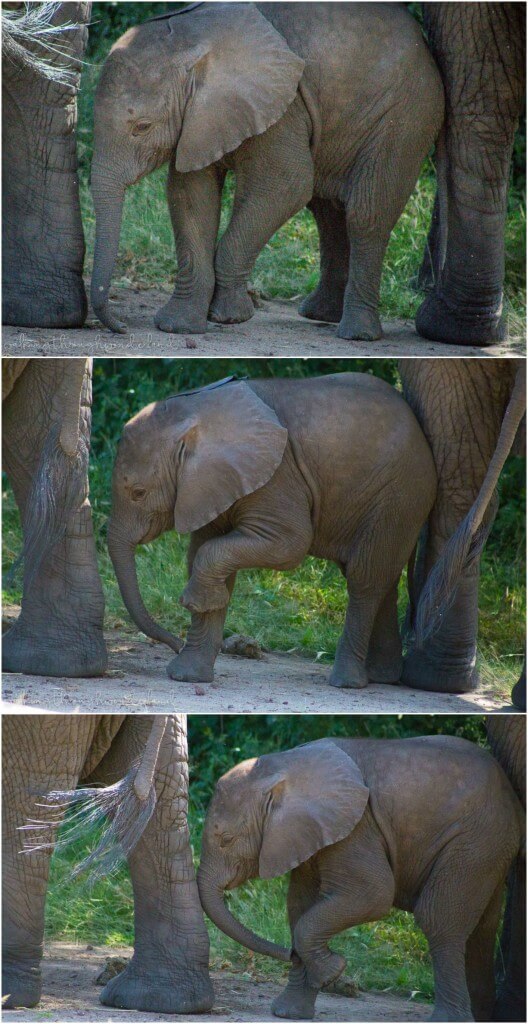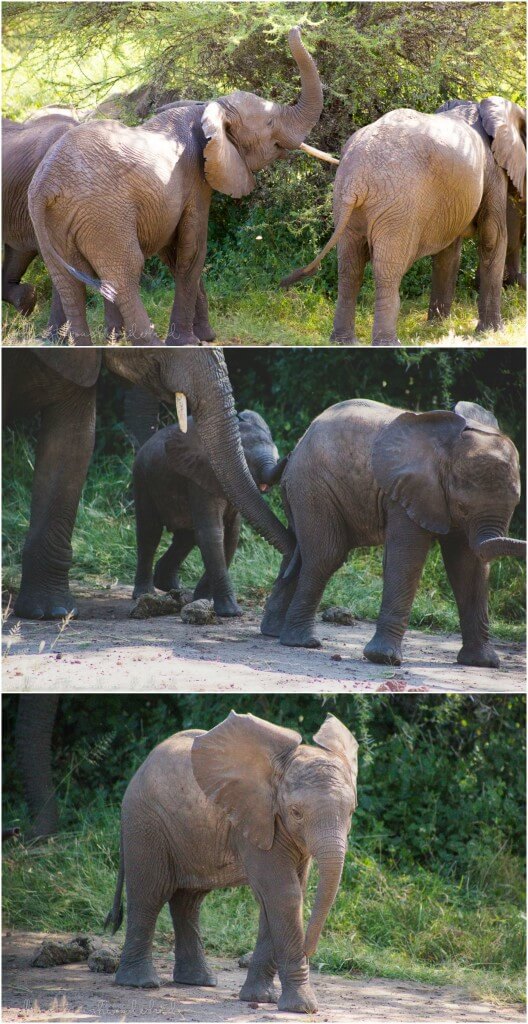 Just when I thought I'd seen all the cute I could handle, I noticed an even teenier tinier trunk. Even Gaudence seemed surprised when it's little head peeked out. "Well that one just dropped!" he said. Now I can say with complete certainty, first hand, that there is nothing in the entire world cuter than a newborn elephant. Just nothing. He was absolutely perfect and the most darling miniature replica of a grown elephant I've ever seen. He had the sweetest little smile and paper-thin ears.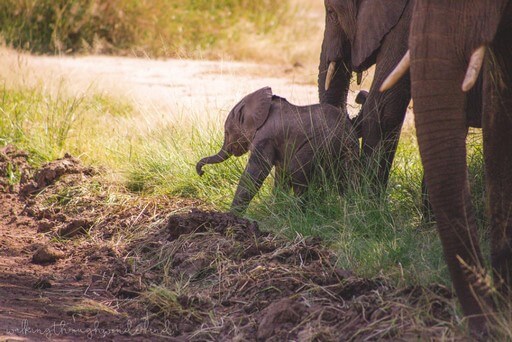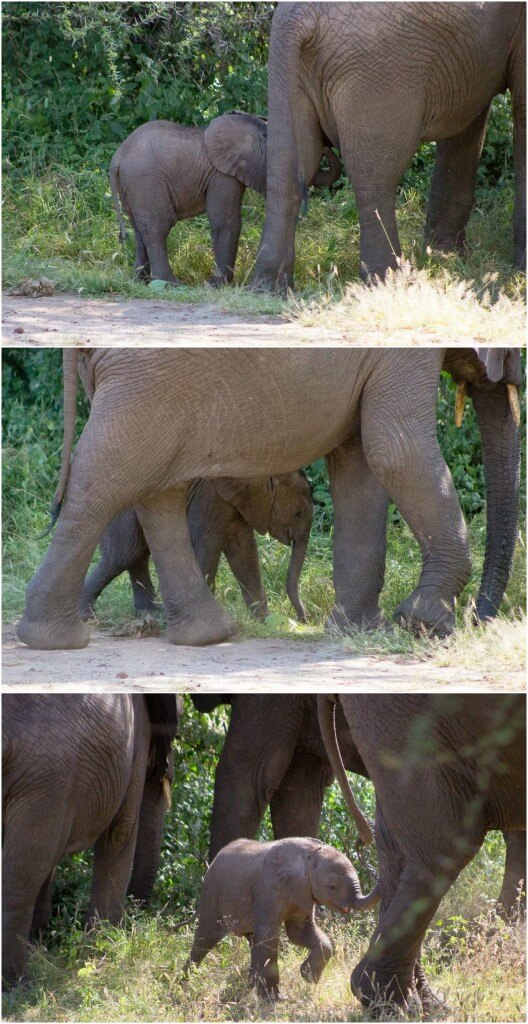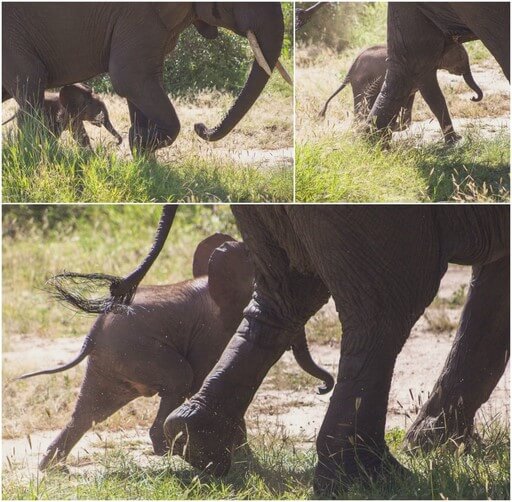 Over the last four days I had spent a great deal of time serenading my very lucky husband with the song "Circle of Life". I'm a excellent singer, and I sing a mean Zulu intro… so he was really thrilled. While I watched those elephants though, I realized that I am not a fan of the real circle of life at all. In fact, I kind of hate the circle of life. It's much like children hate bedtime I guess. I mean, I know its necessary and good and that everything would fall apart without it, but I just couldn't bear to think that that innocent little creature could ever fall victim to harm.
Every time we came across another herd of elephants we would turn off our vehicle and just watch for as long as they would tolerate us. Gaudence pointed things out that I'd never known before. I felt like I was getting to know these beautiful animals. One of the visible signs that an elephant is in distress is a wetness that appears between their eyes and their ears. When these glands kicked into overdrive, it was a sign to us that it was time to move on. You can see it just starting on the little lady in front, but the one standing behind her is really ready for us to get a move on. So away from the wee babies we went.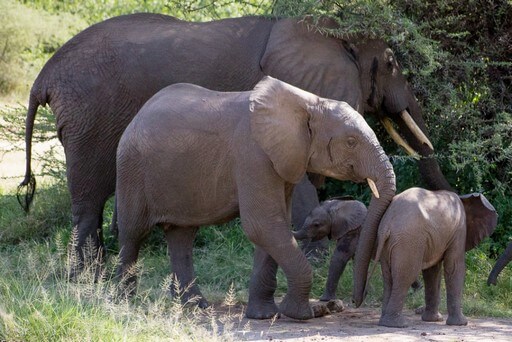 One of the hardest things for me was to see the lone males. Because elephant herds are matriarchal, Gaudence explained that the majority of the elephants that make up these large parades are females and young males. Once a male reaches adolescence, it is sent away from the herd and wanders alone until it can find a band of bachelors.
We saw a few of these lone elephants wandering around. Most of them were showing visible signs of distress and it broke my heart. Especially this guy with his broken tusk and torn ear. Gaudence assured me that this was just the circle of life, but that wasn't even slightly comforting to me. In fact, it was enough to keep me from breaking into spontaneous Disney songs for the rest of our drive. I told myself that soon he would discover a herd of bachelors and they would have a grand old time, but I continued to worry for him.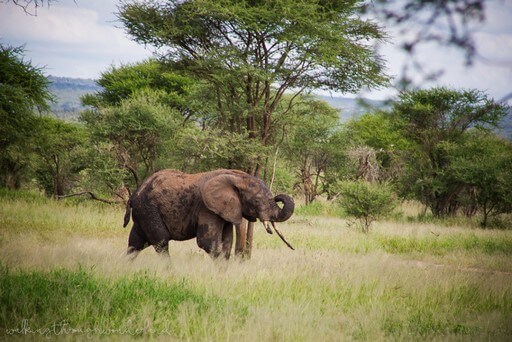 A bit later that afternoon, we discovered another parade of elephants. This one felt different. Tensions were high. There were several young elephants surrounded by a group of females, while a few adolescent males hung out about 20 yards away. We parked our vehicle and just watched. Ears flapped, trunks raised, feet stamped. These were not happy elephants and we were kind of in the middle of it.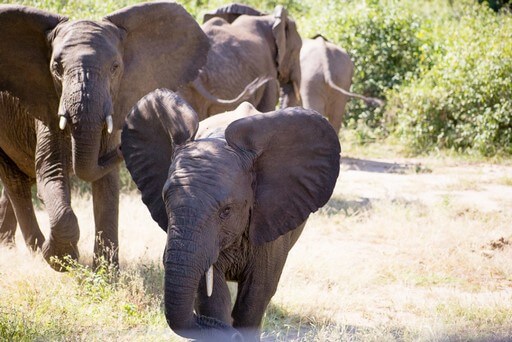 The elephant, we assumed was the matriarch, let out a deafening trumpet and for the first time I wondered if we were in any real danger. Gaudence wanted to drive on, but several young males met in the middle of the road blocking our way. After several trumpeting calls of their own, and many stamped feet, the two went tusk to tusk.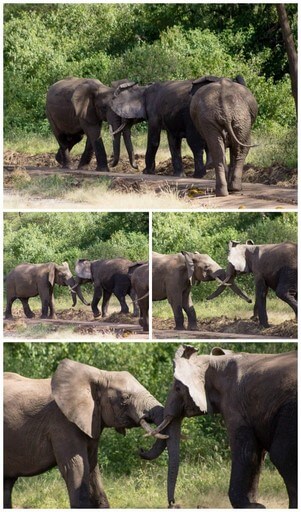 It was awe-inspiring to watch how much force was between the two. I was also suddenly a little more aware of why the adolescent males might be better off in their own herds.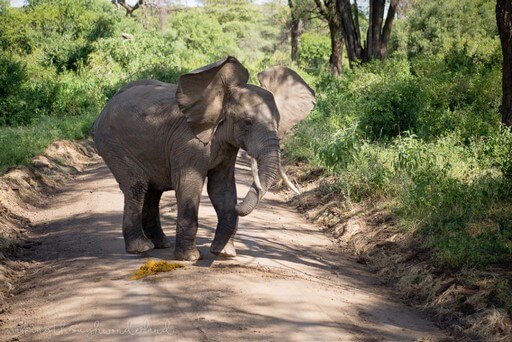 We were on our way out of the park. Our Chem Chem surprise awaited us and I was so excited to see what it would be! We'd seen everything we'd wanted to see in Africa… except for a crocodile eating a wildebeest… but there will be long overland safaris in our future for that. I'd actually sat down in the vehicle, something we'd hardly done the whole time. We saw another safari vehicle parked under a tree and Gaudence let out a low whistle.
"You are so lucky," he told us. "You are welcome." There, in a tree not ten feet from the road were five lions… yes, you read that right… FIVE lions lounging in a tree.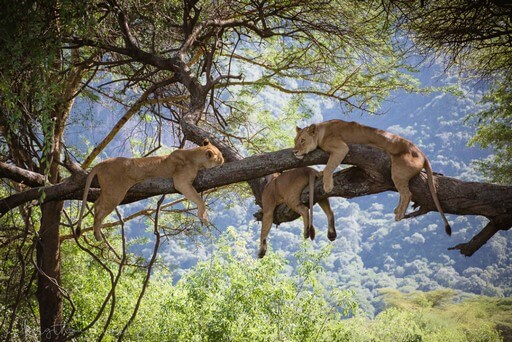 I just about died.
The two lions we'd seen in Tarangire had been cool to see – but they'd been pretty far off and we couldn't get closer without breaking the law of staying on the road. These lions though… they were right there.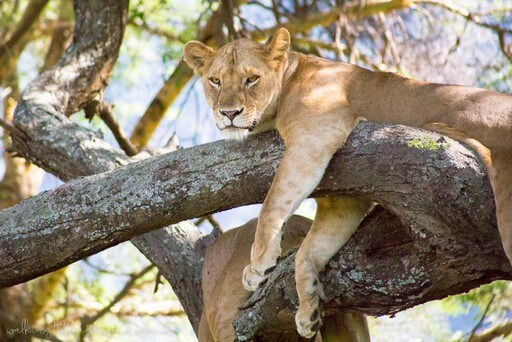 I could see the little spots, that told us they were still young. I could make out the colors of their eyes, their eye lashes, their whiskers. There are absolutely no words to describe how excited I was. I could have stayed and watched these lions forever. I'm not sure how long we were there, but it's a big part of why we were late to our surprise. It was worth it.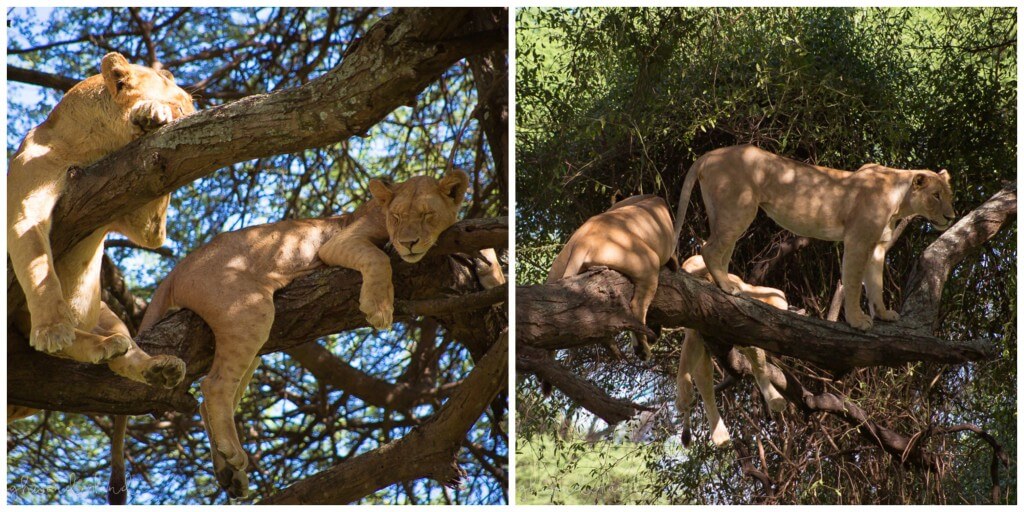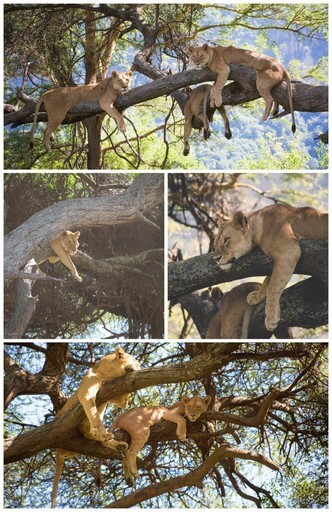 I can't imagine that we could have ended our Lake Manyara safari in a better way. I wasn't even expecting to see cats in this park, let alone five lions in a tree. I'd been dreading this part of the trip ending. I almost wished we hadn't planned to go to Zanzibar next, so we could just stay in mainland Tanzania the whole time, but somehow, after locking eyes with a lion, I felt a peace about moving on to the next chapter of our African honeymoon.
We'd had our perfect African safari. We'd been whisked away by the romance of Chem Chem. And now it was time for our next adventure… the following day we were Zanzibar-bound.