From the minute we started wedding planning, I've been dying to get a cute return address stamp… but that was difficult given that we knew we'd be moving less than a month after we wed.
That got me thinking about how often I have put off doing anything very permanent because the next move is on the horizon. Since graduating high school 11 years ago, the longest I have spent at any address is 16 months. It's made getting mail very complicated… And ordering return address stamps even more complicated!
In the last two years, I set a record, even for me: 4 months in Southeast Asia, 10 months in New York, 6 months back and forth between Kansas and Florida. While it's been exhilarating… it's also been a bit exhausting. And to be honest, it's also left me feeling a bit homeless. I could be dramatic and say that I've just wanted some place that felt like home- and while there is truth to that- more than anything, I just want to know where I left my favorite sweater… and where in the world is my organic cinnamon??
For a girl that has spent the last 12 years moving, I can't tell you how excited I am to spend the next 3 years staying: home sweet.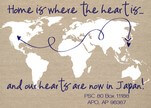 And while I can't buy return address stamps just yet… I have had a lot of fun designing our change of address cards!