I will never be a happy camper when I wake up at 4 a.m. I'm never really even all that happy when I wake up at 6 a.m., but somehow our second day in Bangkok was so fresh and exciting, I was able to forgive the bird that woke me. Deciding that four o'clock a.m. might be considered an obnoxious time to show up for breakfast in a sleepy little town, we waited until 7 a.m. before wandering the streets of Banglamphu on a food-finding mission. We found a cute bungalow boasting a "Trip Advisor Rated" menu where we swallowed our pride and ordered the aptly named "American."
Our plan for the day was to check out the Grand Palace, apply for our visas to Vietnam, and explore downtown Bangkok. Before we could even hail a cab, we were approached by a sweet little Thai man. He was "oh-so-helpful" and explained that the Grand Palace didn't open until later that afternoon, but he was happy to show us several other locations on the map that we just couldn't miss. Some of you are thinking, "how sweet!" and so was I. The rest of you are thinking, "Don't fall for it, Mindy! It's a scam!" and you are right. All the guidebooks warn about Thailand Scams, but I guess I hadn't been paying attention.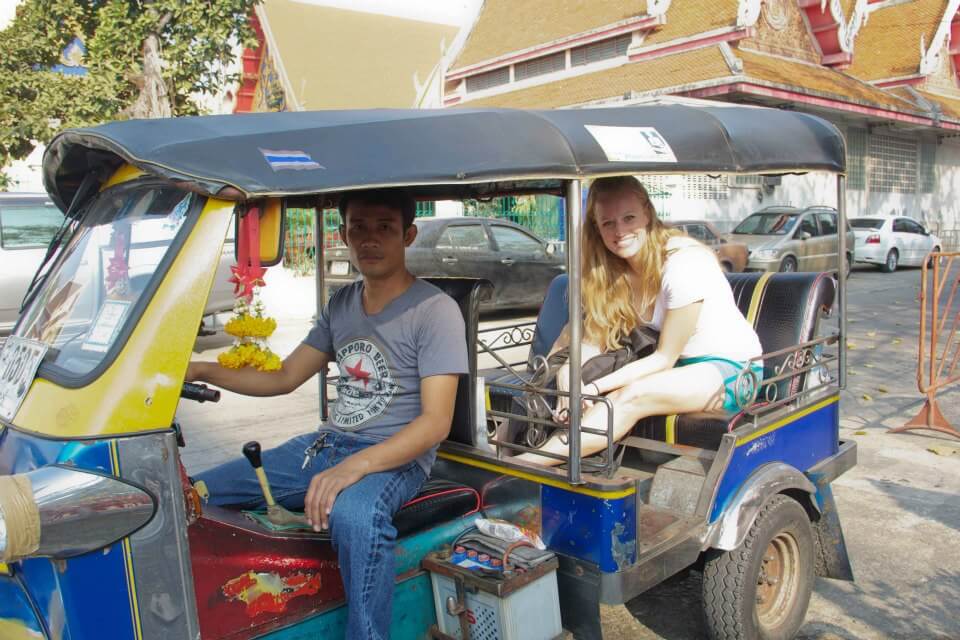 Suddenly a tuk-tuk driver materialized out of nowhere and offered to take us to all of the spots our new friend had circled on the map, for 30 baht (about $1.10). As soon as we crawled into the back of the tuk-tuk I had a flashback of one of those little orange warning boxes in the tour book. "Beware of tuk-tuk drivers offering tours that are too good to be true." Too late…
Immediately I whispered, "He's going to try to take us to one of those gem shops they warn you about and pressure us into buying something so he makes a commission." I was only about half right. The first spot on our new map was Wat Intharawihan, a golden Buddha that sit 45-meters high. He took us there, chatting causally about his home town, Chiang Mai, which happened to be the city we were headed to several days later.
Wat Intharawihan
We must not have looked like the gem buying kind, because our next stop was a no-named temple with an overly-friendly grounds manager. It took the manager less than a minute to approach Brian, boasting the excellence of the Thai custom-suit industry. He explained the fitting process, the shipping and payment policies, and the unparalleled quality of the materials with such detail it was immediately clear that he too was part of the scam. They weren't trying to sell us gems, they wanted us to buy suits.
Upon returning to the tuk-tuk, we quickly told our driver that we were not interested in custom clothing, as we were backpacking and had little need for them. When he realized we weren't the suit buying type either, he became very insistent that we visit his favorite travel agent for good deals on rooms and trekking in Chiang Mai. At this point, we realized that we had taken the ride as far as we could for our discounted price, and asked him to let us out at Wat Ratchanadda.
After a very literal temper tantrum, that did nothing to entice us back into the tuk-tuk, we handed him 40 baht and he puttered away cursing us for wasting his time. All-in-all it was a perfect way for us to cover some distance and take in some of the sights of Bangkok for less than $2.
Wat Ratchanatdaram
Our next stop was the Vietnam Embassy to apply for our visas for later that month. As we were trying to figure out the best way to get there, we started chatting with a Welsh guy who now lived in Bangkok. He mentioned that there was river boat taxi just a few minutes away that has a stop about a mile away from the embassy.
Getting a visa to Vietnam is pretty easy compared to some of the visas I've needed (like India), but it still requires some work (and a little waiting) on your part. I was going to write a post specifically on how to do it, but instead I will point you to Travel Happy, who has an awesome post about the process.
I feel like we spent the entire day exploring every type of transportation Bangkok has to offer: monorails, subways, trains, tuk-tuks and water taxis. Don't let that fool you into thinking it doesn't mean we didn't end up walking a little over four miles as well. We covered some serious ground. Before heading home we went to the Hua Lamphong train station to secure our overnight tickets to Chiang Mai. And Ohhhhhh what an incredibly interesting trip that made, check it out in The Road to Chiang Mai.
When we got back to our side of town around dinner time we had some of the best pad thai I have ever tasted for about $2 USD. Later that night we explored Khao San Road, where we were approached by every gadget-hawking, sex show-promoting, scorpion-wielding street vendor imaginable. Definitely a must-see while in Bangkok.
We didn't make it to the Wat Arun, or the Temple of the Dawn, but on our way back down the river, we got to watch the sunset around it. It's definitely on my list for my next Bangkok Trip.