I LOVED house hunting in Okinawa. It seemed like such a fun experience to have as a grown-up, married couple.
Almost everyone stationed at Kadena has to live on-base unless they are at 98% occupancy for your rank and number of dependents. You can hardly complain about this, given that it's a huge air base with plenty of housing available at no cost to the service members who live in them. So from the moment we started preparing for this move, I had accepted that we would almost certainly live on base. A little part of me held out hope that somehow the numbers would work in our favor, but I tried to look at the whole situation as a win-win. On base we would certainly have more space and the convenience couldn't be beat. Off base we would have a more authentic Japanese experience and maybe a little water view.
We went to the housing brief on Thursday, the week we arrived in Okinawa. After about a half hour of explaining to the group, what size house and how many bedrooms each of us was entitled to (3 for us) and how the housing options worked (2 random computer generated offers) she finally looked at the numbers to see if everyone was going to be living on base, as we had heard happened last week. You could almost feel everyone in the room holding their breath.
"The only housing category that is currently at capacity is … accompanied CGO." (As I have discussed earlier, I still don't understand half of the lingo and acronyms used in this military world, so I didn't really know what this meant for us.) She continued talking.
I looked around to read everyone's faces. They all seemed disappointed. Dane was smiling. "Is that us?" I whispered. "Did we get it?" He nodded. I realized I hadn't worded my question well enough to really know what his nod meant. "We get to go off base???" I said again, trying to conceal my growing excitement and go unnoticed by everyone else in the little conference room. He nodded again.
And our off-base housing adventure began! I stopped listening to the rest of the brief, and afterward we were asked to please sign up for the off-base housing brief. (There is nothing these people seem to enjoy more than a good a brief, and it's rarely as brief as the name might imply.) Several hours later, we left that room with a two-page list of Okinawa housing agencies and little else. Still, I had no idea what to expect from the Okinawa housing market.
Well, house hunting in Okinawa exceeded everything I could have imagined. Okinawa is a small island, which means a lot of coastline. Kadena Air Base is close enough to the East China Sea that you have sea views from certain spots. Right outside of Gate 1, the main entrance to the base, is a district called Chatan-Cho. If you drive for a few minutes toward the sea, through Chatan, you reach the water, which is lined by the Sunabe Seawall. This was where we wanted to be. Five minutes from base, on the water, with a view. Oh and throw in three bedrooms, two baths, a balcony and an American kitchen. (Japanese kitchens have a stove that you can toast two pieces of bread in, but little else. No exaggeration.)
Were we asking for too much here? Yeah, probably. But that was the dream, so we figured we would shoot for the dream and see what we could really manage.
The next day I lined up appointments with several Okinawa housing agencies. To me one of the easiest things about house hunting in Okinawa, was the website: totalokinawa.com, where all of the main housing agencies feature links to their sites and picture a lot of their best properties. Information often includes size, location and price, among other details. I searched through what felt like a hundred links that afternoon, before setting up appointments with Seaside Housing, Dynasty Housing and Sky Housing.
After our first day of house hunting, I texted my best friend in the States and said, "House hunting in Okinawa might be the most fun thing I have ever done." She asked if I was kidding. I was not. I LOVED house hunting here. Every minute of it. And because I loved it so much, and most of my readers will likely never be moving to Okinawa, I have decided to share the experience with the picture tour below. Enjoy :)
House 1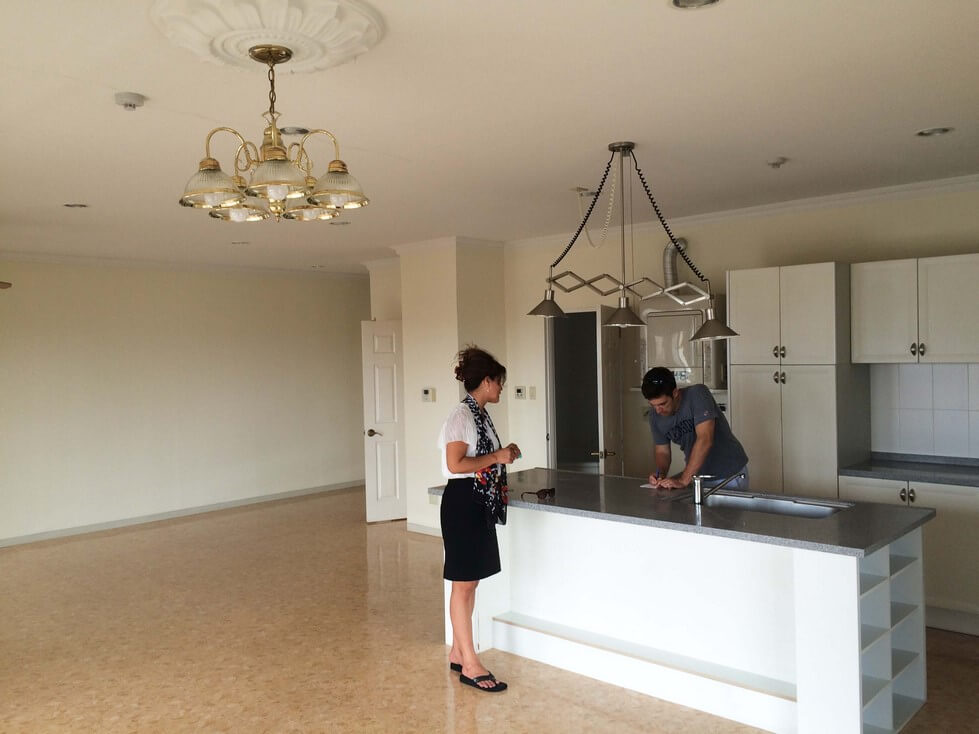 Obsessed with this kitchen and the two full walls of windows on either side of it.
The view from this 4th story apartment was all of Chatan, with the seawall a few blocks away. Because you have the whole 4th floor (the elevator opens up into the mudroom, very NYC penthouse style) the balcony wraps around the entire apartment.
Sea view from the balcony of apartment 1.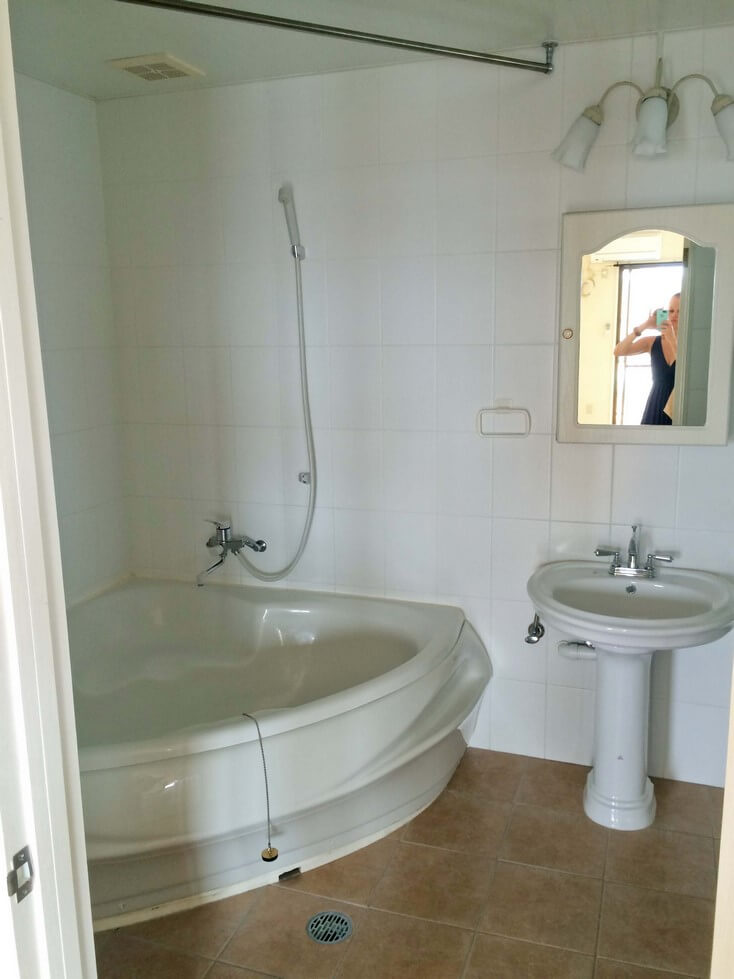 Huge bathtub with a Japanese shower (the whole room is waterproof and meant to get wet)
We loved this place. Like- loved. But it was also the first thing we had seen, so we weren't ready to pull the trigger. We told her we loved it, but did she have anything closer to the water?
Then she took us here:
House 2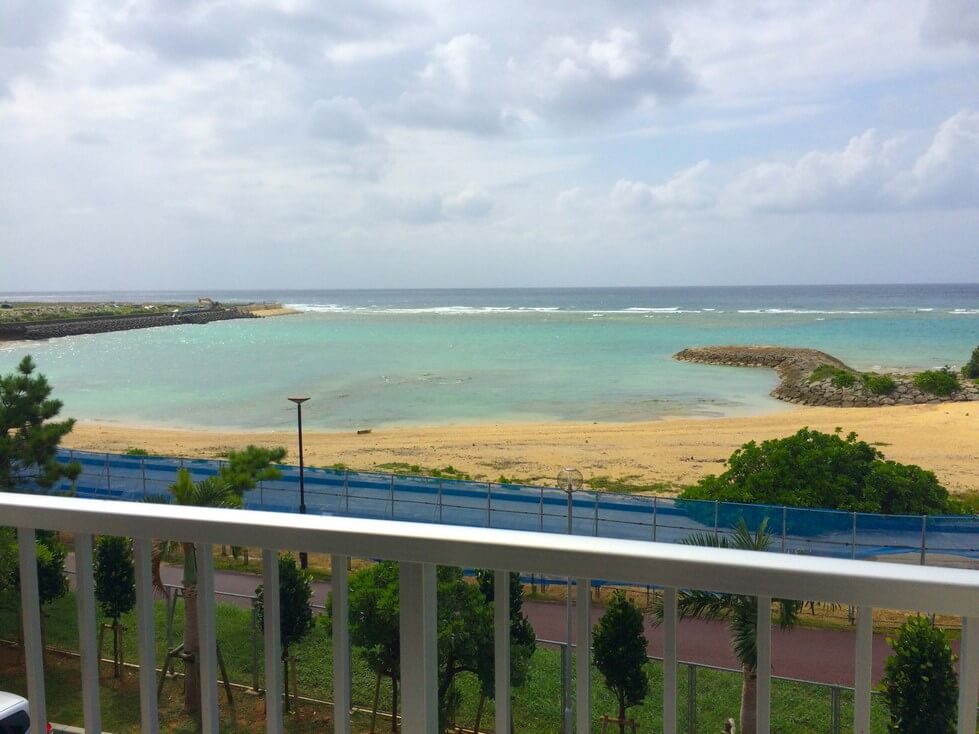 View from the balcony of the second apartment.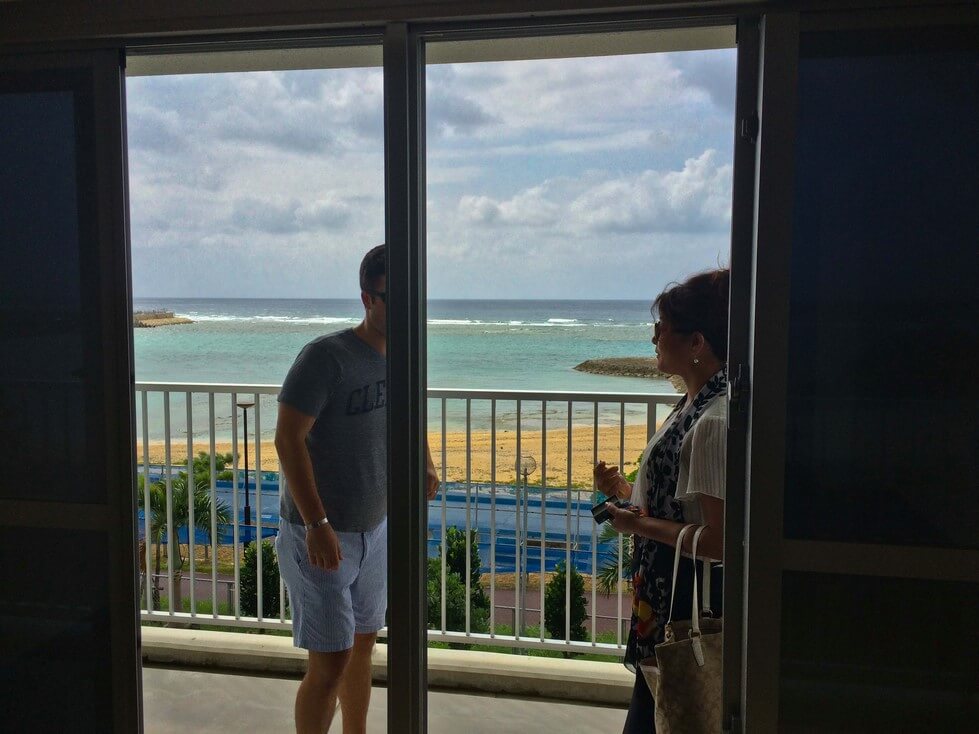 View from the bedroom, looking out at our balcony.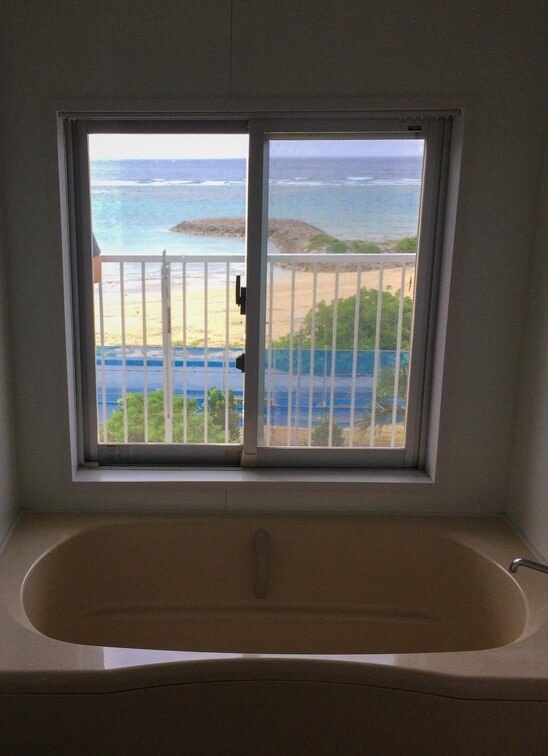 View from the light pink bathtub. Can't really beat that.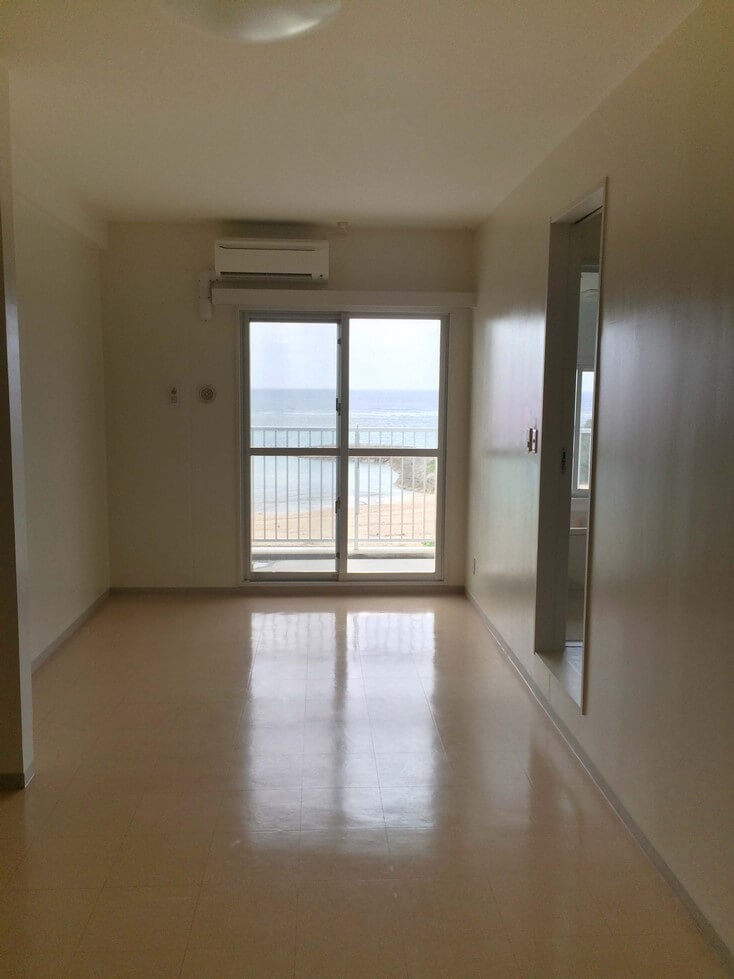 Another (strangely long) bedroom view.
We liked this apartment. It had tons of storage and was pretty much directly on the beach, but the kitchen was small and it just felt a lot like an "apartment," very different than the flat we had seen before that had its own floor.
She was definitely listening to our feedback though, because after we told her it felt too much like an apartment, she took us to this rather European-looking house.
House 3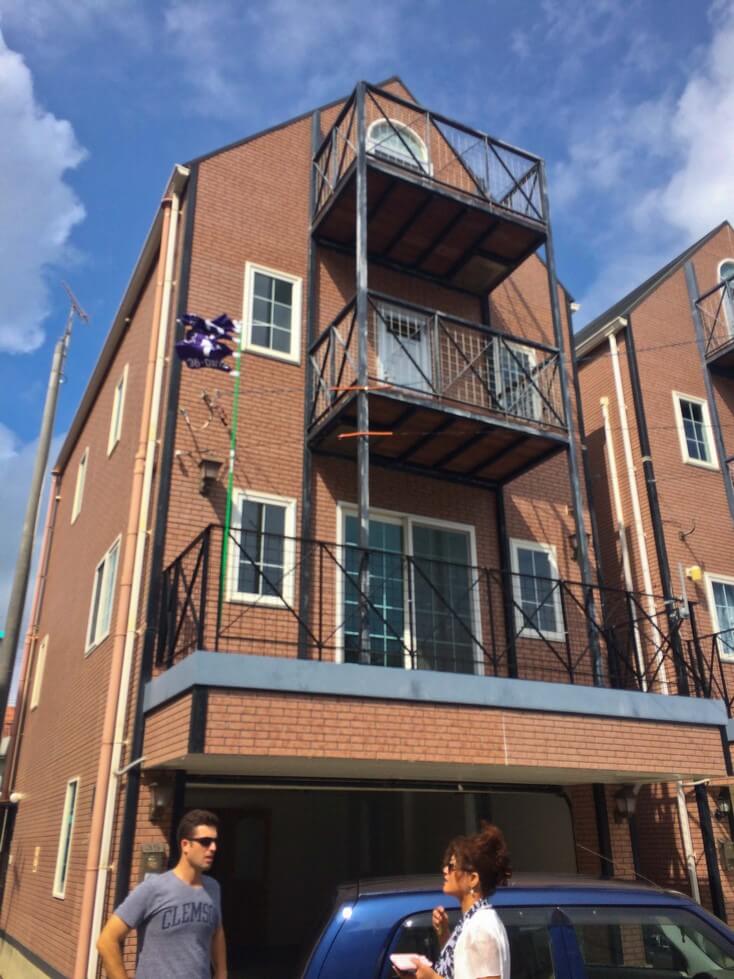 This house was four stories, with four bedrooms, though the two bedrooms on top were more like studio spaces than full bedrooms. The garage was on the first floor (as it should be) kitchen and living areas on the second, and two bedrooms each on the third and fourth floor. Every room had a balcony, which we loved. We were one block from the seawall. Also loved. But we had no view and the house felt very… Umm… mature. And by mature I mean it had grandma wallpaper on each and every wall.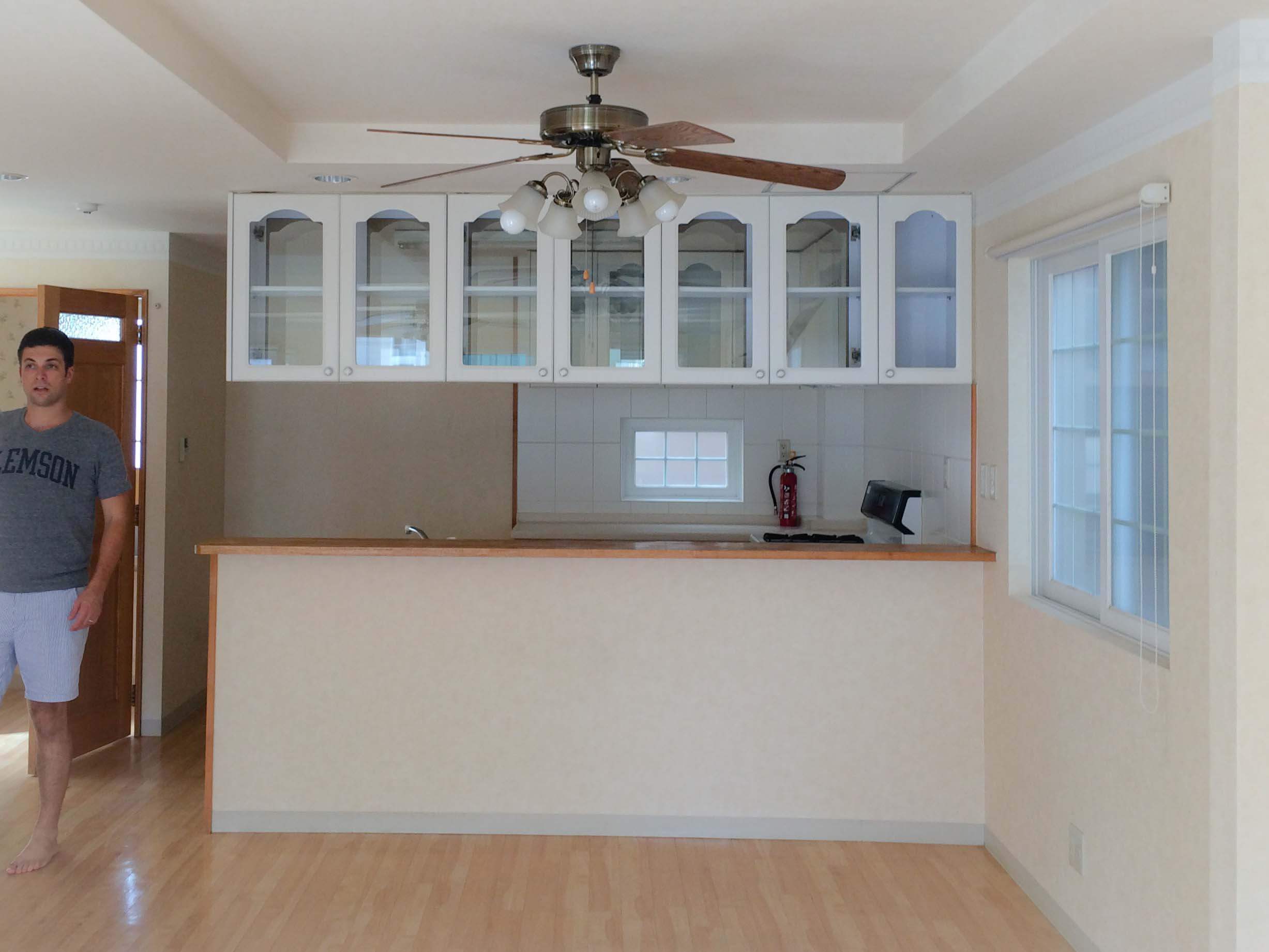 We loved the storage in the kitchen! (Who said we'd have nowhere for our mixer?? :)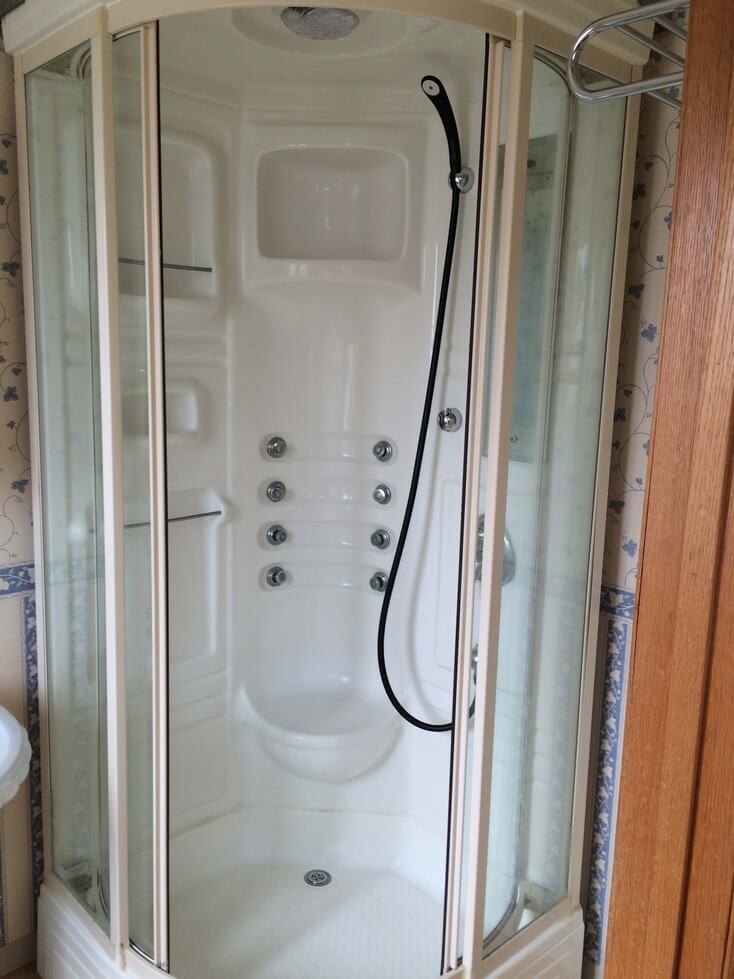 Love the nine head shower and the fact that the whole room isn't a part of the shower area.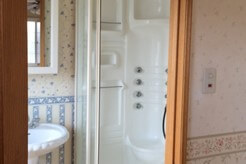 But let's get real with this wallpaper. I can't imagine decorating around it…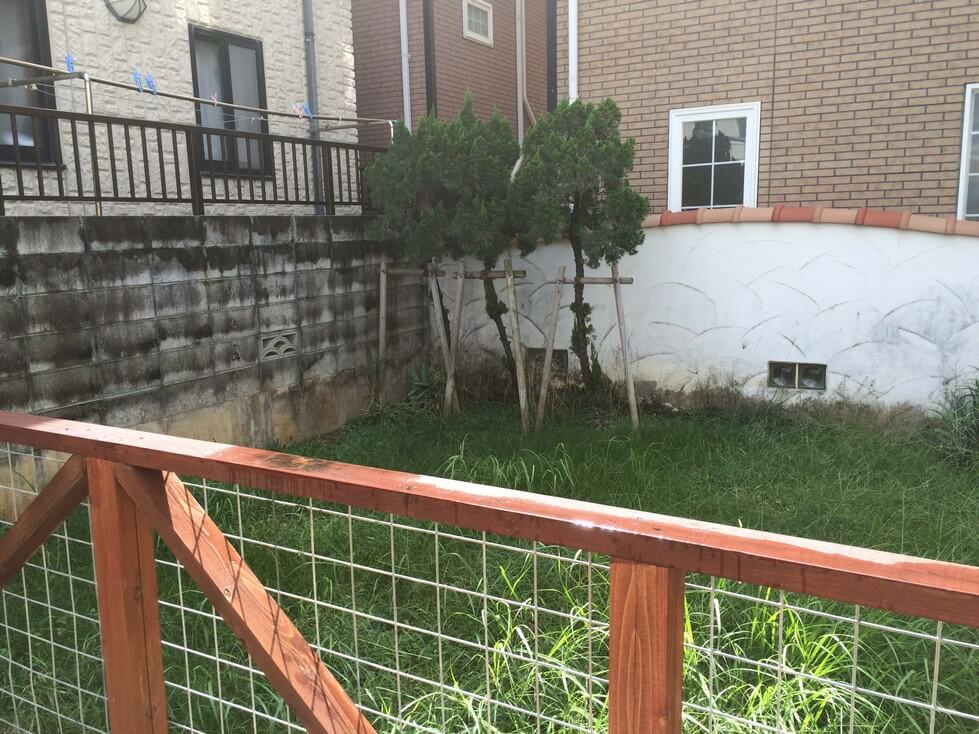 One REALLY nice thing about this house was that it had a very little yard, for our very little dog. However, with the rate the grass grows, we were afraid we might need to buy a very little goat.
In the end though, we hated the idea of being SO close to SO many neighbors. It was a really crowded area and every window seemed to look at other buildings, and thought she pointed out a small "view" from certain windows, we kind of had our heart set on a real view.
Highlights from Houses 4-10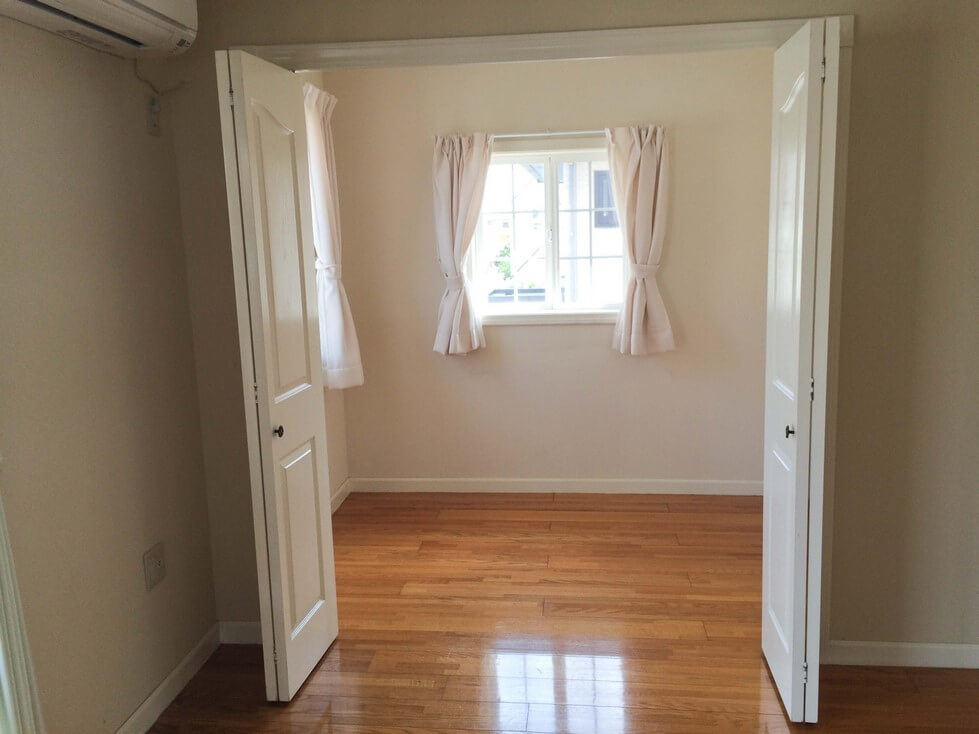 This was a small sitting room (that was bigger than my bedroom in NYC) off of the master suite in one house.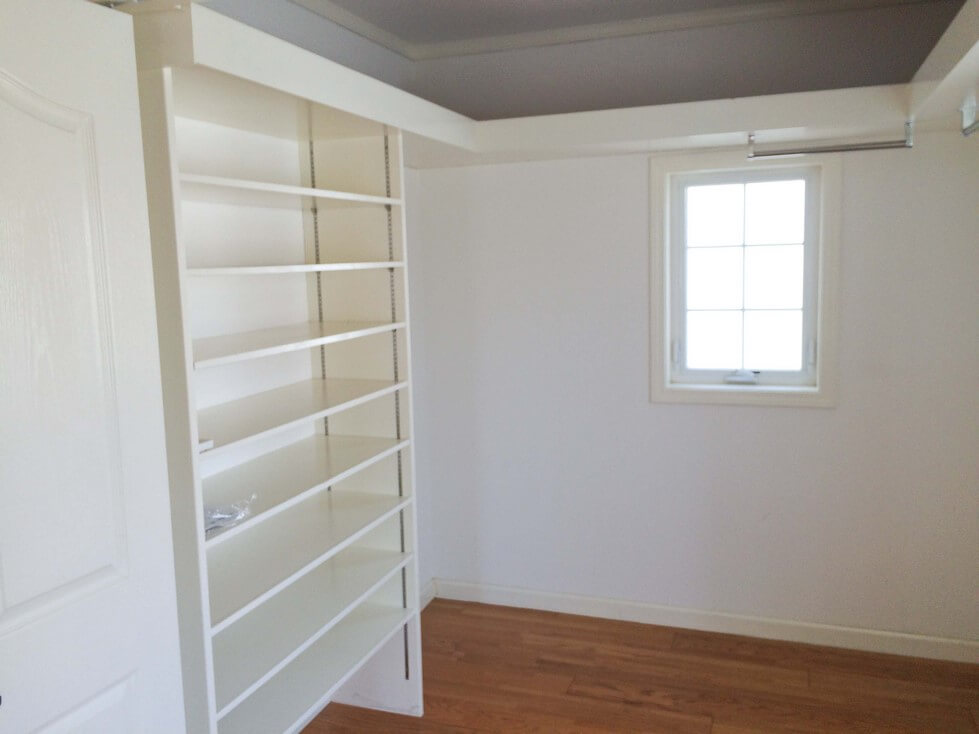 This bedroom-sized walk in closet, with it's built in shoe rack is the thing little girls dreams are made of. Or is that just me?
Another closet in the guestroom made me think I might start collecting purses. (Maybe that's why Dane didn't love this one)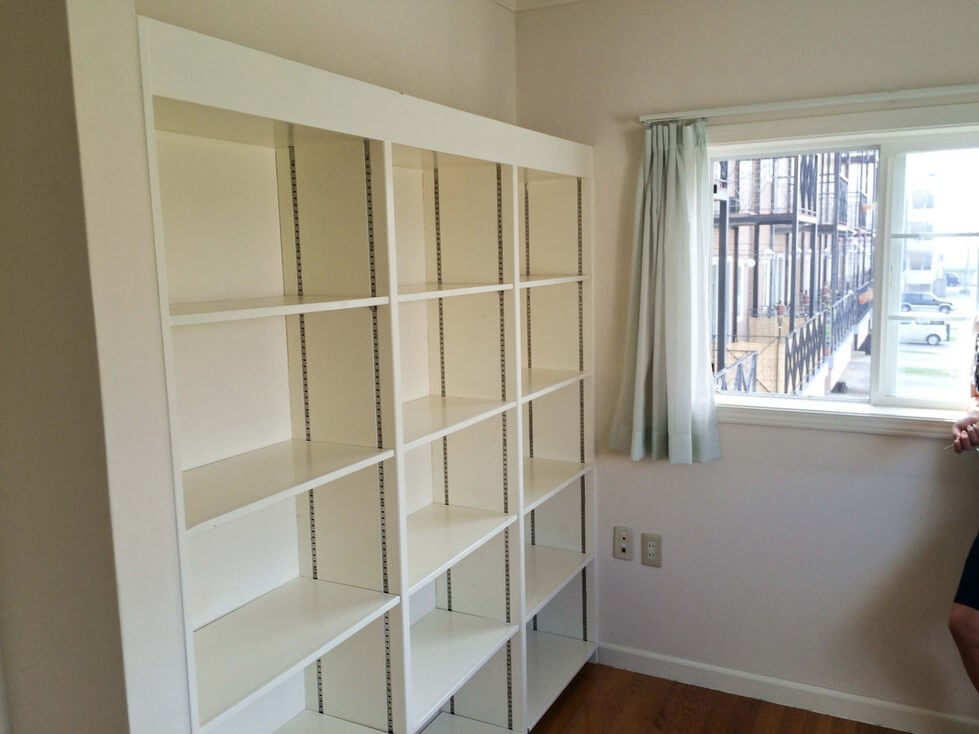 I imagined this bedroom a craft room the minute I walked in. Shelves lined with paint, canvases, ink, brushes… or books. Maybe books.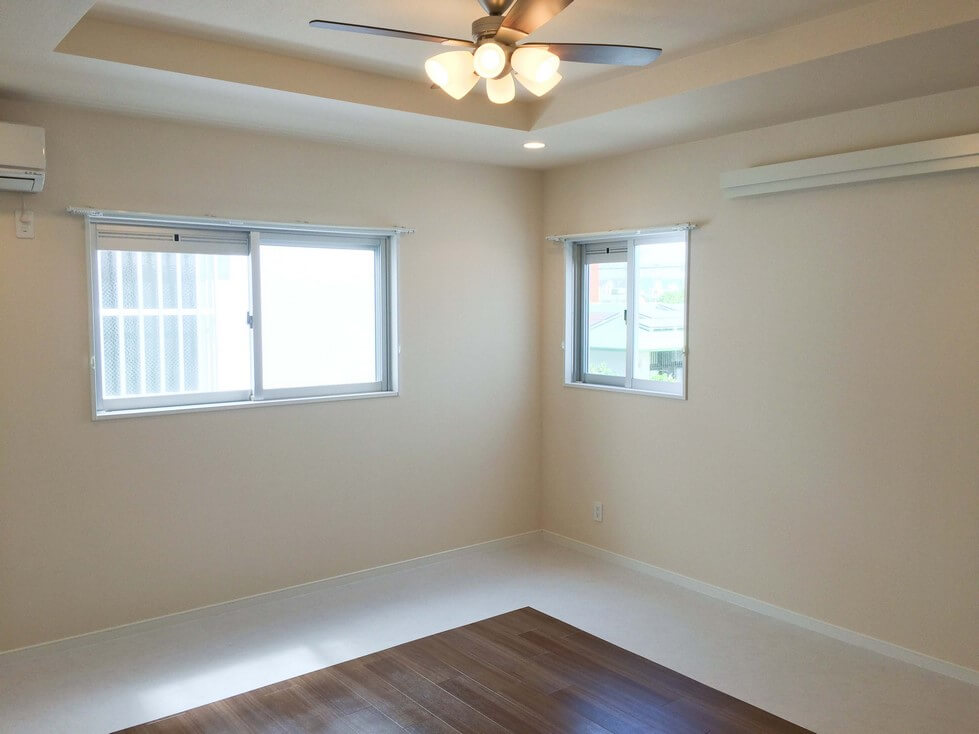 The floors throughout this house were amazing, and I could picture all of our furniture fitting perfectly, if it ever arrives!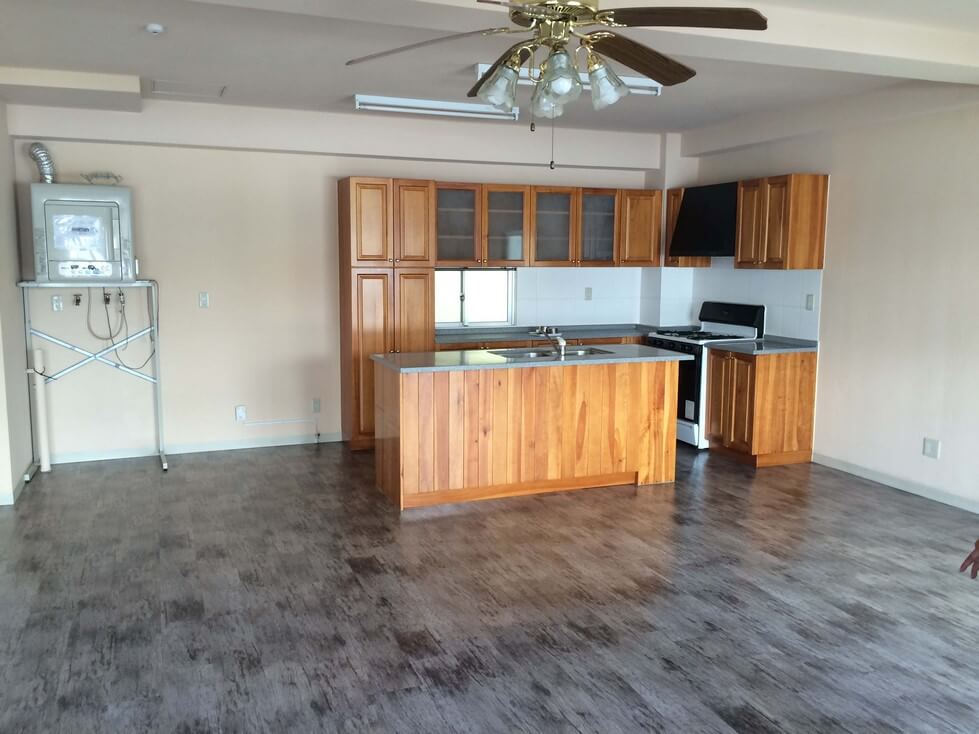 Many of the houses require that you supply your own appliances… but that little box you see in the left hand corner is a Japanese drier. Apparently it turns your clothes into Japanese-friendly sizes, but dries them ridiculously quickly.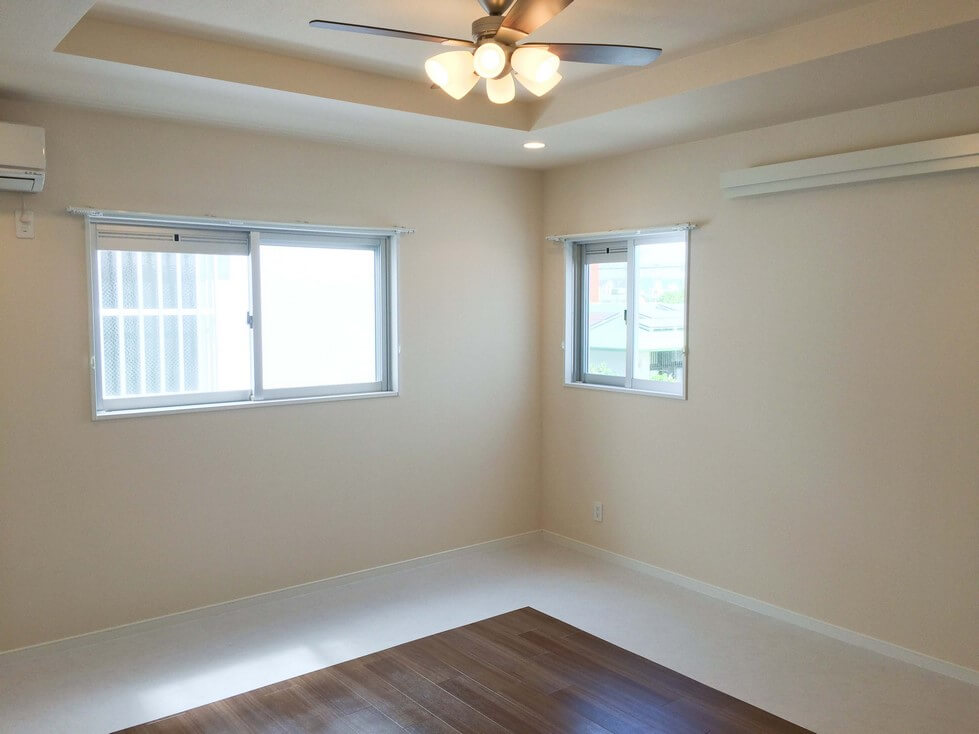 This place also had a yard, one of the largest we have seen on this very small island. We also loved the painted walls. So many houses here (like House 3) have wall paper.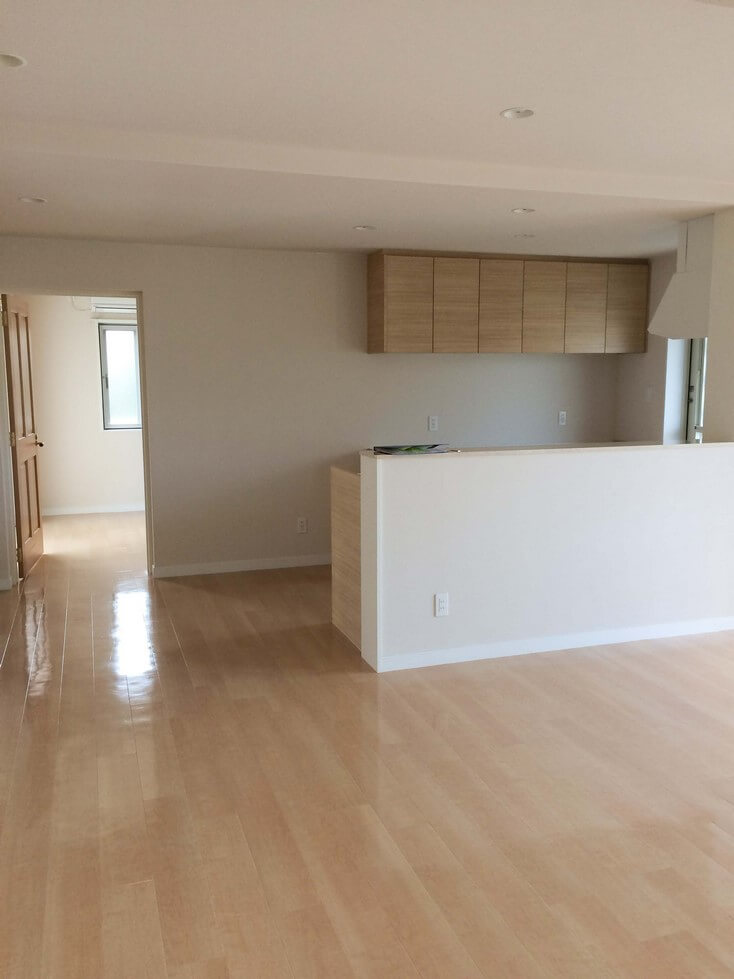 Here is the kitchen area of the same house. Very open, but not a ton of storage.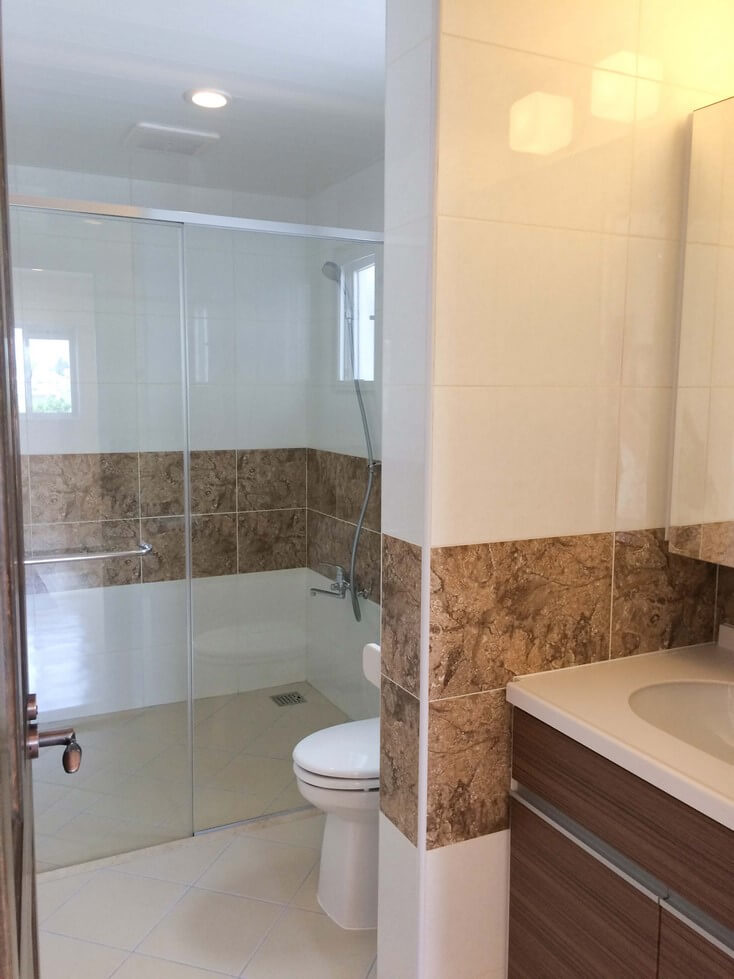 This won't seem like a big deal to anyone in the States… but to have an American bathroom like this is actually pretty rare here. Most of the full baths are kind of like giant shower rooms. They will have a sink and such, but the whole room can (and does) get wet.
Another spacious bathroom. I think I only took pictures of the bathrooms I liked… because as I have gone through I realize there aren't many traditional bathrooms pictured.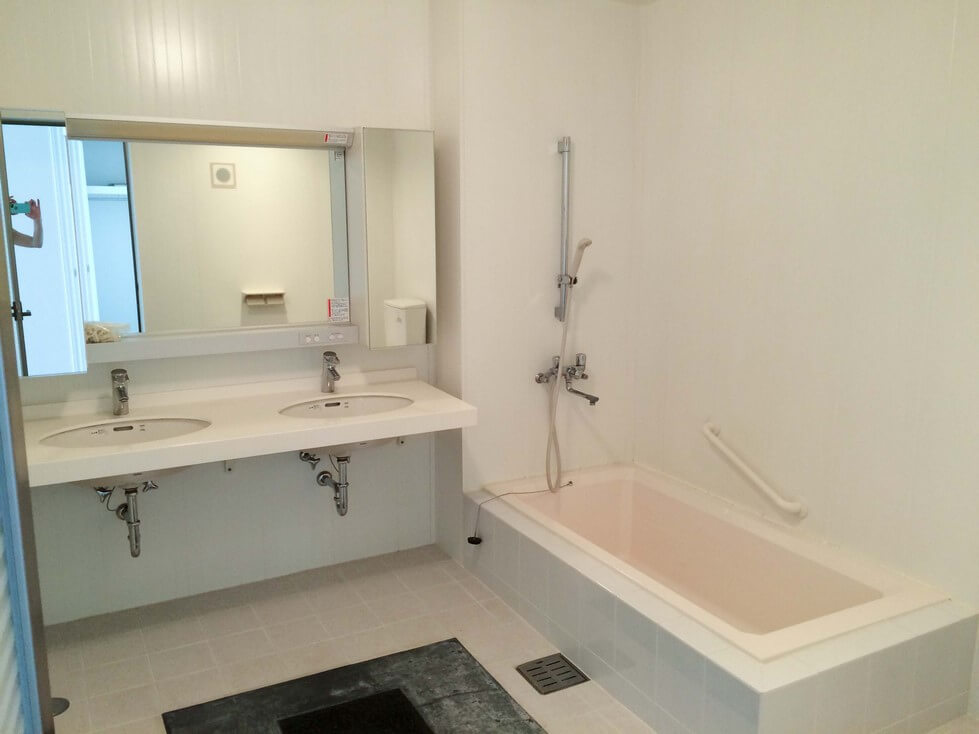 I stand corrected. Although this is definitely the biggest bathroom we saw… does it remind anyone else of a public bathroom??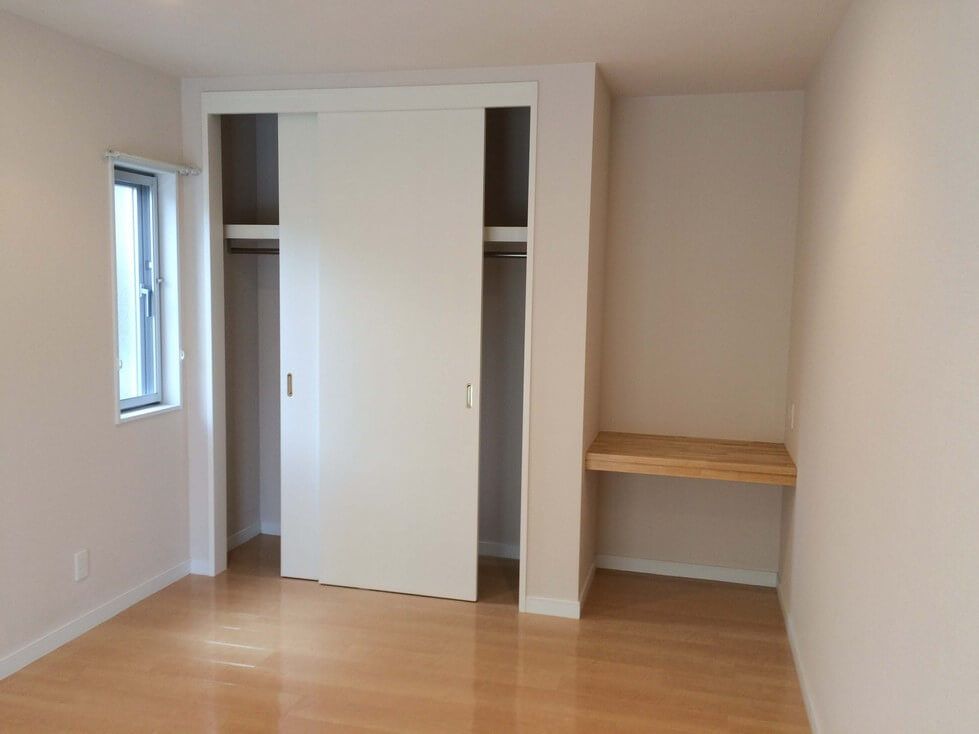 Like the shelved room earlier that screamed "craft room" to me, this one was screaming "writing room."
---
Okay… and now our favorite place… (Not the place we ended up with, for the record.)
The third housing agent we went out with, Dynasty Housing, asked if we would like to see a place that was not in Chatan, but had everything we were looking for. I was having so much fun looking at places that didn't even meet all of our criteria that, of course, I said yes. We drove across the island for about 30 minutes on the expressway, which cost approximately 400 yen, or 4 USD (each way).
By the time we got to the building, Dane and I joked that we would need our own infinity pool, overlooking the ocean (we were on the Pacific side of the island at this point) in order for us to even consider it. What we saw when we walked inside changed our minds. Even with the 16USD (if we are both making the drive) and hour-long daily commutes, this place tempted us. The apartment was 4br, 2.5ba, with tons of storage, great closets, full laundry room, and a huge kitchen… But all of that was nothing compared to the view. I realized later, that I didn't take a single picture of the apartment itself (which was beautiful). I just couldn't stop taking pictures of along the balcony long enough to focus on anything else.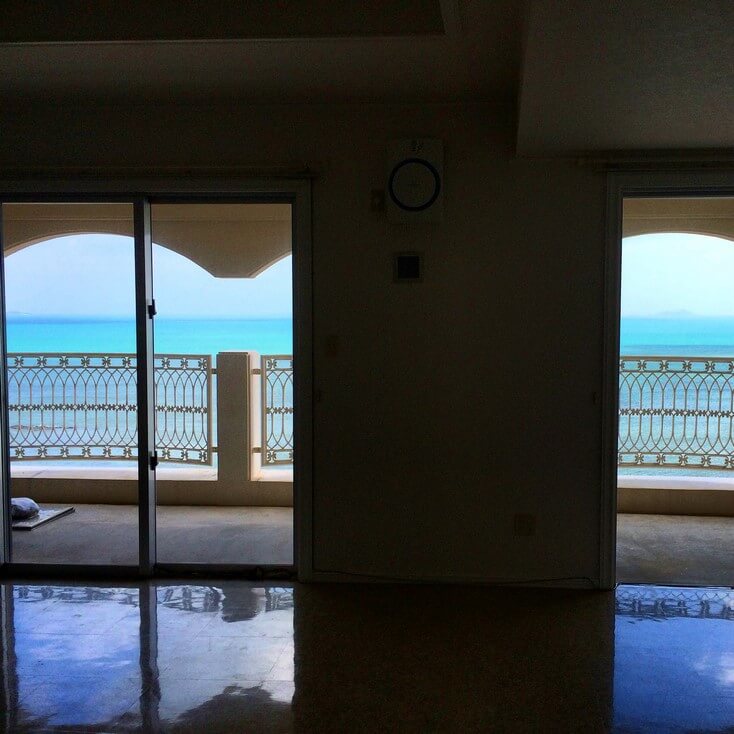 This is the view from the kitchen sink. I'm not kidding you I might do dishes twice from here.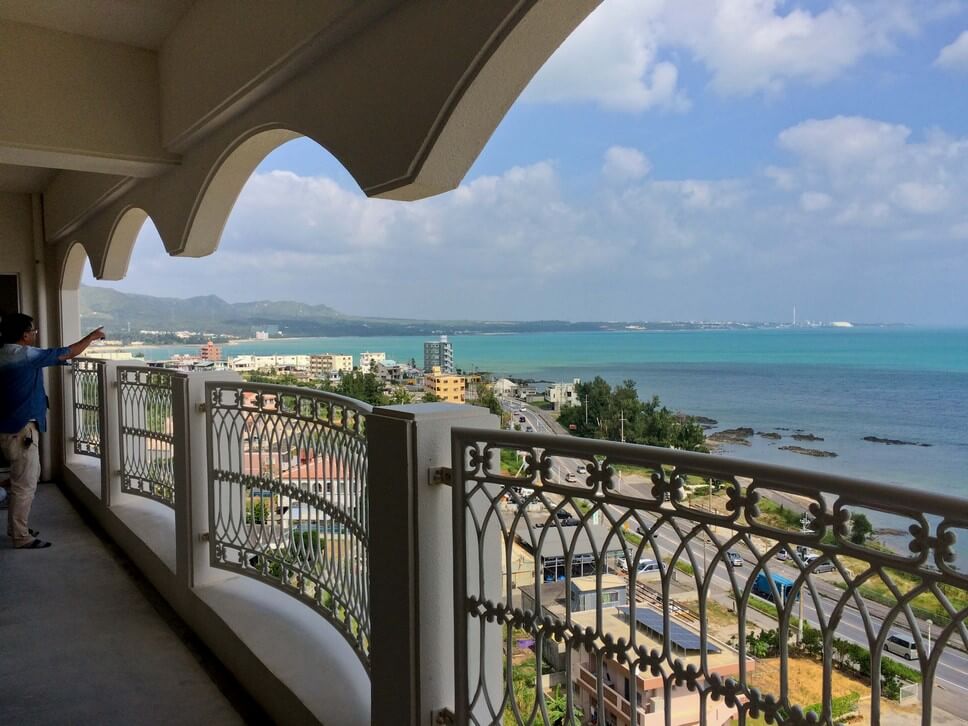 Could anything beat this view? Yes, actually. A similar balcony with a view of the Sunabe Seawall in Chatan.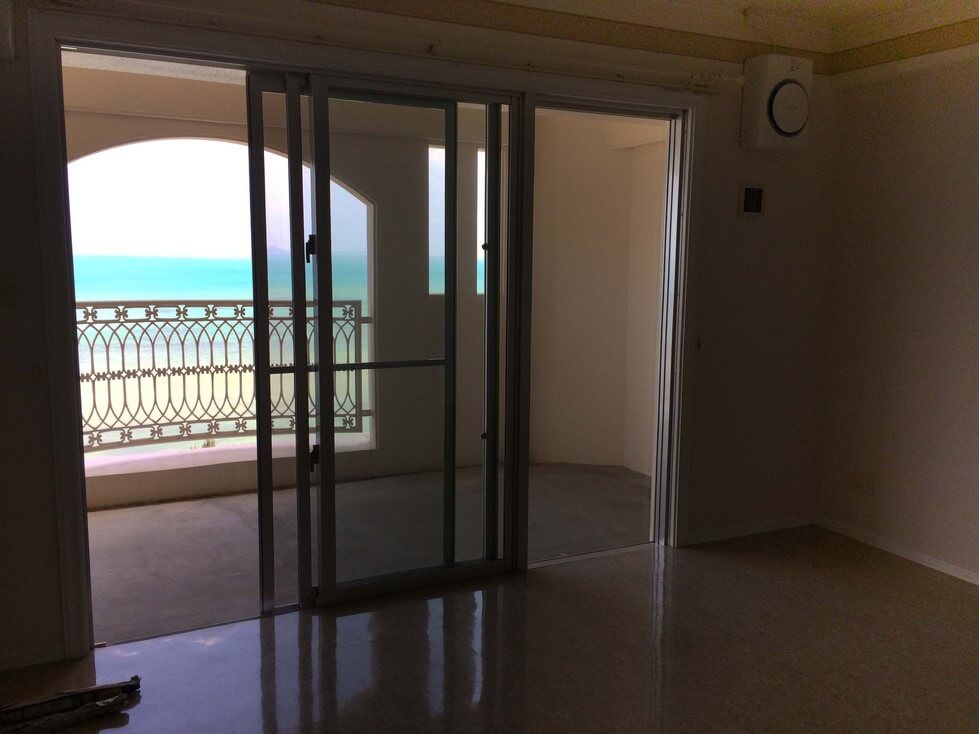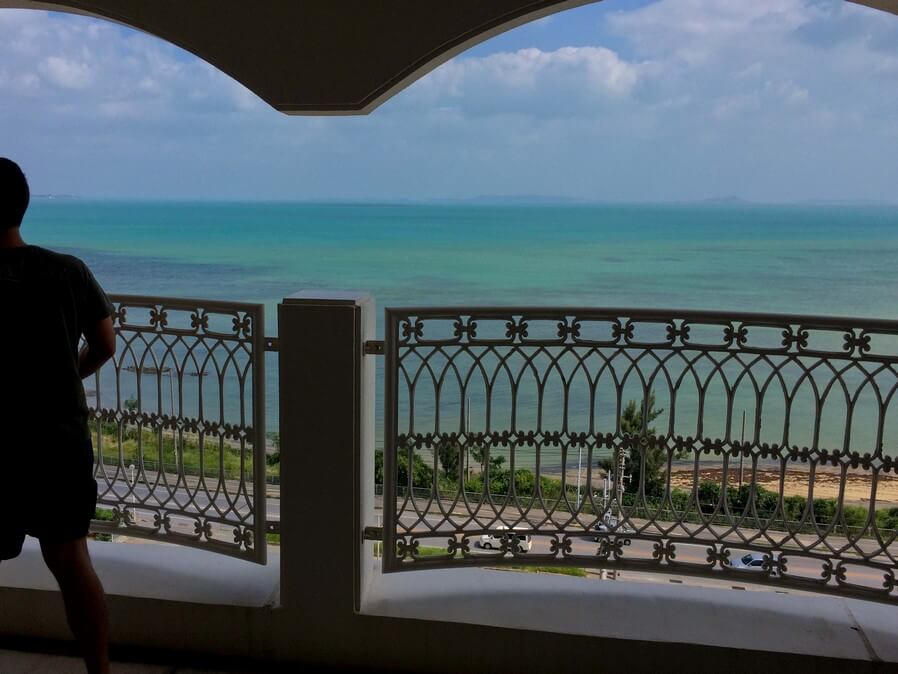 In the end, practicality won out over balcony views and we decided to go back to our side of the island to continue looking for the right house to make our home.
Hope you enjoyed this little taste of the Okinawa house hunting experience as much as I enjoyed the process! Tomorrow, time-willing, I will let you in on the house finding. Which was JUST as much fun!