I'm going to start my post by saying we went to Hong Kong specifically for New Years, so we didn't get as much sightseeing in as I would like to have. It's definitely on my list for a re-visit, but we had crammed so much into the beginning of 2016 that we only had three full days, so we did our best to see what we could in that time. If you want a fabulous itinerary and all kinds of drool-worthy pictures, however, go check out my friend Hannah's posts about her family's trip to Hong Kong on FunFlyingFour. (My biggest regret is that we didn't make it to the Chi Lin Nunnery. So write that one down).
However, for the time that we did have, I must say, it was a pretty fabulous trip!
First Night:
We arrived around 4 p.m. and checked into our hotel, the Gloucester Luk Kwok, on the Hong Kong side of the Harbor. Hong Kong International Airport (HKG) makes it incredibly convenient to get to almost any hotel in Hong Kong with its "Train to the City" and the free shuttle buses that leave ever 15-20 minutes from the train station.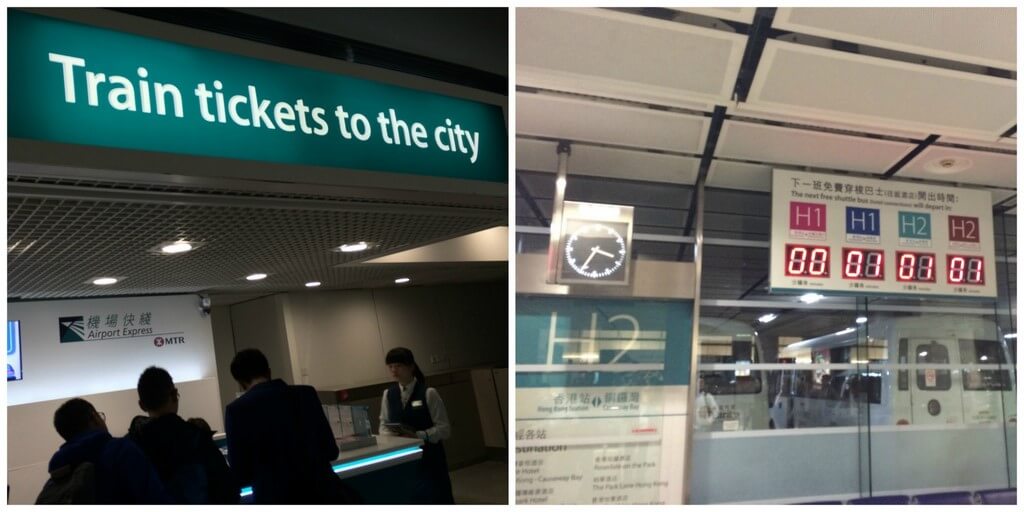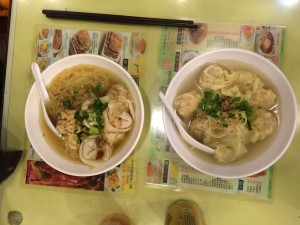 After getting checked in, we headed to Sam's Tailor where Dane got fitted for a tux. We had two fittings that first night and they assured us it would be ready in time for the party that we were going to on New Year's Eve (two days later).
You can read the whole story and get directions in my post, Sam's Tailor in Hong Kong. In between his first two fittings, we got a quick bite at the Yuen Kee Diner, which was just around the corner. We will call it good- but not great. Dinner later that night more than made up for mediocre shrimp wonton soup though.
Sam's Tailor is on Nathan Road which is one of the main drags on the Kowloon side of Hong Kong Harbor. We spent the evening exploring and shopping around. By 9 p.m. we were starving, so we turned back to the phones to see if we could find a good Chinese restaurant with a view on Nathan Road. We got exactly what we were looking for in Budaoweng, a Hot Pot restaurant located in the iSquare (63 Nathan Rd, Tsim Sha Tsui, Hong Kong) building. We found it to be exactly as it is reviewed: a little pricey for hotpot cuisine, but with unbeatable views and excellent food that make it well worth the trip.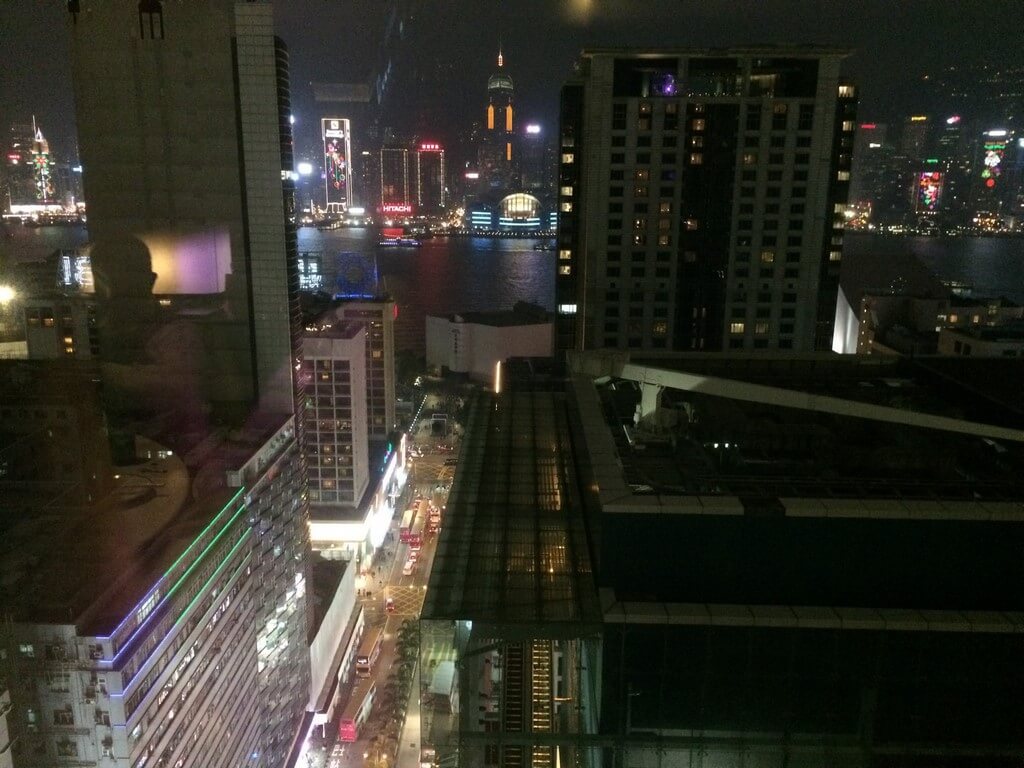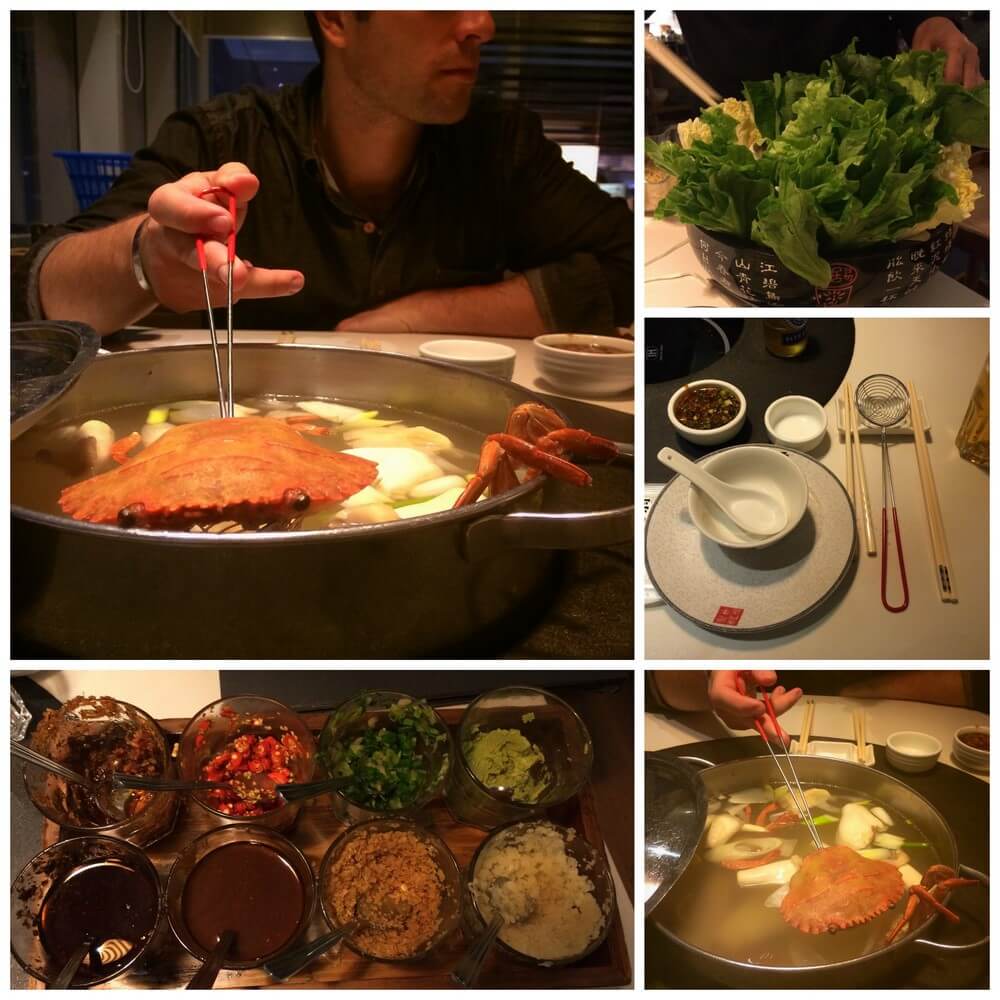 Because we are late diners, we were able to score a window-side table, but I'd recommend making a reservation if you know you are intending to take in these views while visiting Hong Kong.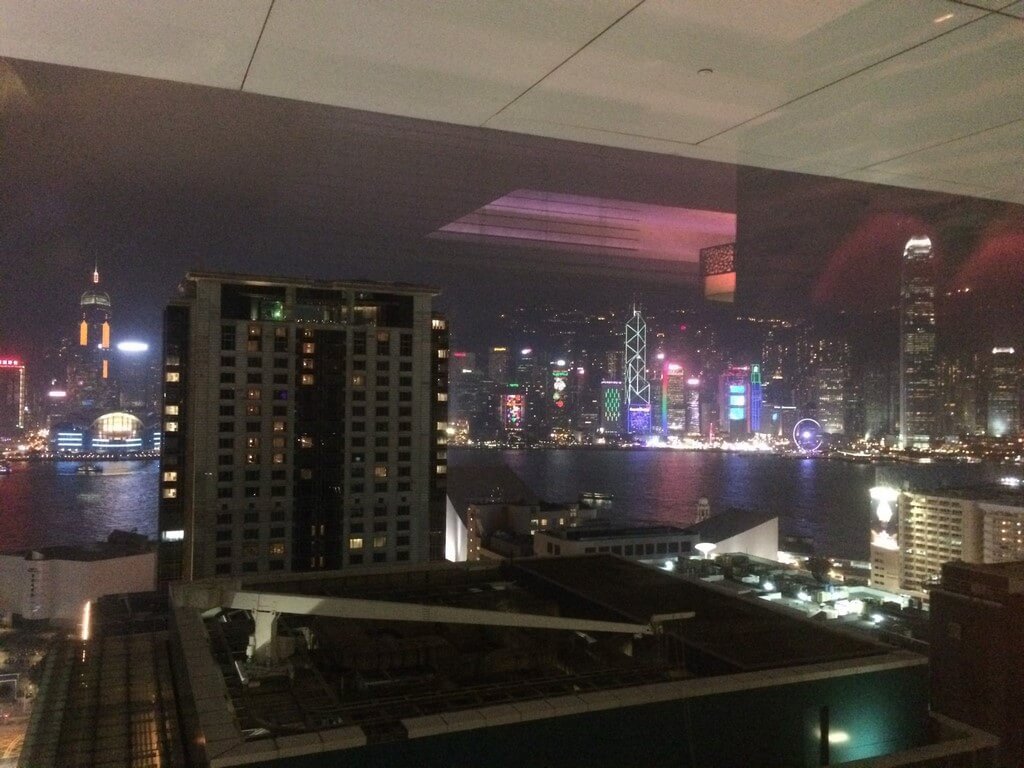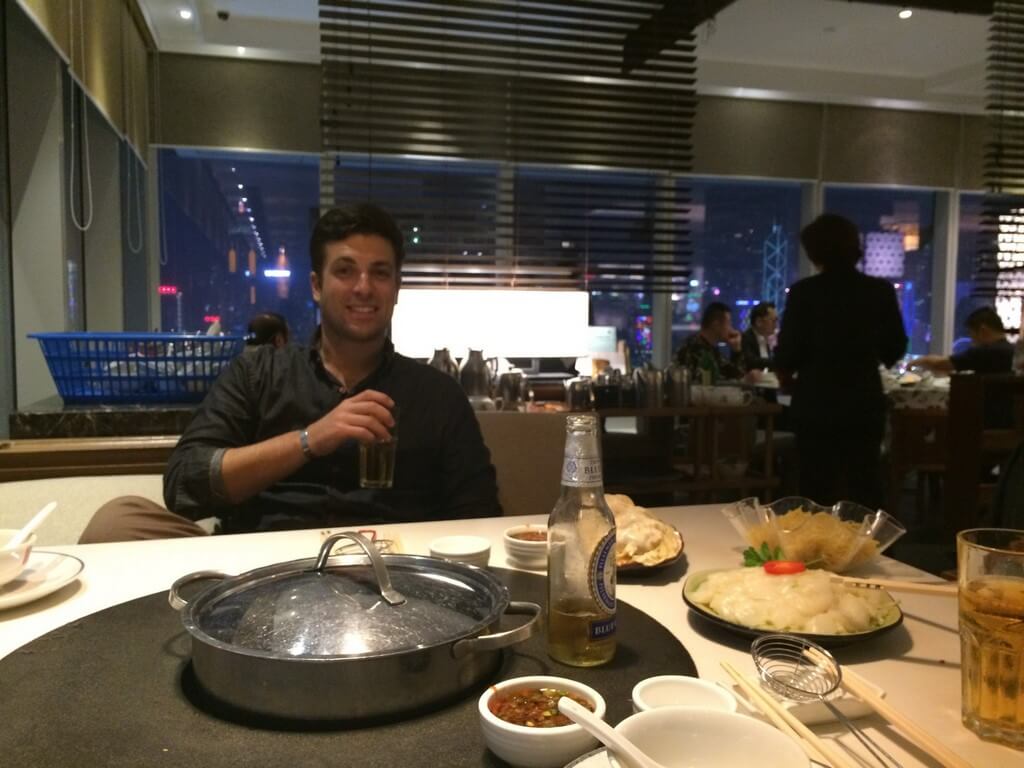 We ordered the crab and wine based broth, scallops, Japanese veggies and Chinese noodles. Although I'd had hotpots on a couple of occasions while backpacking, there wasn't nearly as much ceremony then as there was this time around. In fact, I just remember a big pot last time that was really hot. This time, our waiter kept a close eye on us, explaining just how long to keep the scallops in and how to add the noodles without losing them. He also suggested we stop playing with our crab, so we kind of did. I like to think he really appreciated our enthusiasm. But maybe not.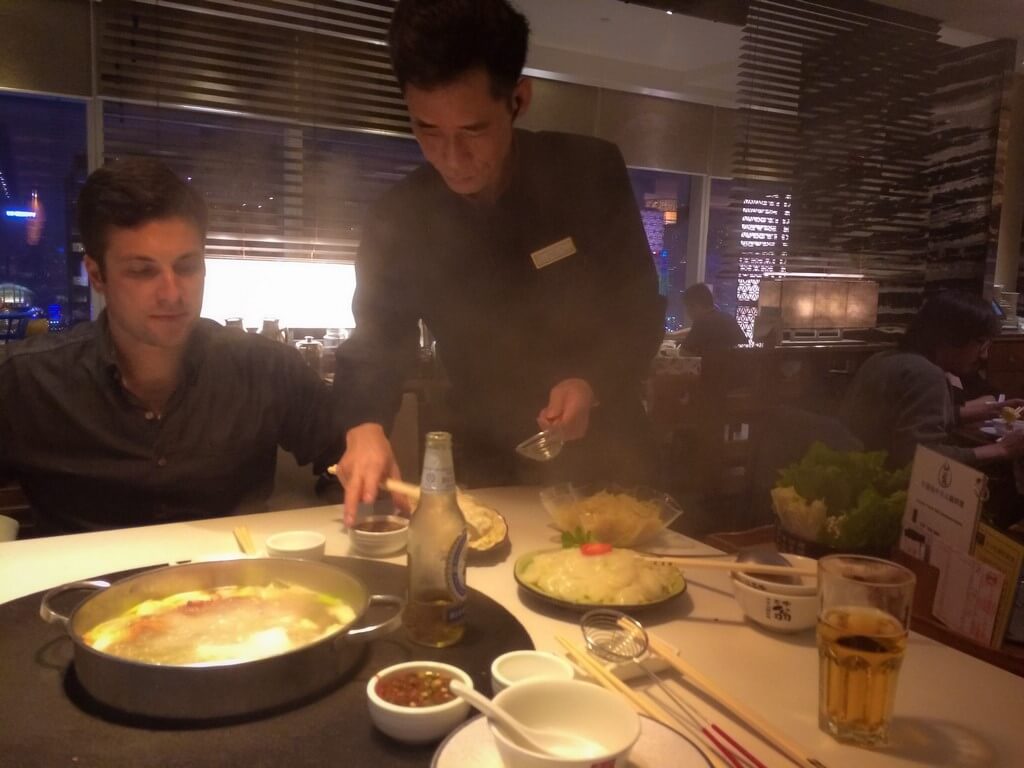 Everything on the menu looked delicious, and all of the seafood was almost as fresh as it gets! Aquarium Goals!! Am I right?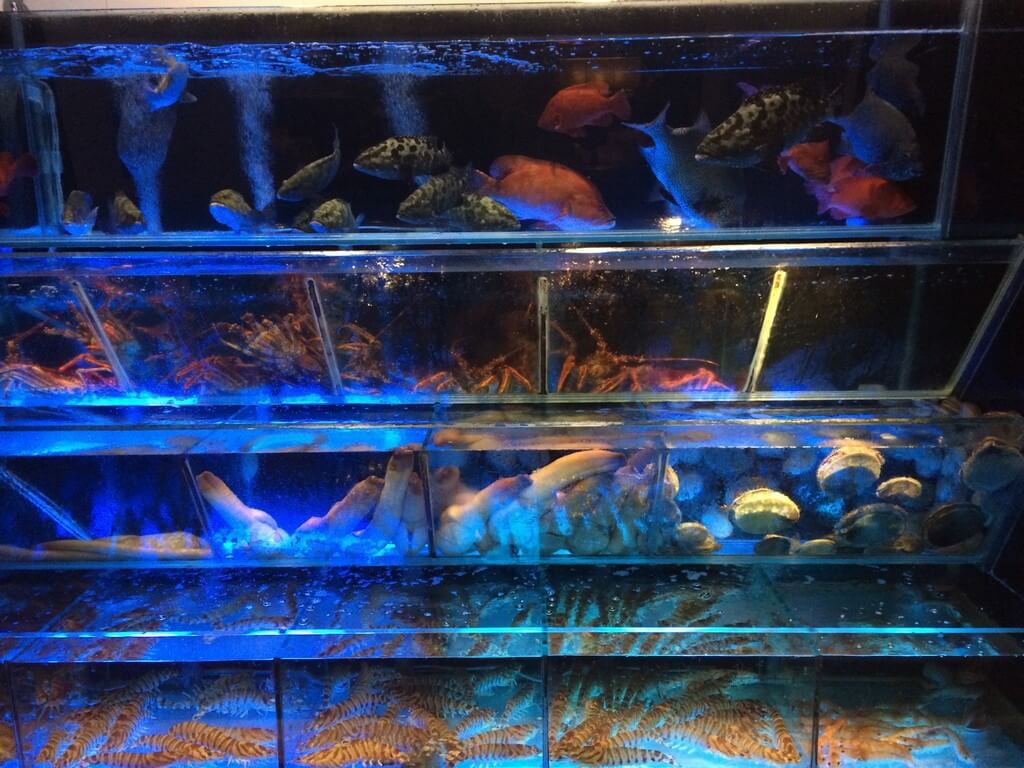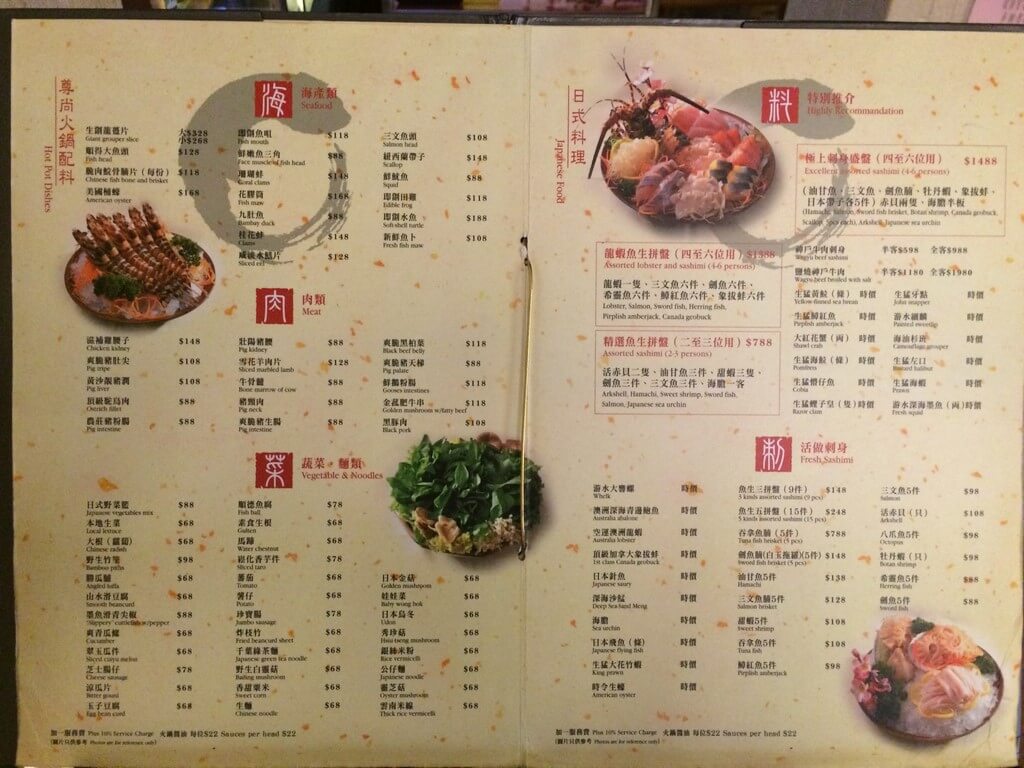 I got a massage on our way home. Because, well… when in Asia!
Full Day 1:
"Get there early," was the advice we got about taking the Ngong Ping 360 cable cars, up to see the Tian Tan Buddha and Po Lin Monastery. I'm going to give you different advice. Buy your tickets in advance!! You can get 10% off ticket prices by subscribing to the Ngong Ping newsletter (just follow this link: Ngong Ping 360– you can unsubscribe any time), PLUS you will wait in a significantly shorter line. The catch is, you must purchase advance tickets at least a day ahead of time.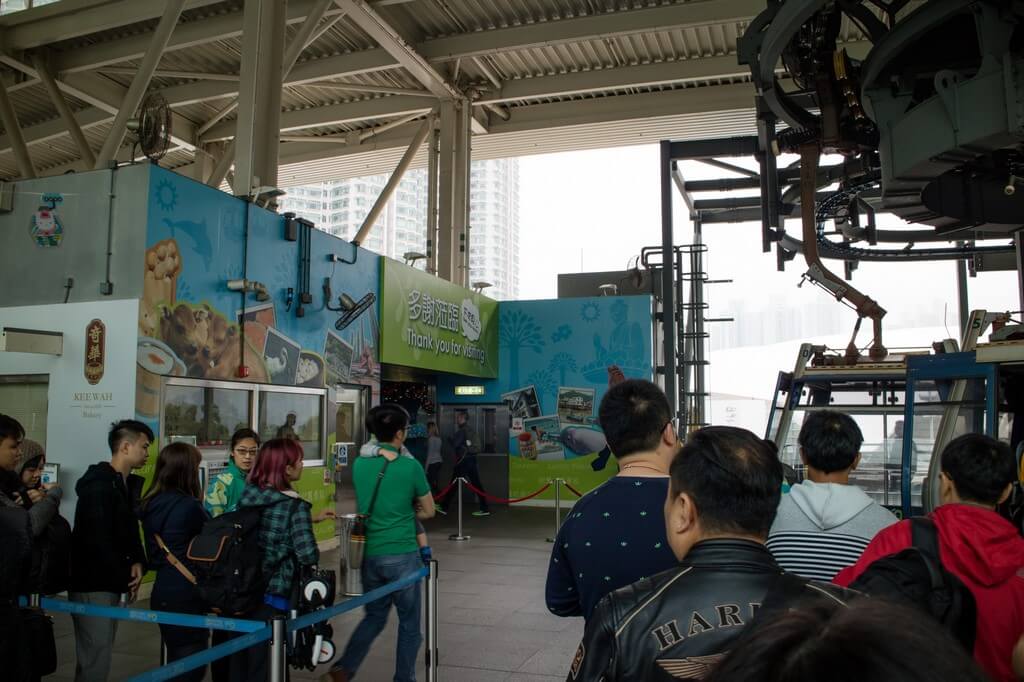 It's also probably beneficial to get there early, the line continues to grow all day, and if you plan to explore anything else on Lantau Island (like the Fishing Village) the cable cars close at 6:00 p.m., so be aware of time. We ended up forfeiting our return ticket because we didn't make it back in time. But more on that later.
We didn't get there as early as we should have, apparently, because there was already an estimated 105 minute queue when we arrived. We decided to go ahead and do it, partly because we didn't know that taking a taxi up was an option and partly because we made friends with a lady in line ahead of us and had a great time getting to know her.
The three of us elected to take the Crystal Car, which has a glass bottom and provides pretty cool views on the way up. Tickets were 255 HKD each. A taxi would have been 150 HKD for everyone. I'm not sorry we took the gondola, but next time I would definitely buy tickets in advance.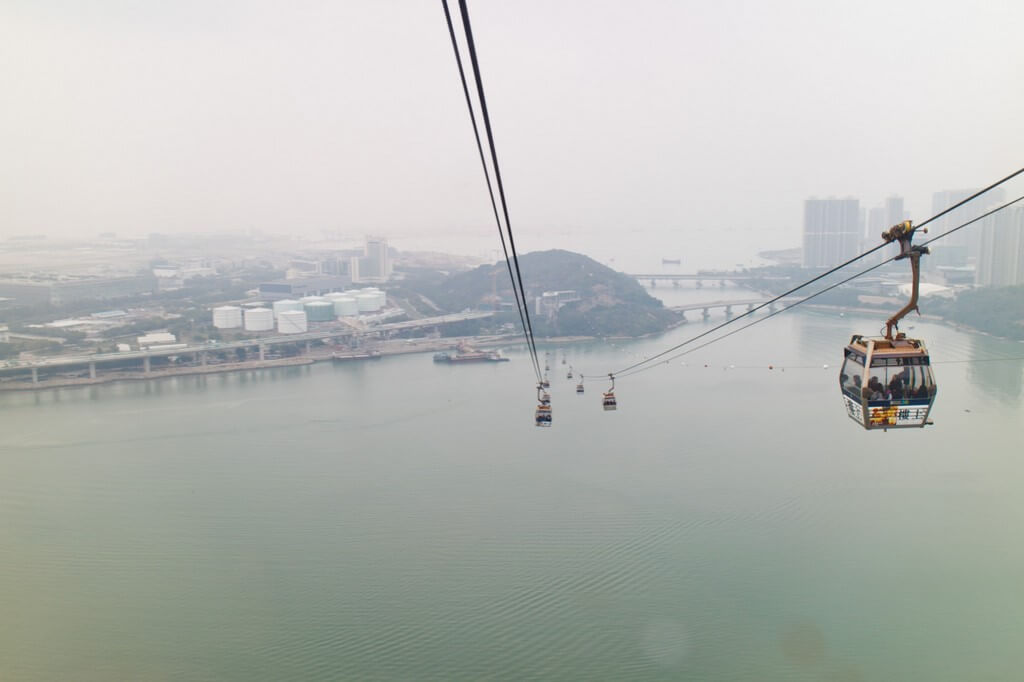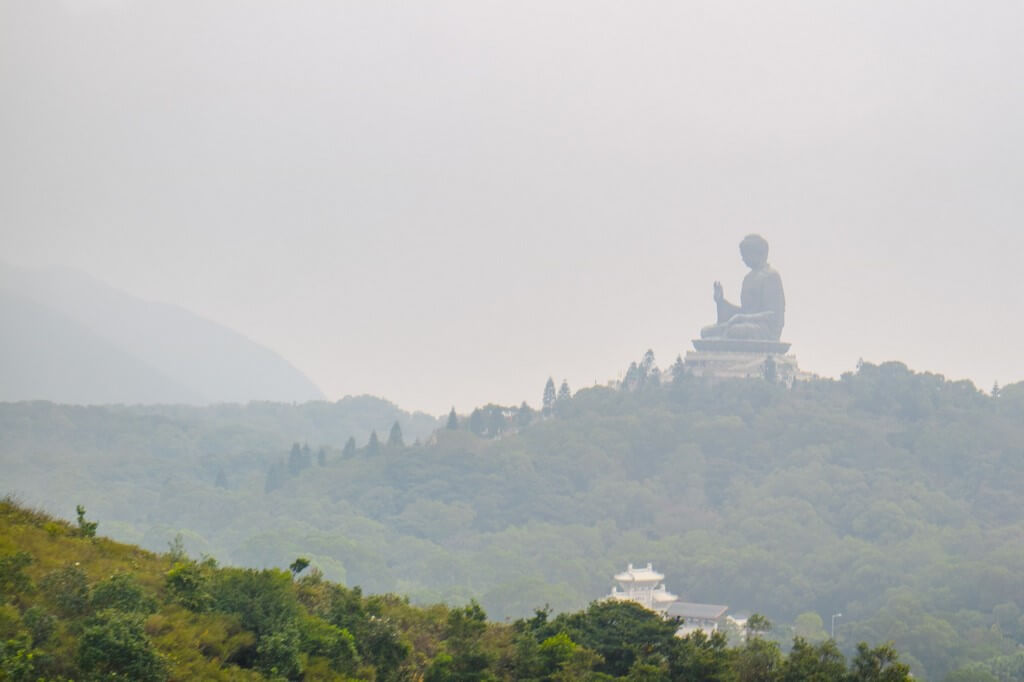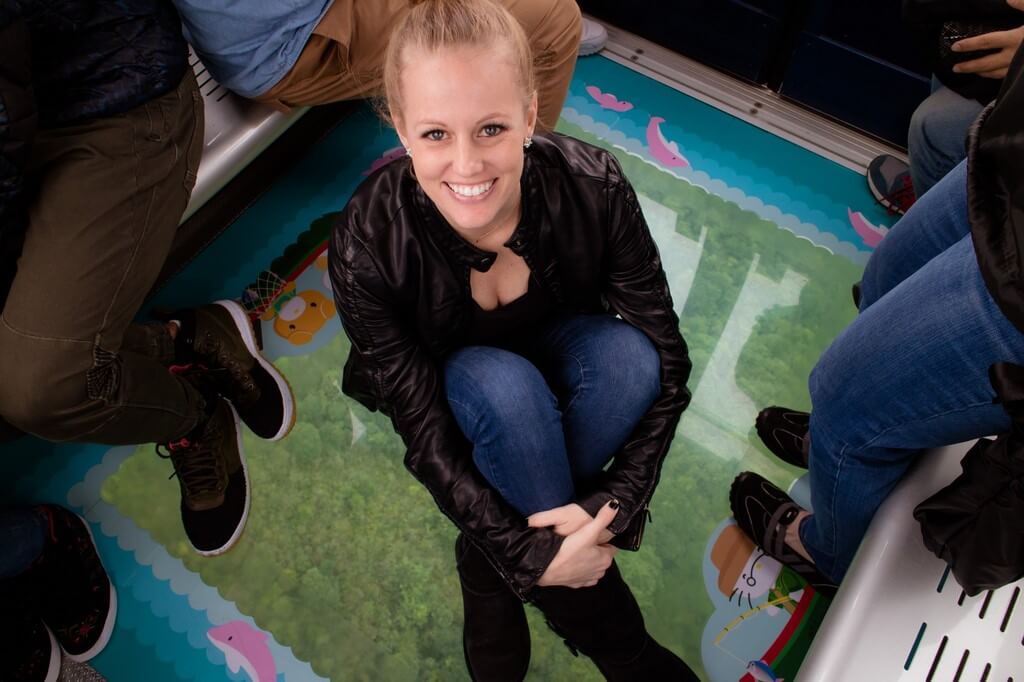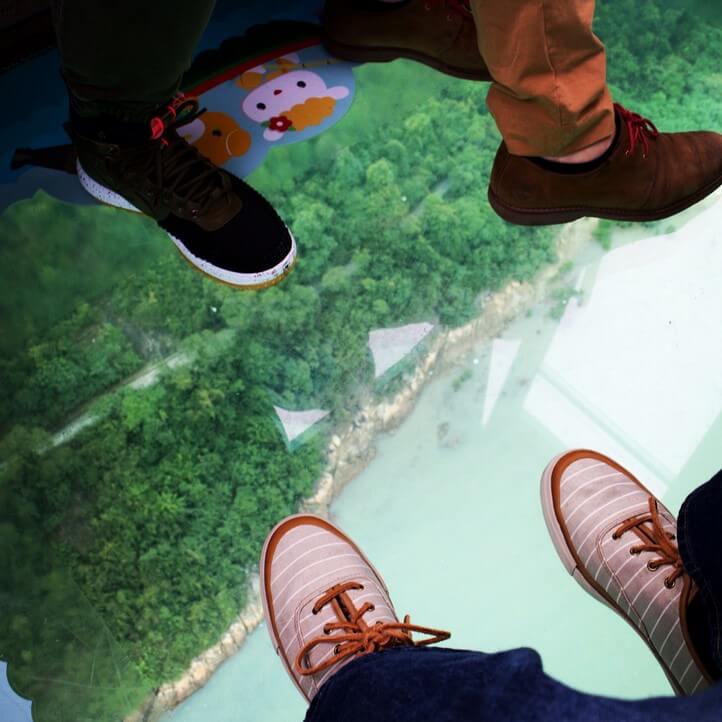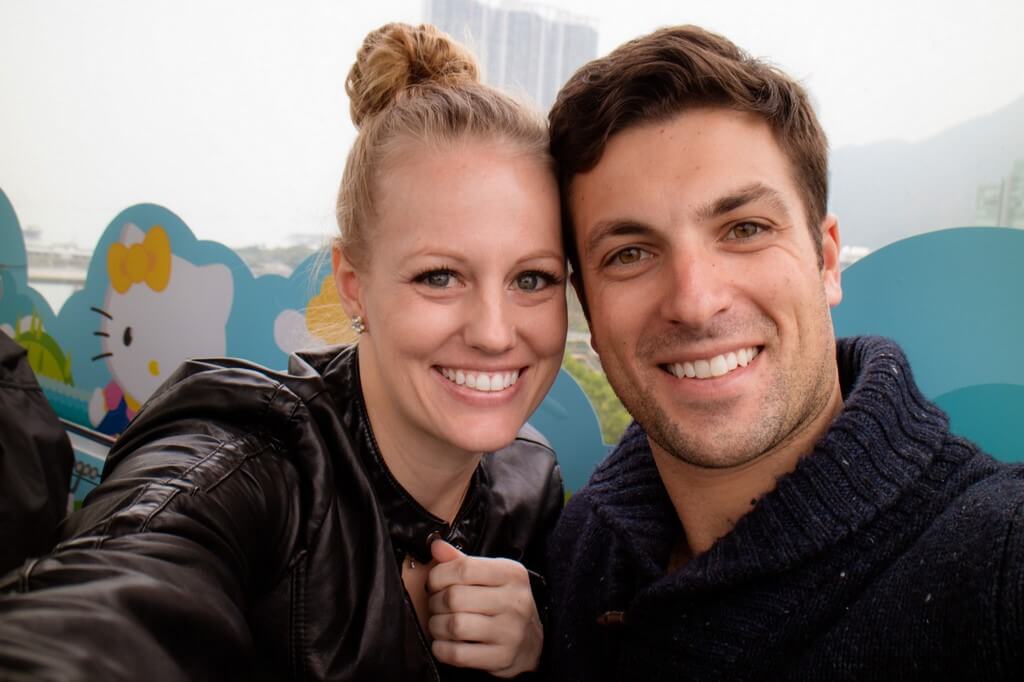 Walking up through the Ngong Ping Village was one of my favorite parts of our visit. Although it's extremely touristy, it's also really adorable. Also… there were cows.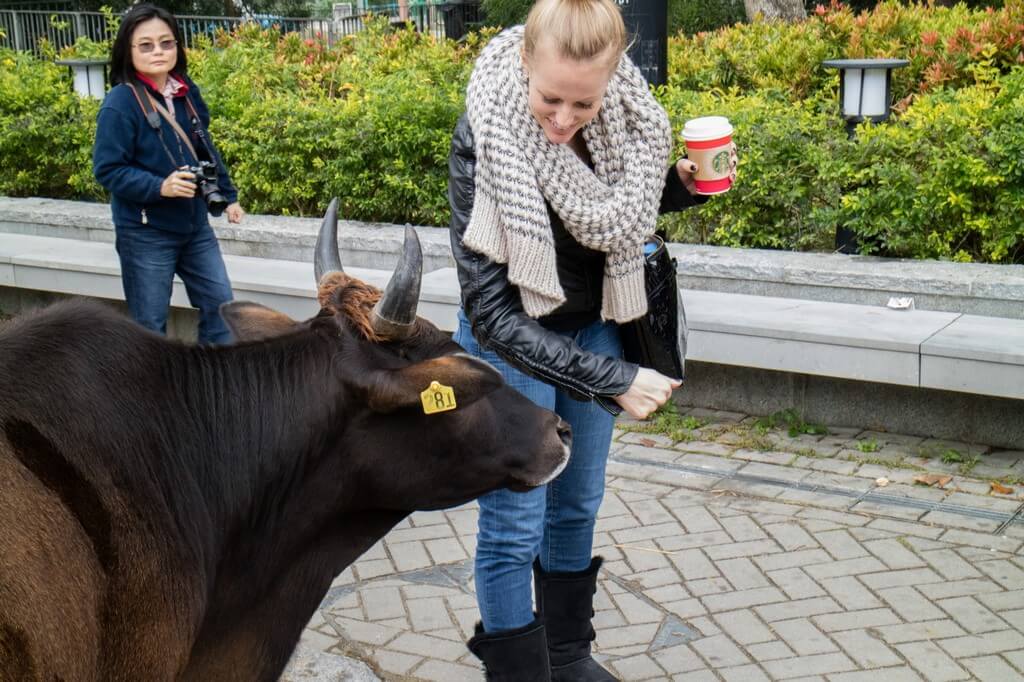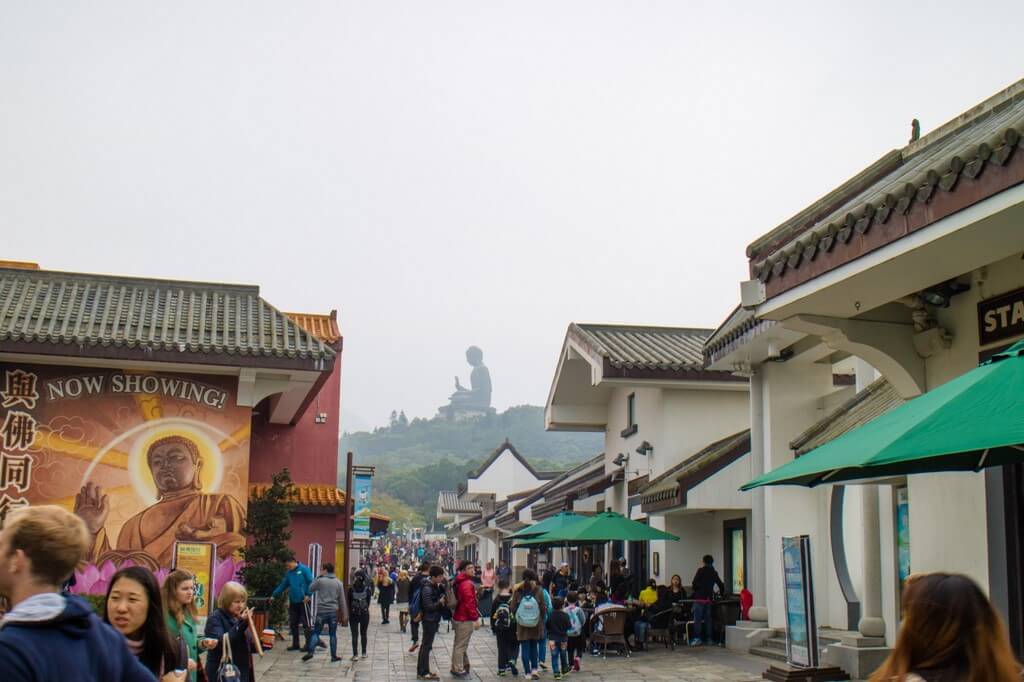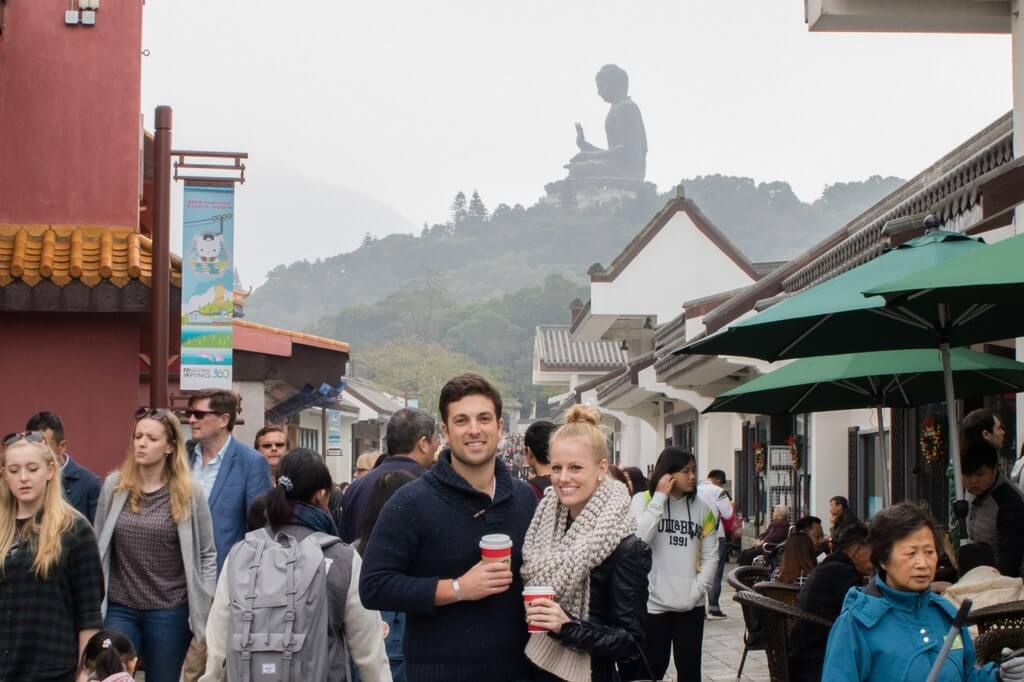 Tian Tan Buddha is also affectionately called the Big Buddha by everyone, including the signage- and he does not disappoint! It's the world's largest Buddha, weighing 250 tons and standing over 34 meters tall.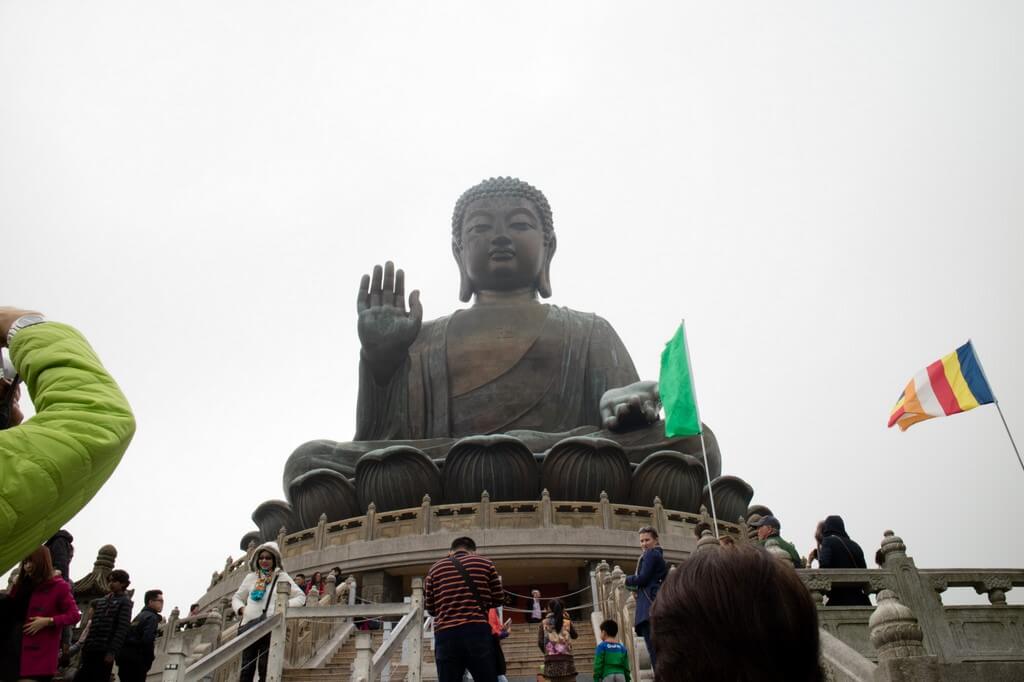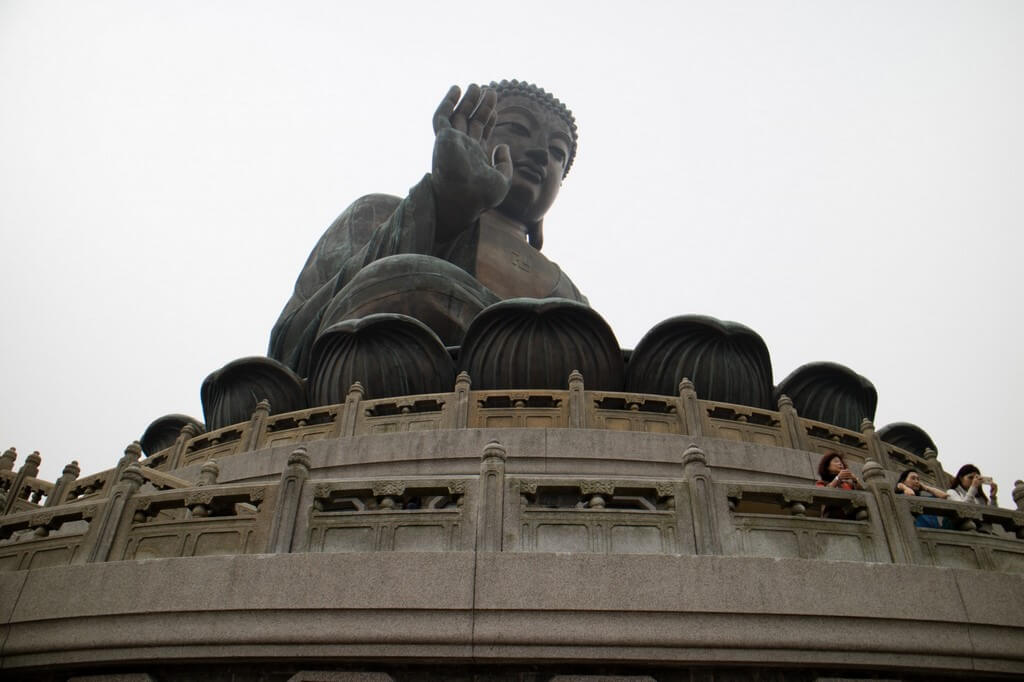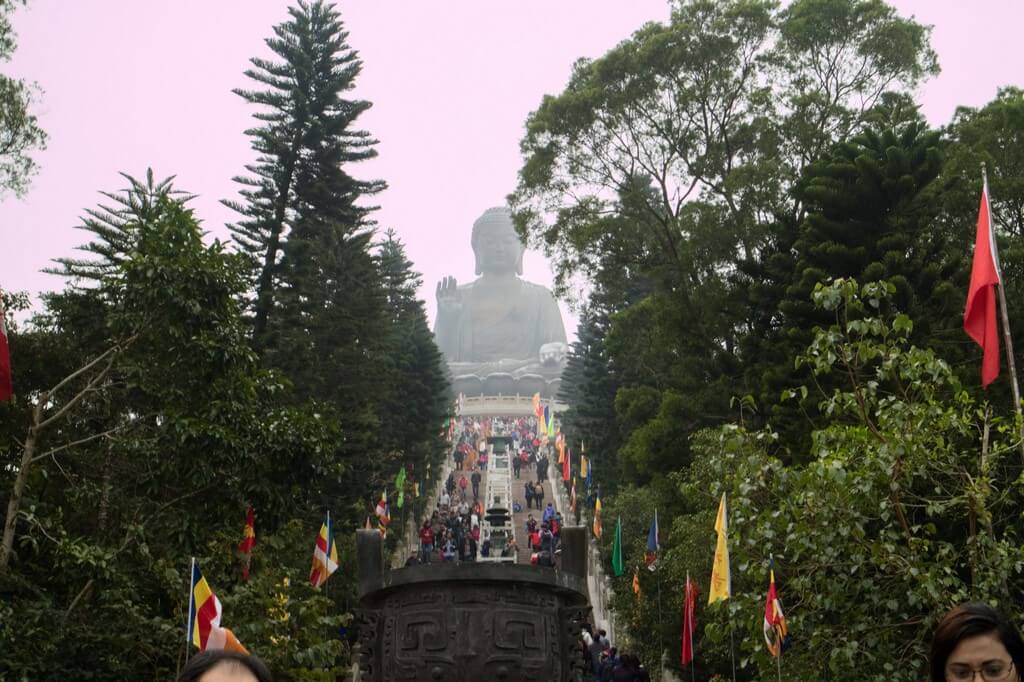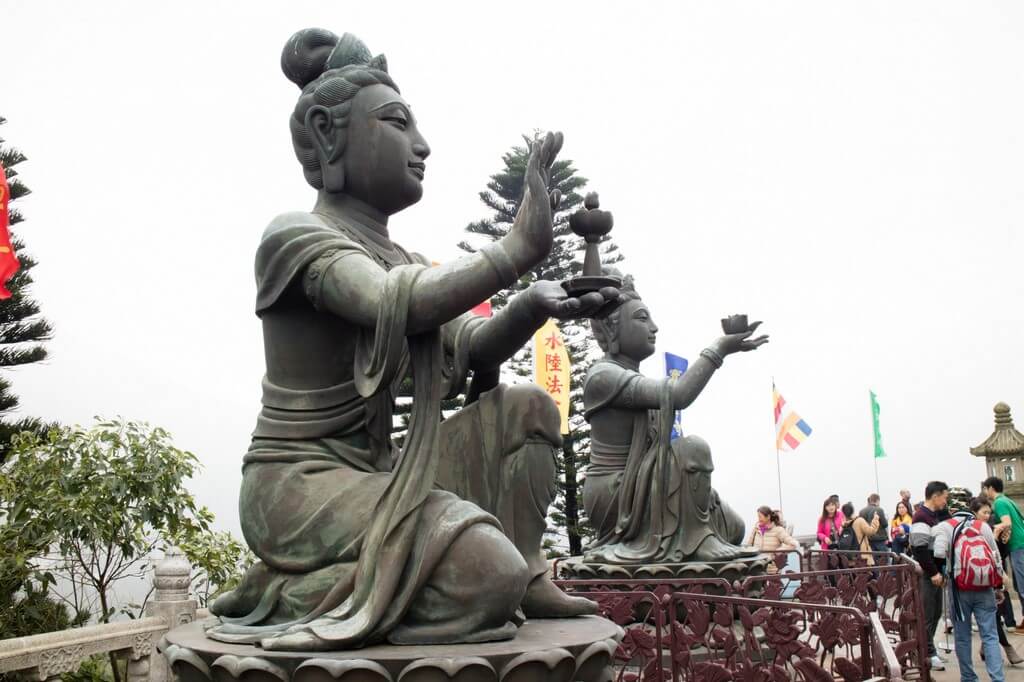 Just steps away from Tian Tan, you will find the Po Lin (Precious Lotus) Monastery.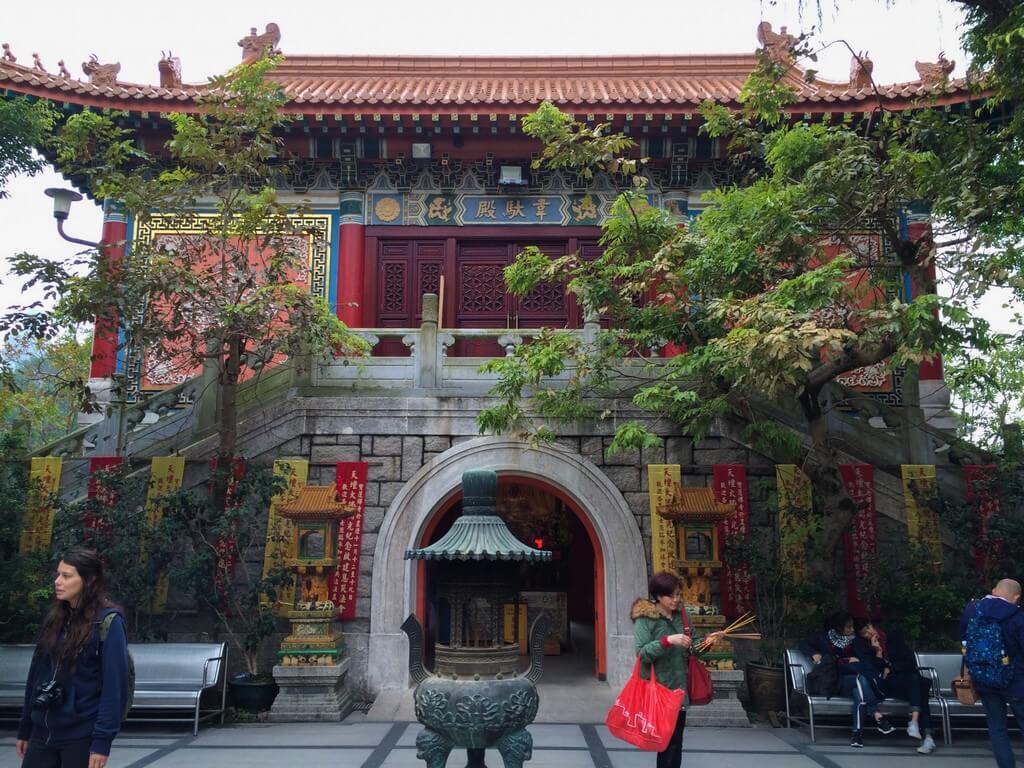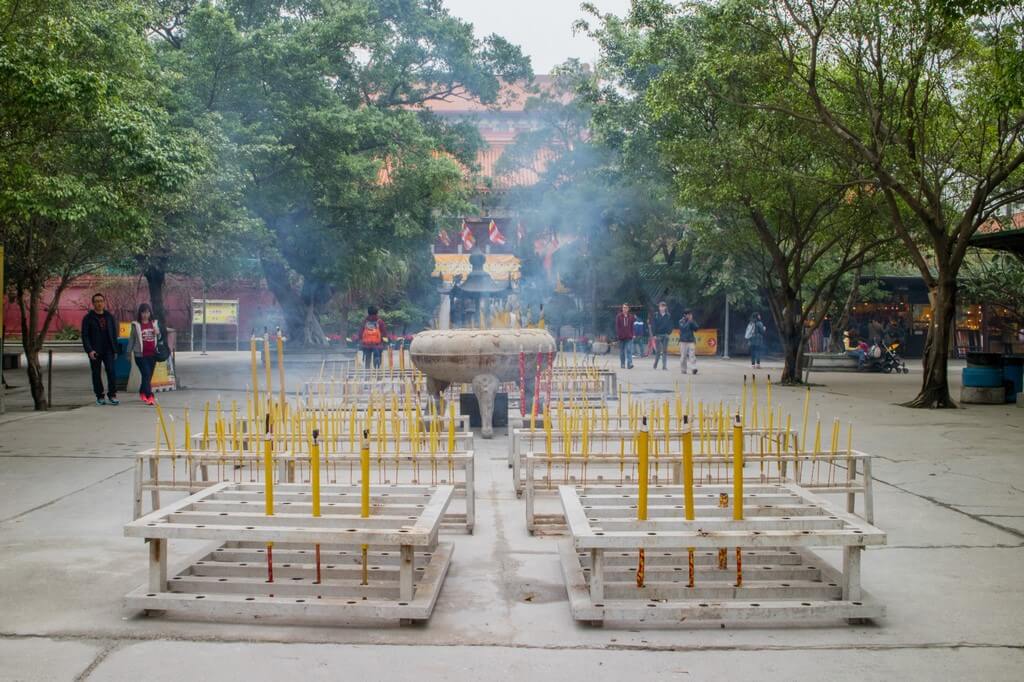 We'd been told that the 10,000 Buddhas Monastery was also located in this area (which kind of goes to show how much research we had done before taking this last minute trip) so we walked around for a little while looking for it, before realizing that it's actually a good 60+ km away. Oops!
The 10,000 Buddhas Monastery is definitely on my list, along with Man Mo Temple and Chi Lin Nunnery for next time. If you're Hong Kong-ward bound- don't miss these! I'm really sorry we did, but it gives me good reason to return!
We took Bus 21 from Ngong Ping station to Tai-O Fishing Village (about 10 minutes) around 3:45 p.m. We intended to take the bus back to the top of the hill so that we could take the gondola back down, but like I said earlier–that didn't happen.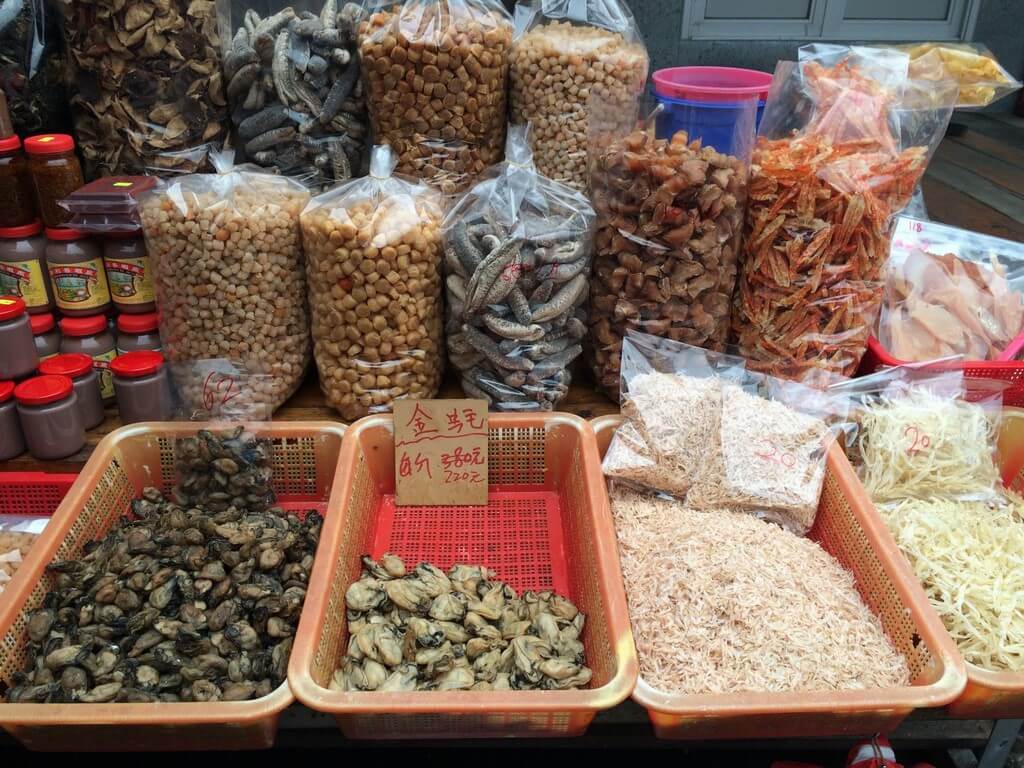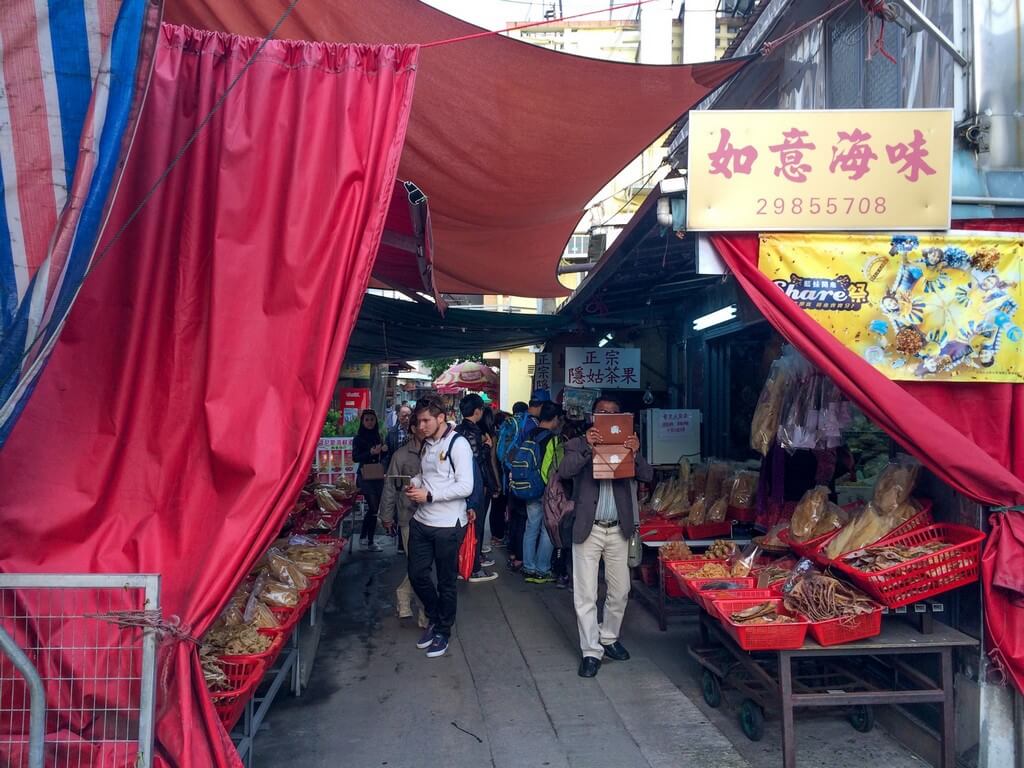 We ate some cuttlefish and roamed the streets. Several boat operators: Dolphin, Vitadsy and Ngong Ping 360, to name a few, offer 20 minute boat rides through the stilt villages. For only 25 HKD ($3 USD) we decided it would be worth the ride. They tell you the boats are leaving in 5 minutes, but what they really mean is that the boat will leave when it's full. We got on an empty one and were full within 15 minutes, but had we known that we might have opted for one that was almost full to begin with.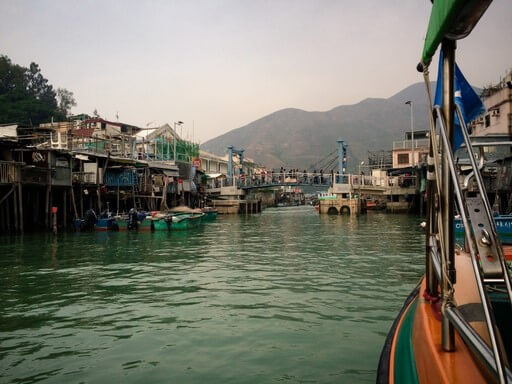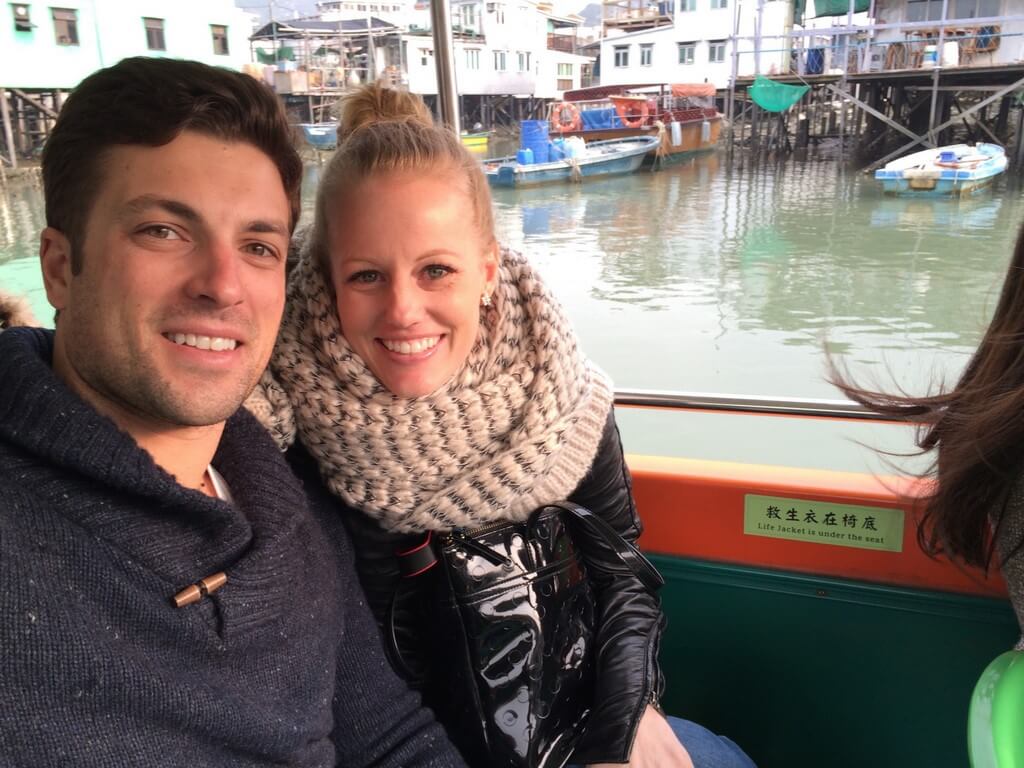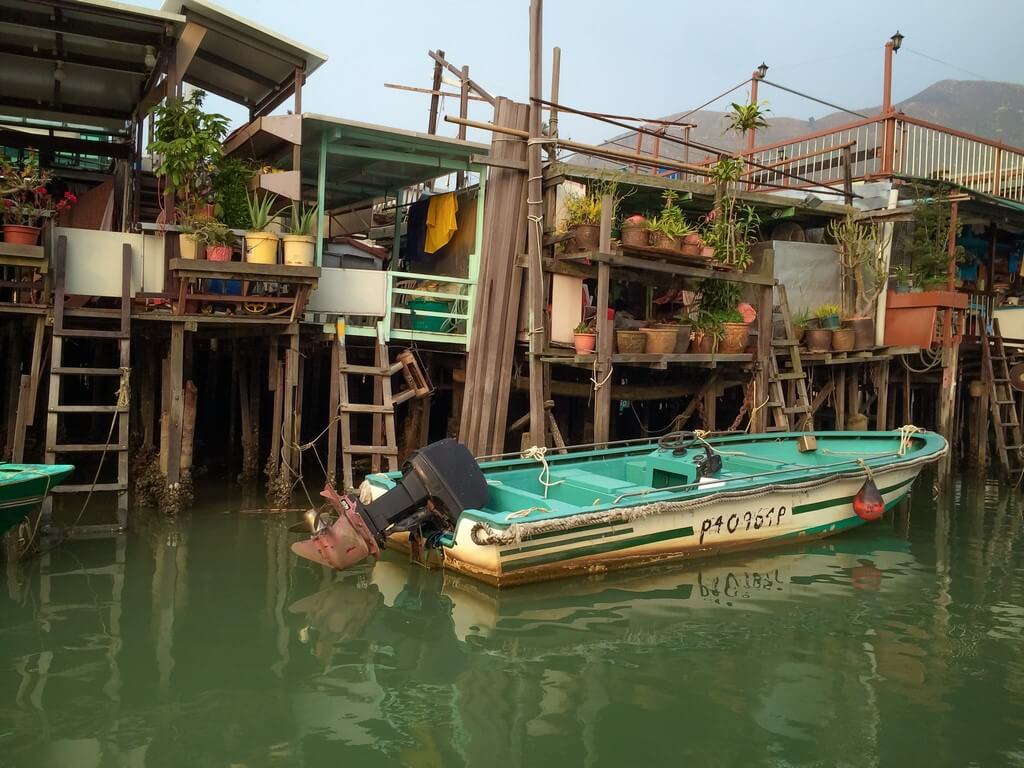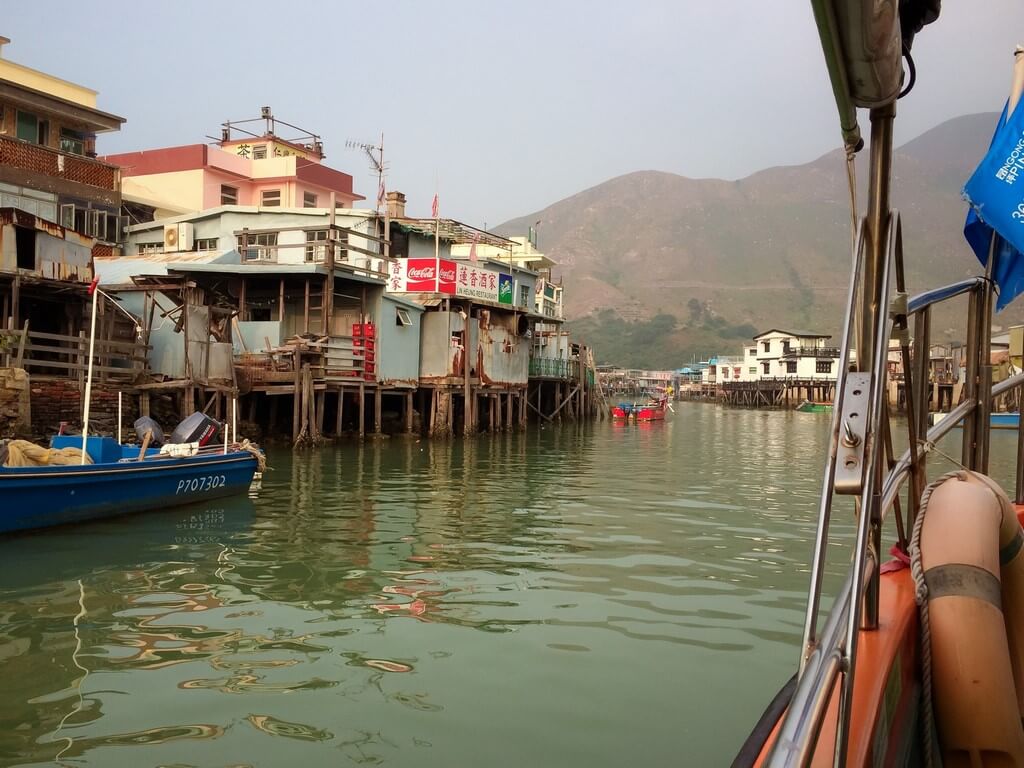 The Tai-O Fishing Village in Lantau is definitely worth a visit if you are really interested in seeing a stilt village, but I would warn you of two things: the line to leave by bus gets REALLY long (hours long) as the day goes on, and there are no taxis. We opted for the taxi line assuming that with only 3 groups ahead of us we'd get back quicker, but after an hour only one taxi had come (apparently only 50 taxis are licensed to drive on Lantau Island) so we split up to see who would get to the front of the line first.
Knowing we were already too late to get the gondola back down, I came up with a new plan. I approached a man in a private car and asked him how much it would cost to give us a ride down to Tung Chung Station (the closest MTR station). He said 300 HKD, so I asked the nice couple behind us in the taxi line if they would be interested in paying roughly $20 each to get a ride. They agreed that it sounded like a great idea, so I told them to get in the car while I grabbed my husband who was now waiting in the bus line. Sometimes Dane loves me for my resourcefulness, sometimes I get lectured. You can probably guess which category this fell under.
We took the MTR to the Hong Kong station, which is located directly under the IFC Mall. I wish I could have spent a whole day roaming that mall, but instead I only stopped in Diptyque and Zara. We took a few pictures of the "Grow and Glow" Christmas tree display and then went to C!ty'Super, an international grocery store and bakery on the first floor, to grab a twist-off bottle of shiraz, hearth bread, salami and brie, to take to the rooftop with us for the "light show".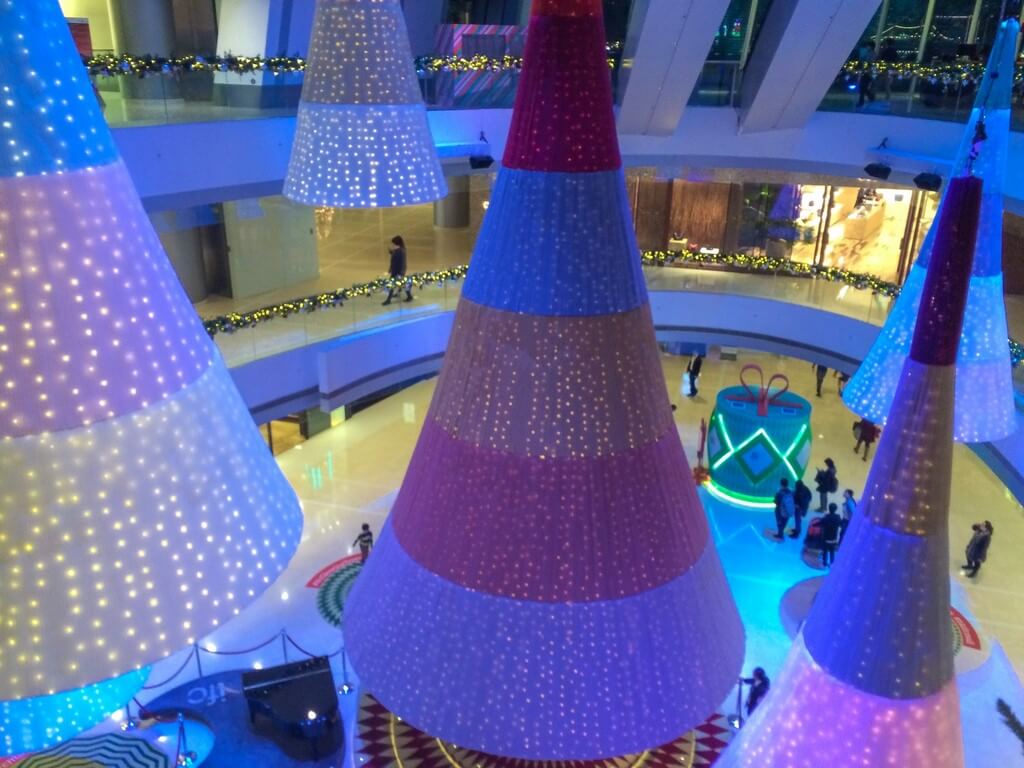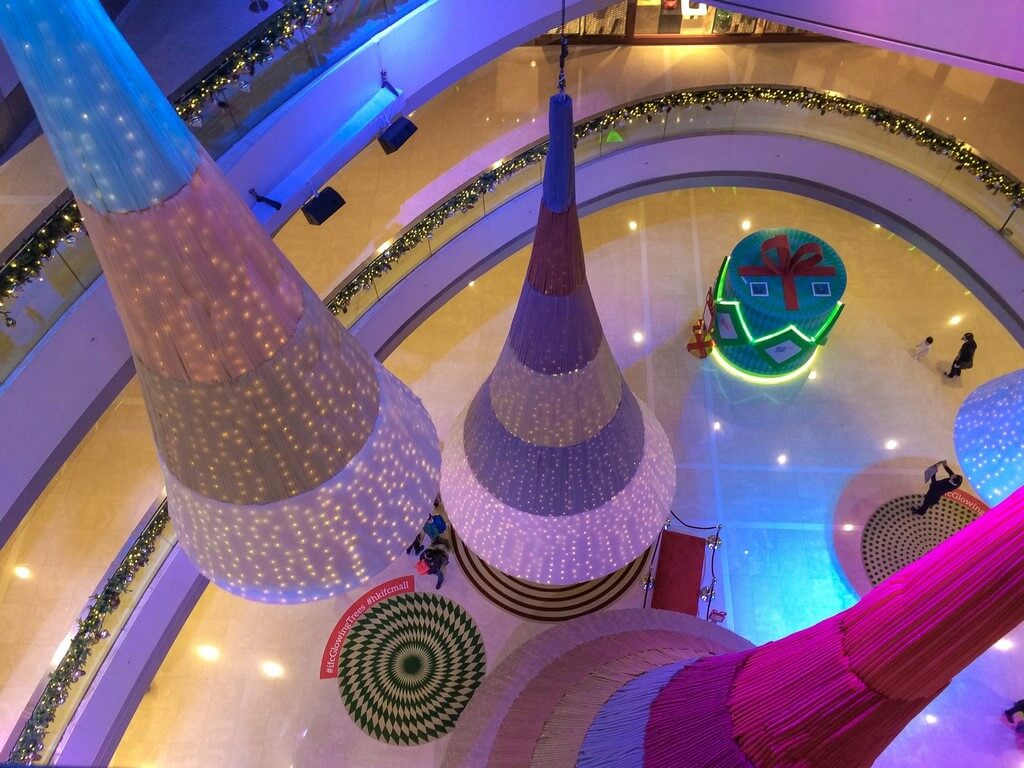 One really cool thing about this rooftop (which has a couple of cute restaurants and bars) is that they actually have tables that are reserved for non-paying customers. As in, tables, right along the balcony where you can't order over-priced drinks, but you can bring your own cheap bottle. It was awesome, and it seemed like almost no one knew they could use the tables. Other people were having picnics on the ground around the corner, but we had a front row table with comfy chairs, a heater and a light.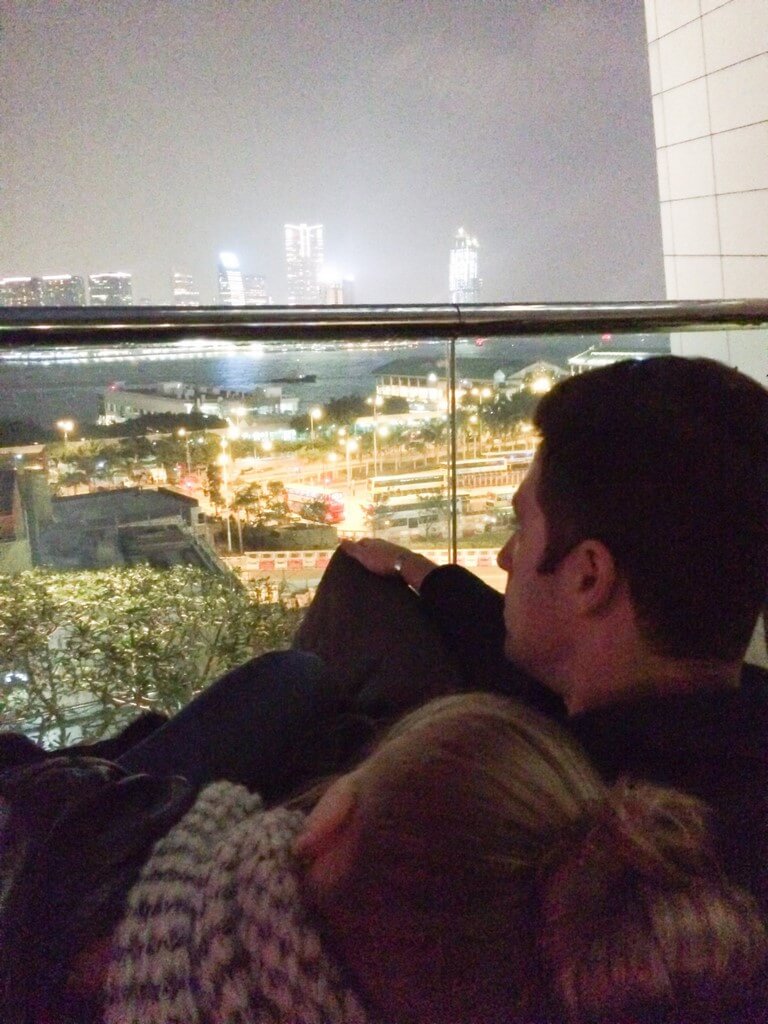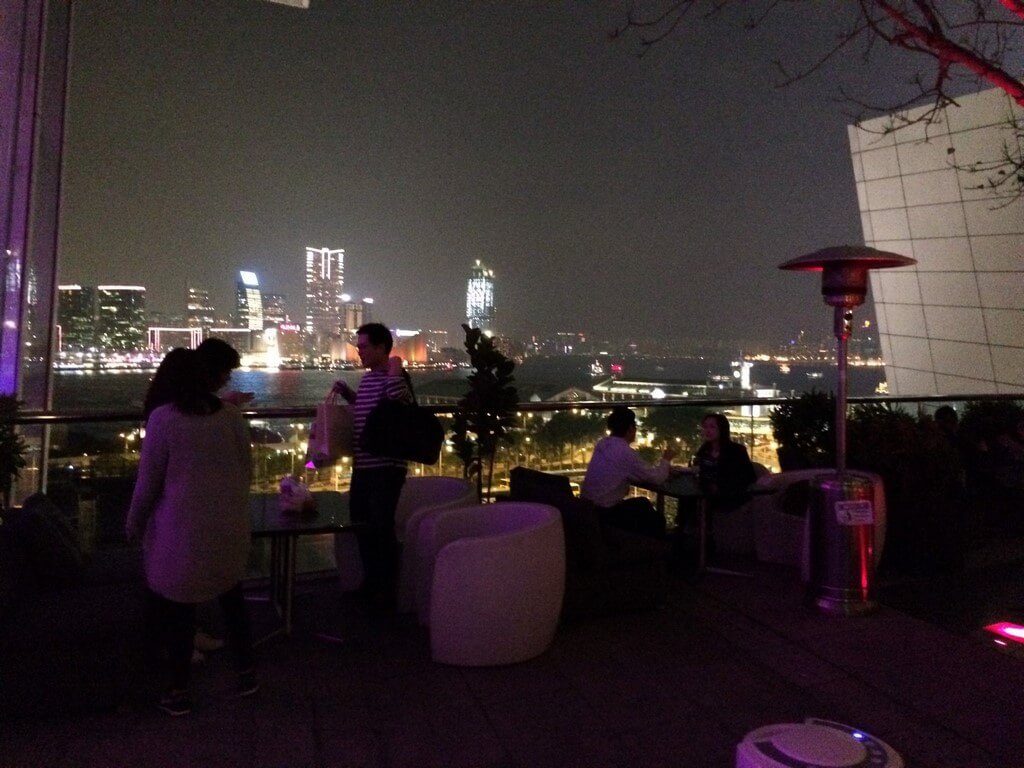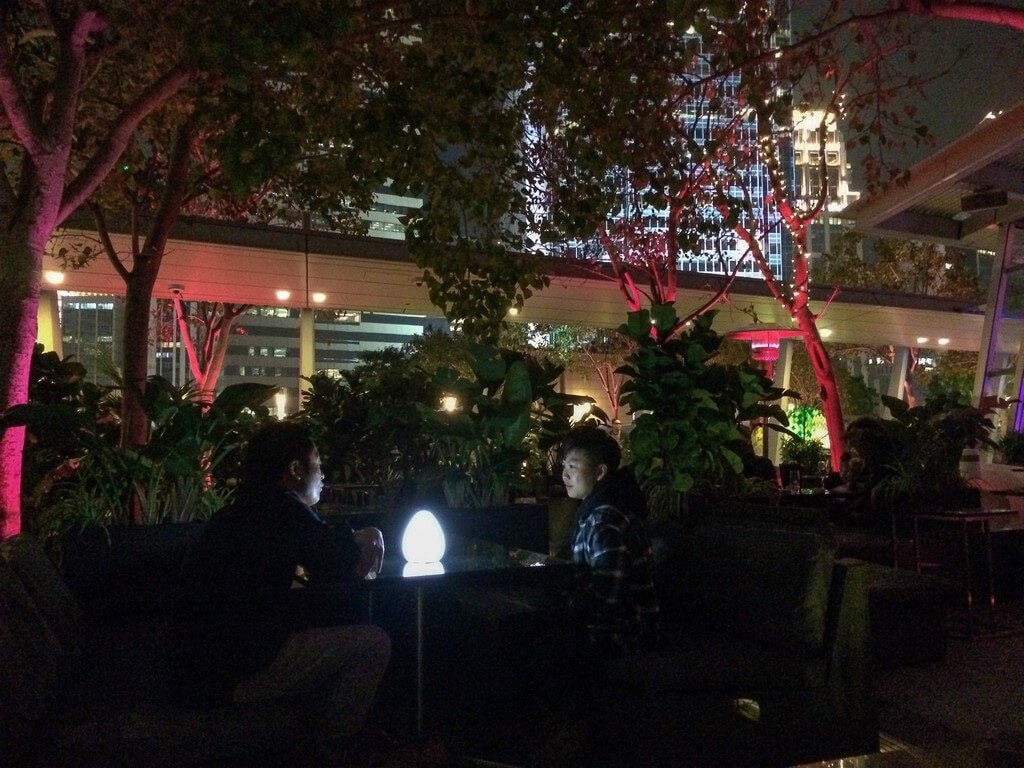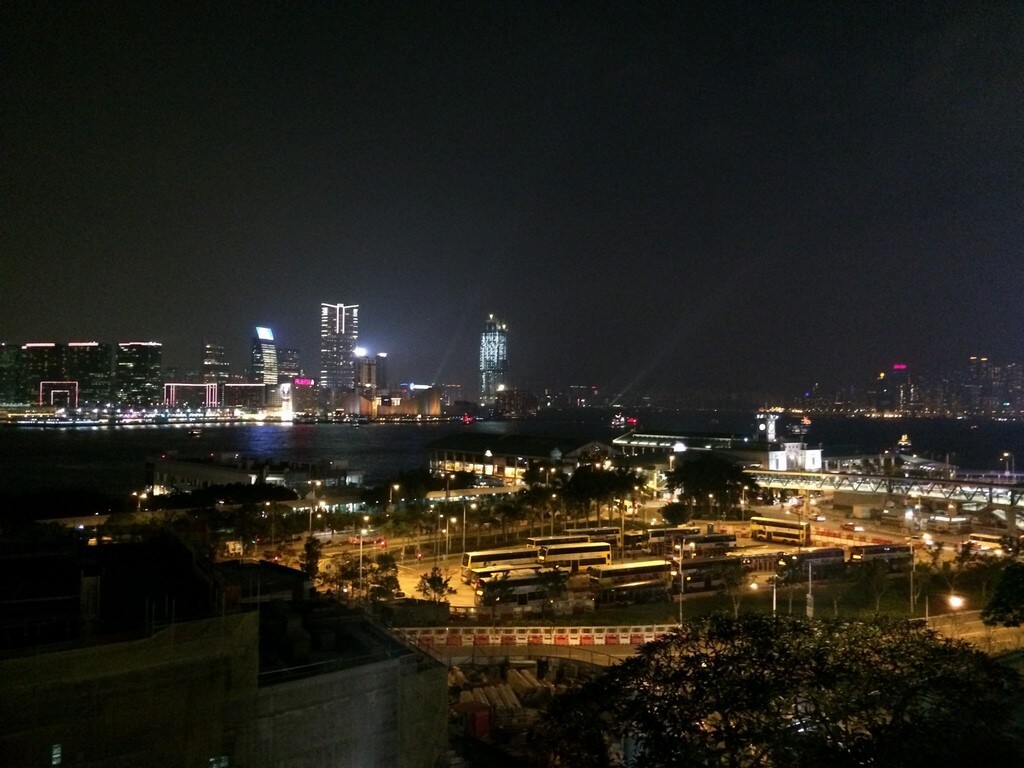 Now before you get too excited about the view for the famous Hong Kong light show, let me tell you what I didn't know: the ICC Light show not to be confused with the Symphony of Lights. ICC is cool (ish)– The ICC building is lit up and ballroom dancers were depicted dancing around the building t0 choreographed music that played from speakers just above us. I'm glad we saw it. But it was NOT the Symphony of Lights show. The Symphony of Lights is best viewed from the Kowloon side of the Harbor (and we were on the Hong Kong side) so even though we were there for it (8 p.m.), we were in it, instead of watching it.
Next time we are going to try to take this in from the Avenue of the Stars. Night cruises are also an option. Click on the link above for more information.
After our evening "snack and show" we went to Temple Night Market where we bought all kinds of night market goodies, ate roasted duck, and had some of the best noodles I've ever tasted at Tong Tai Seafood Restaurant.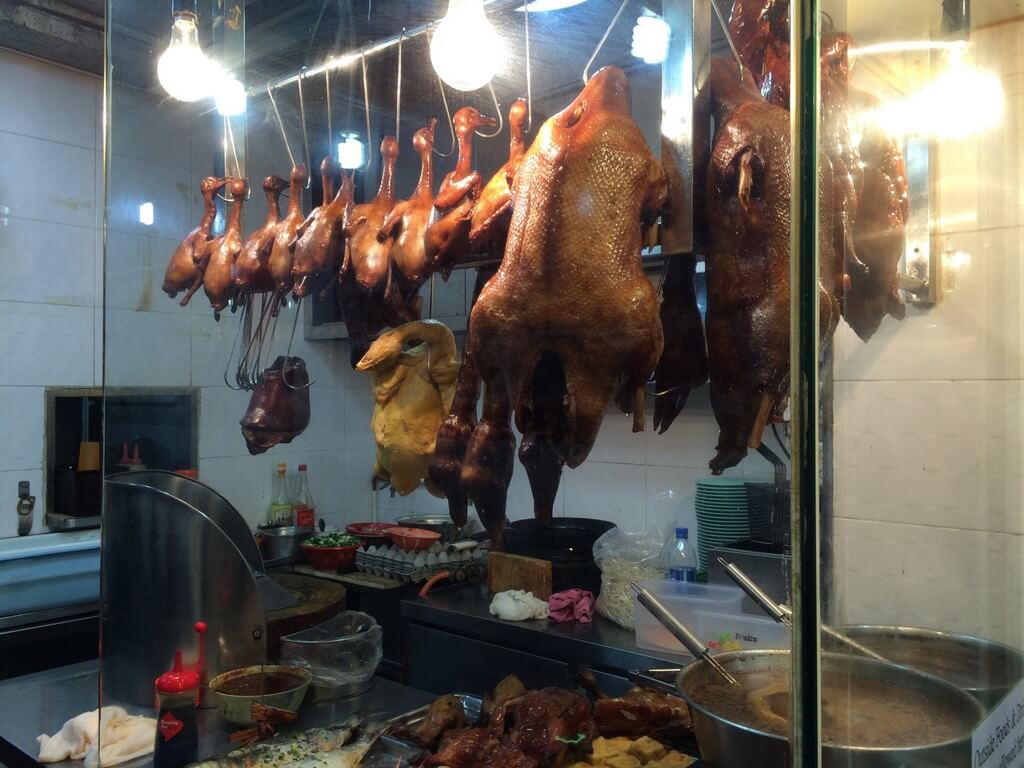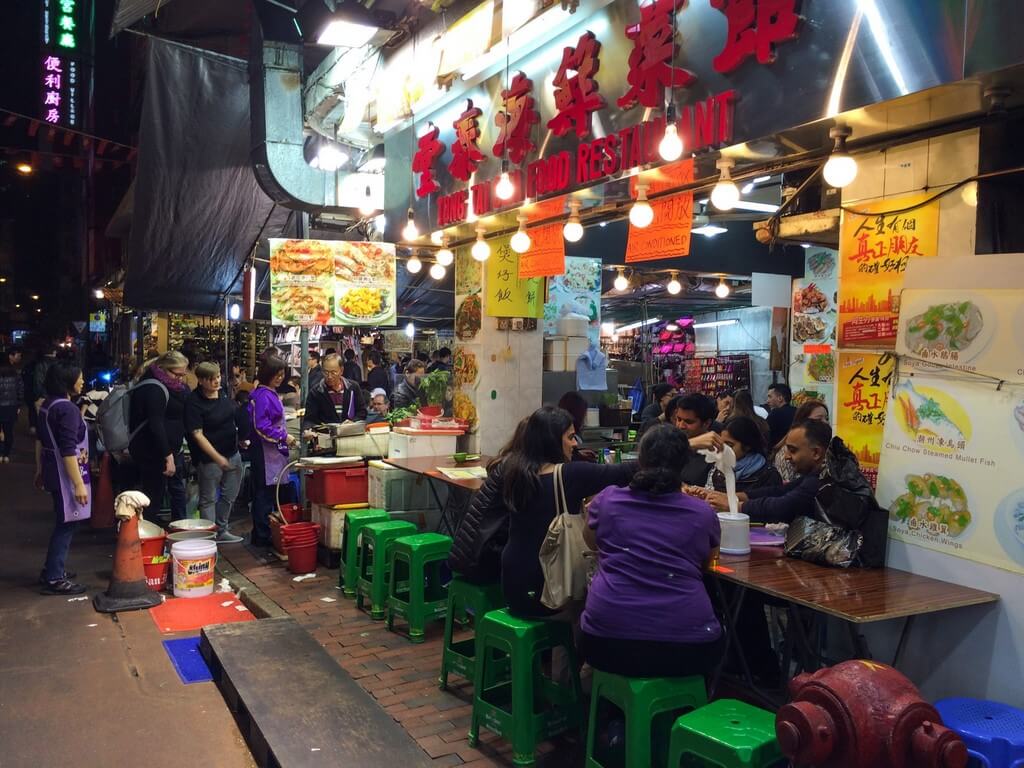 Full Day 2:
New Year's Day we were in no hurry to get started, knowing full well it would be a late night. We had brunch at Din Tai Fung, one of the most popular Dim Sum chains in the world. There was a huge crowd gathered outside and I was hungry enough to skip it despite it's line-worthy reputation, but I was pleasantly surprised that even with the crowd outside the wait time was only about 10 minutes. Let's chalk that up to a huge dining room and a very efficient ordering system.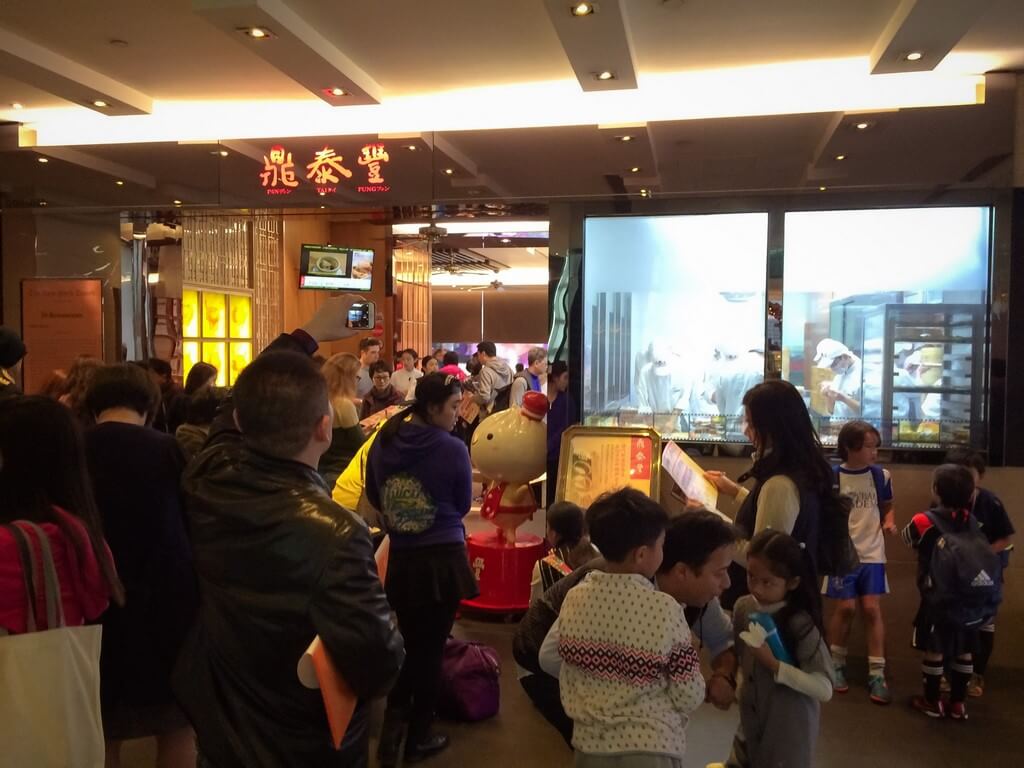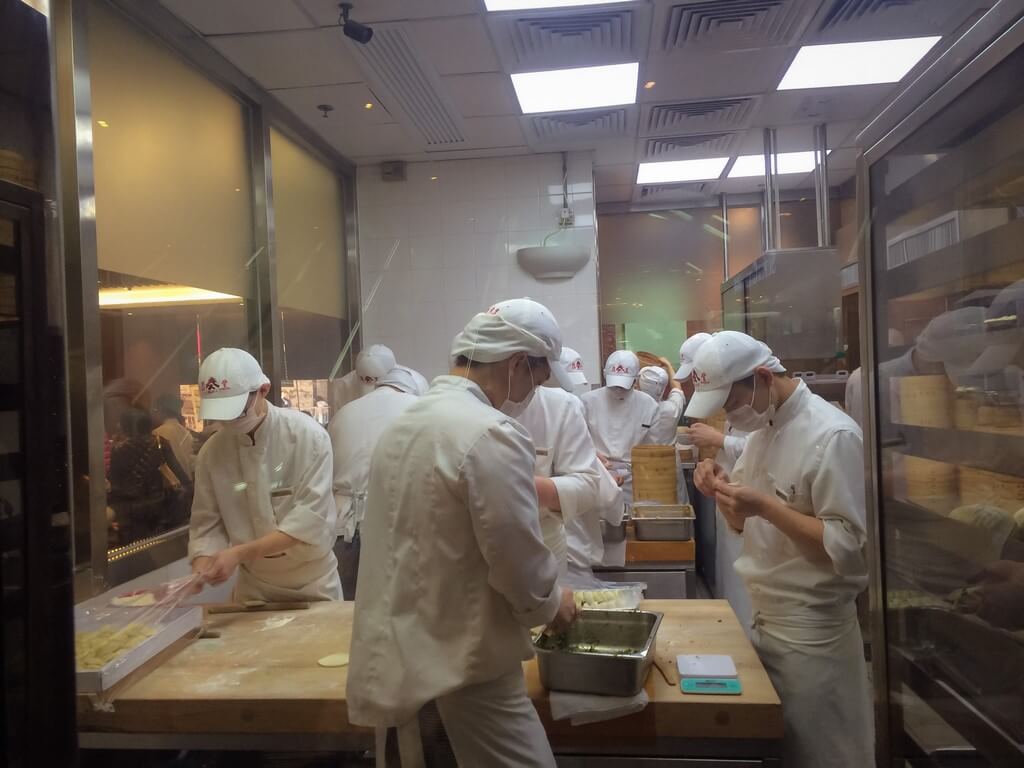 Obviously Din Tai Fung is famous for their Long Bon Xiao but we also ordered Hot & Sour Soup (one of my favorites), Chinese Cabbage, Wonton Soup, Shrimp Wontons in Special Sauce, and Shrimp Dumplings. Everything was delicious, but next time I'd skip the Shrimp Dumplings and get two orders of Long Bon Xiao. The whole meal, with four beers was only $602 HKD, which is as reasonable as I can imagine for a Michelin rated restaurant.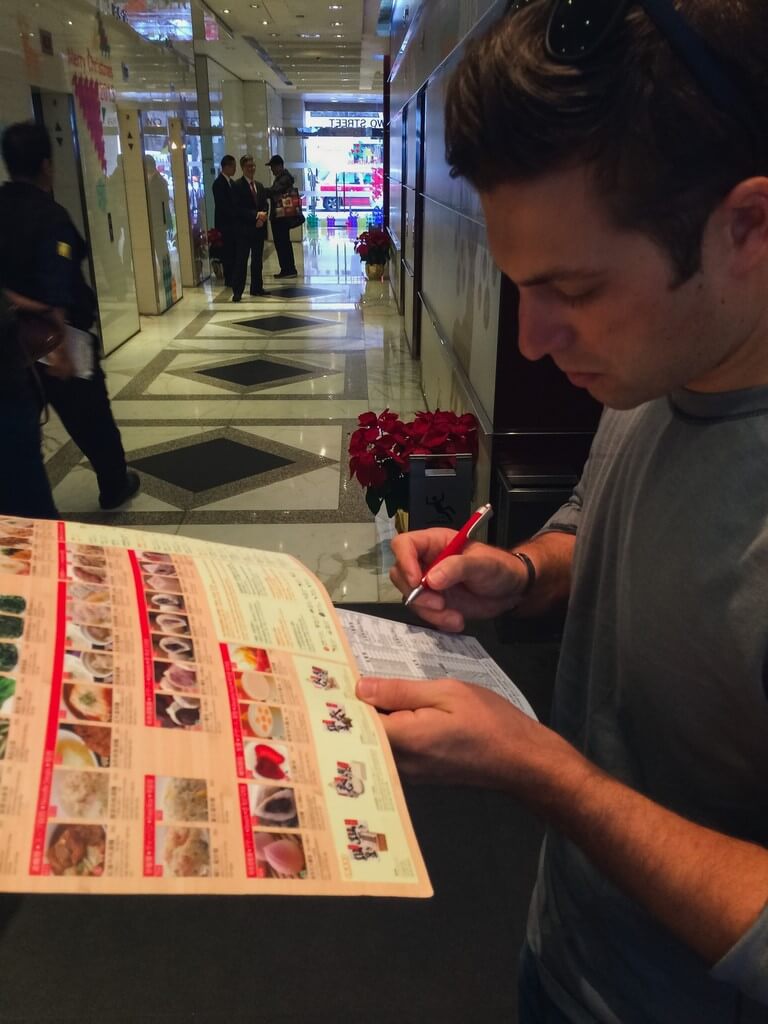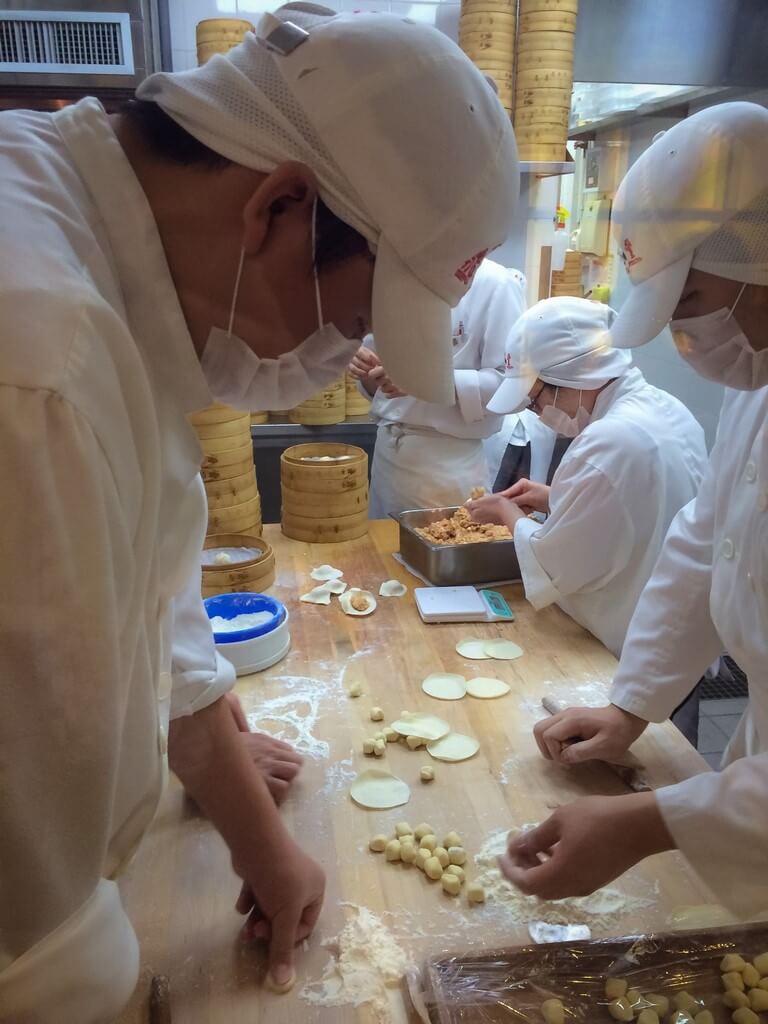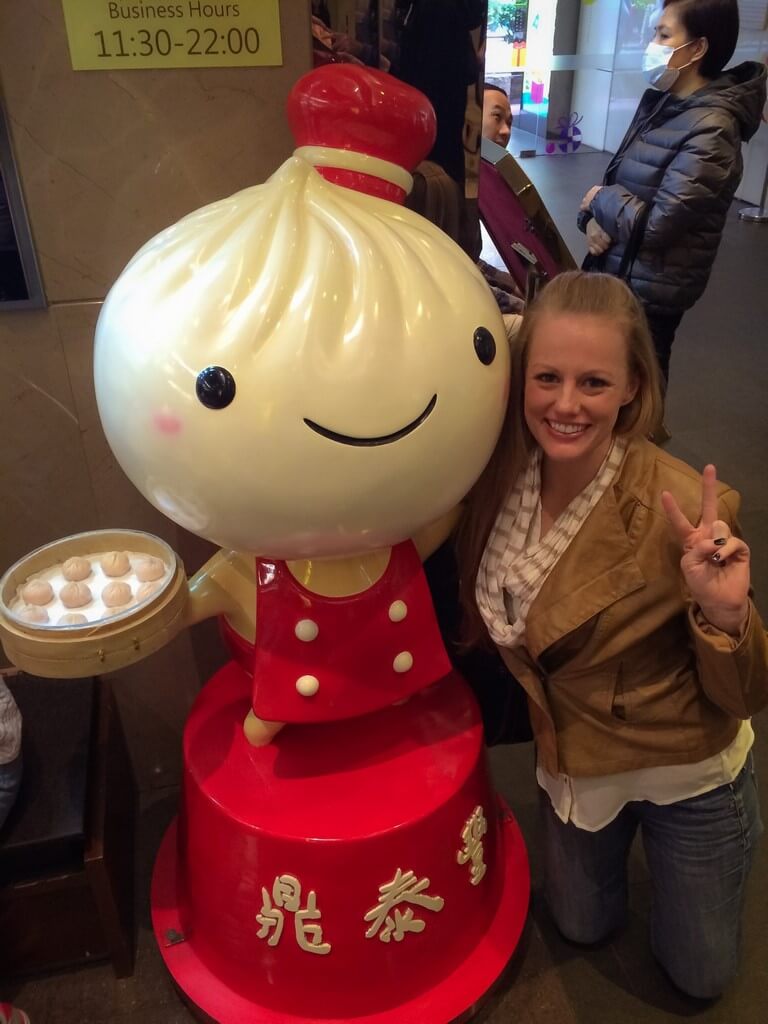 We spent the rest of the early afternoon looking for a street market that we never found, before Dane realized it was time for him to get to Sam's Tailor to pick up his tux for that night. As tempted as I was to go back (again), I opted for a bath back in the room.
We left the hotel around 7:30 and took the MTR to Kowloon Station. The International Commerce Center (ICC) that The Ritz is set on top of is very cool on its own. We both would have liked more time to check it out.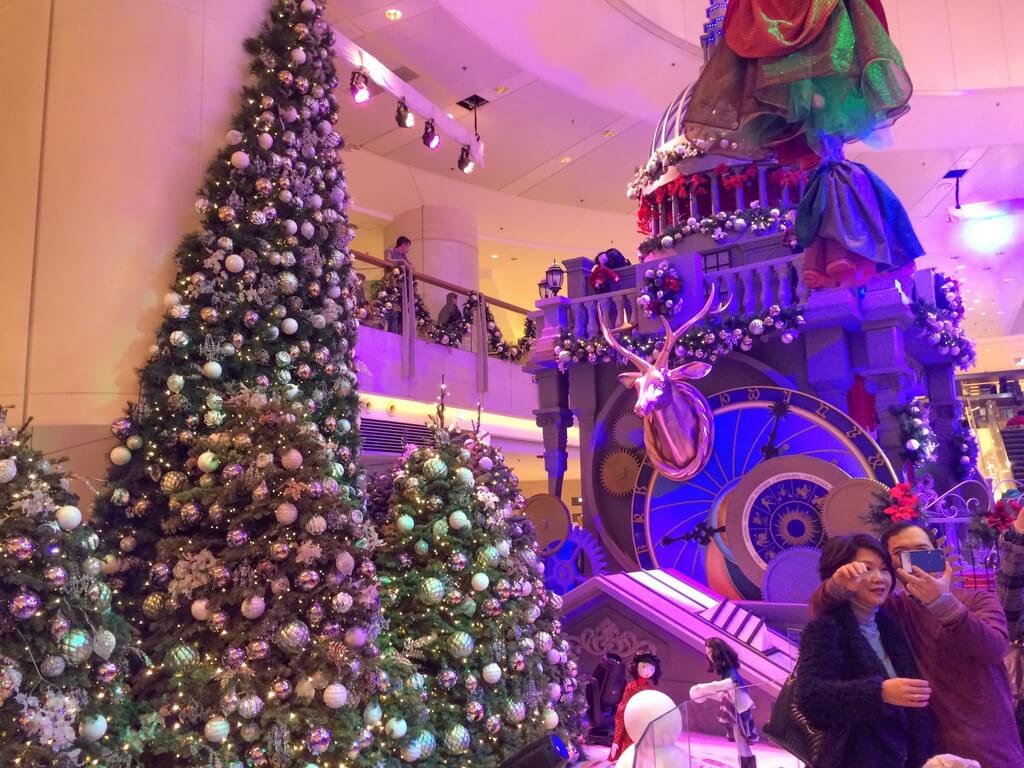 We met Justine and Matt and his brother for drinks at The Grand Central Bar, before heading up to the Ozone Bar. We were a little over dressed for a normal night out, but on NYE it seems that anything goes!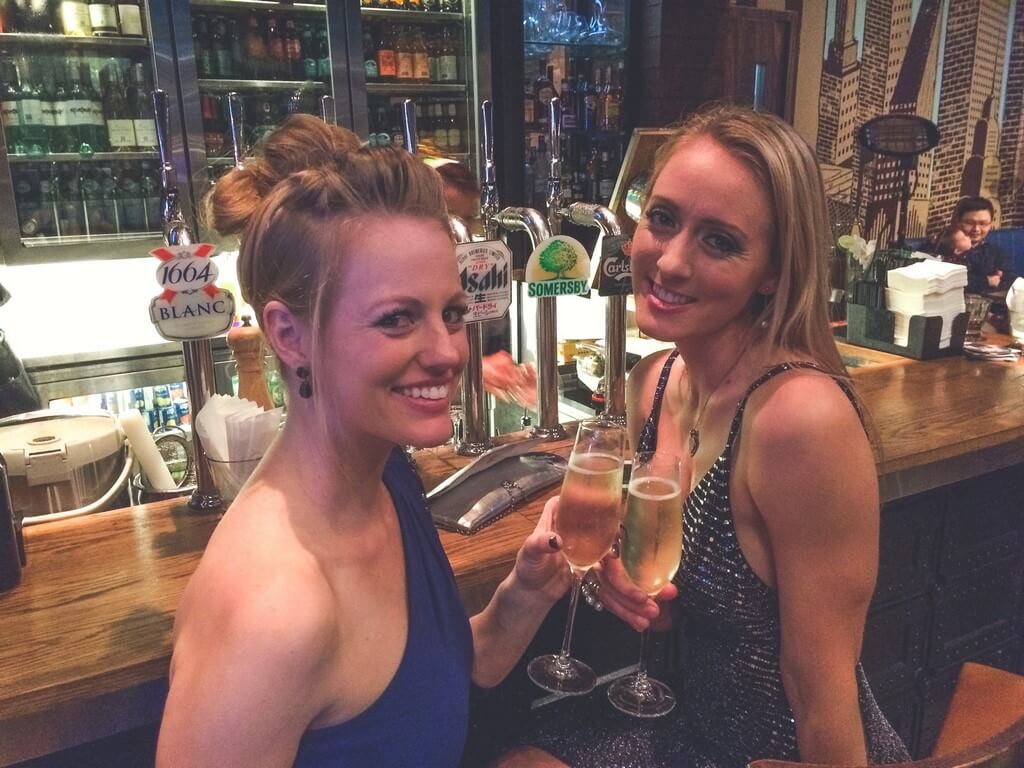 The Ozone Bar was exactly as one would expect for a New Year's Party in Hong Kong. Packed. Loud. And full of people from all over the world. To be honest, it reminded us that we are old, and it might not be exactly our scene these days, but all in all I'd say that everyone in attendance seemed to have a very good time. The views of the city were fantastic, but we were too high to really take in the fireworks at midnight.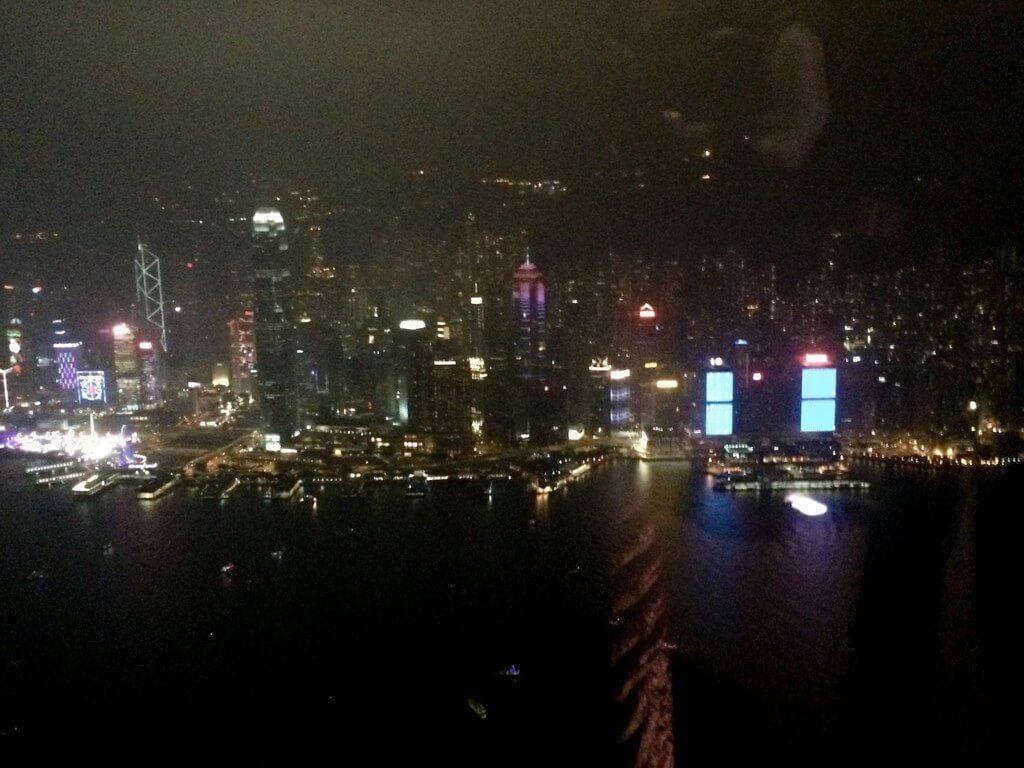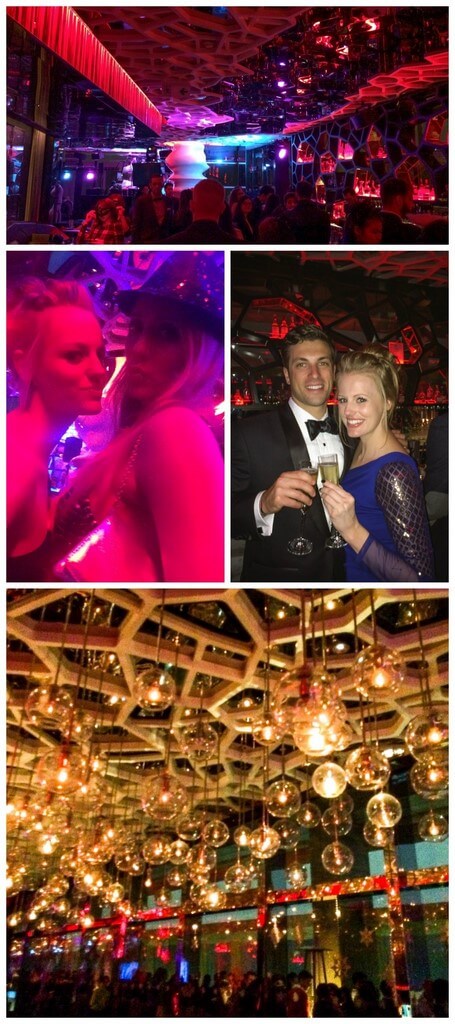 Full Day 3:
The next day we let ourselves sleep in and headed to brunch at Wu Kong Shanghai, a place known for it's shark fin soup and hairy crab dishes. As had become the norm in Hong Kong, everything was fabulous! We spent most of the day walking along the Harbor. We checked out the 1881 Christmas Village, and of course I had to stop in at Tiffany to see what has changed since I left.
Three different people had told us that we MUST have tea at the Peninsula- and I LOVE a good tea- so that had been on our agenda for the whole trip. However, when we arrived, we both found ourselves less than impressed by the crowded lobby seating and opted to spend our high tea dollars on a rooftop tea the next time we were in Tokyo.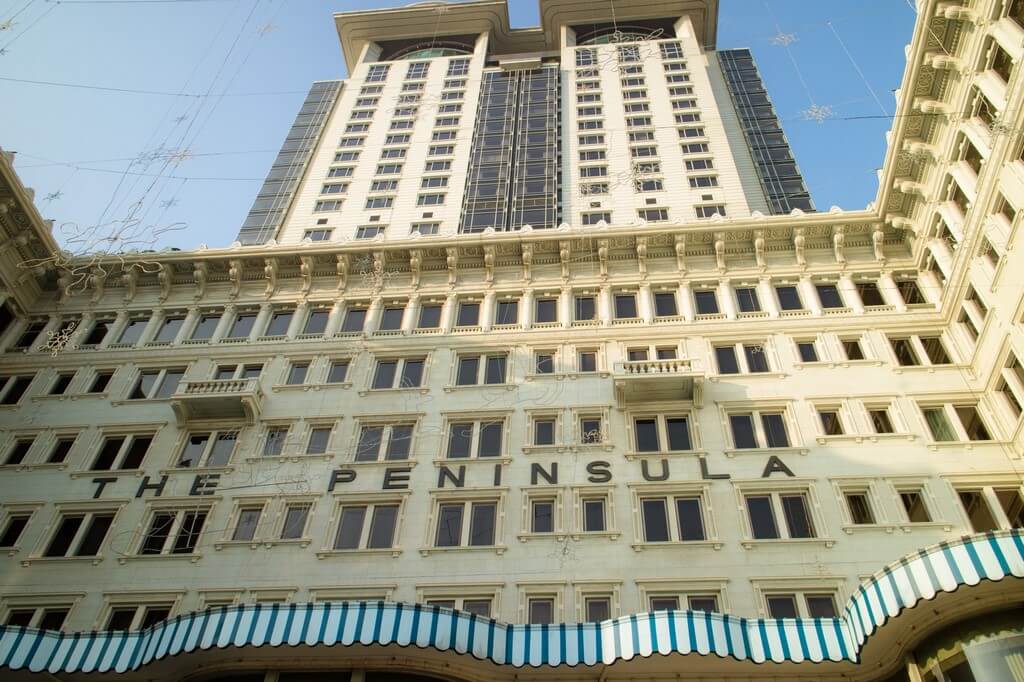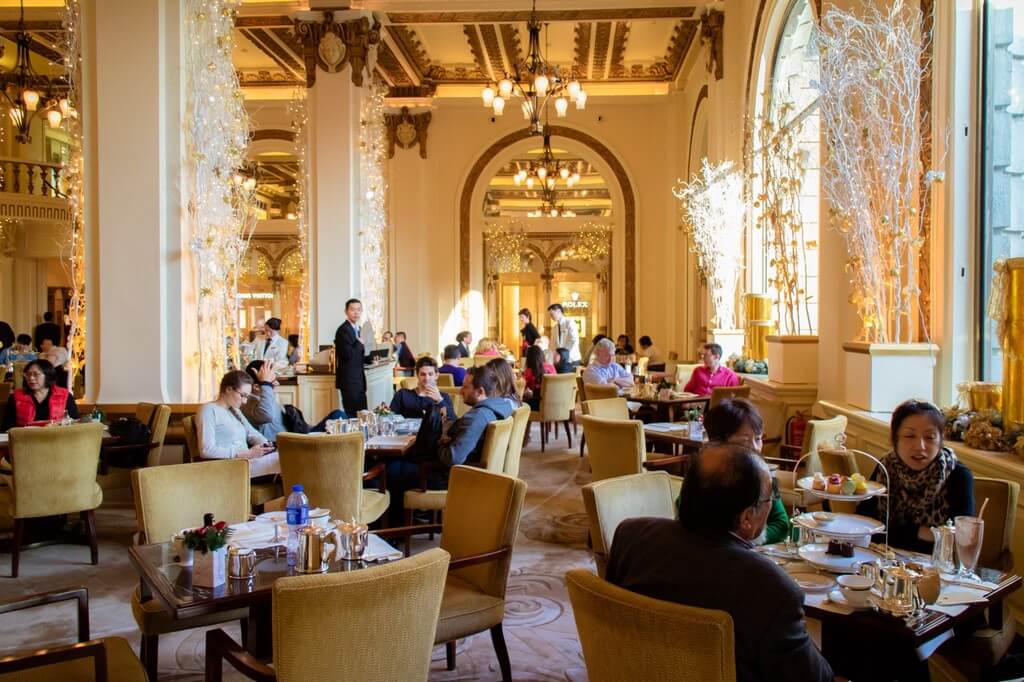 We grabbed egg tarts for the Star Ferry ride back to our side of Hong Kong and enjoyed watching the sunset over the skyline.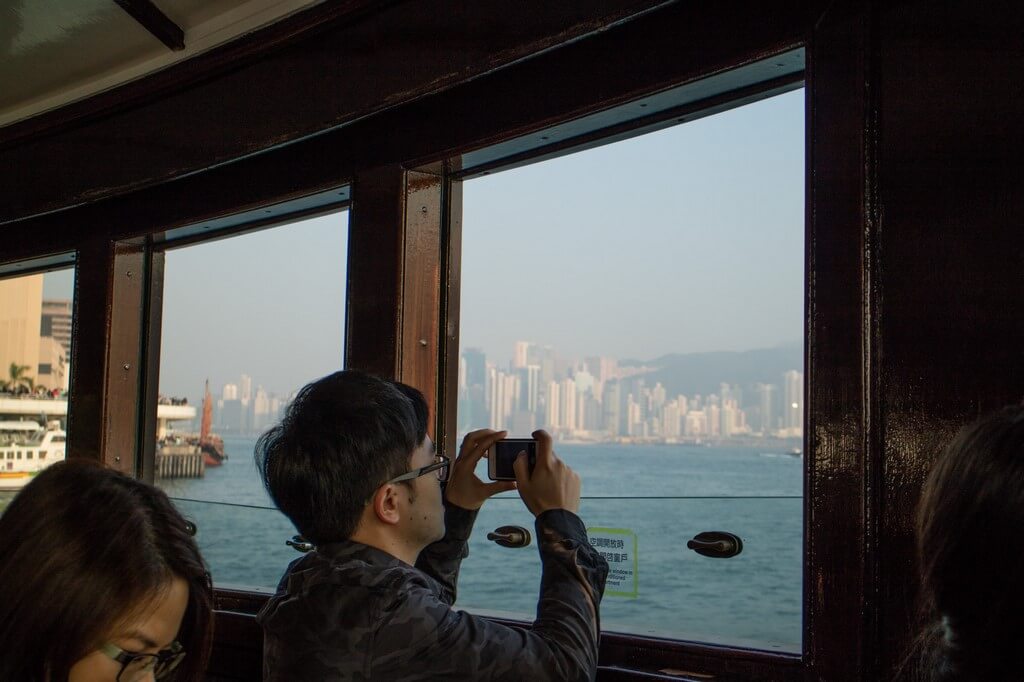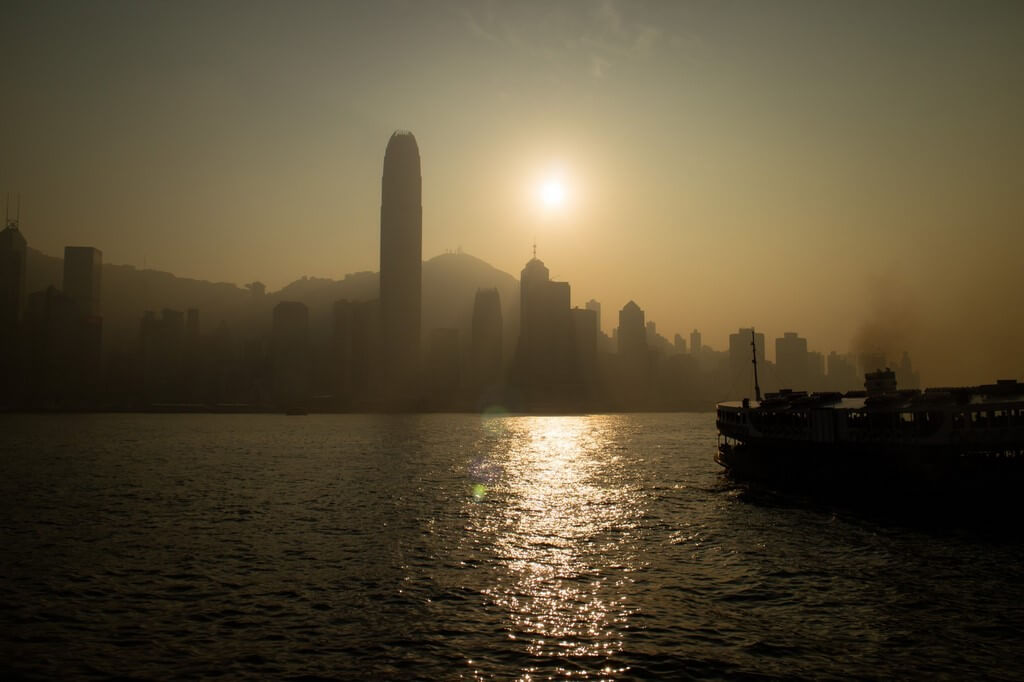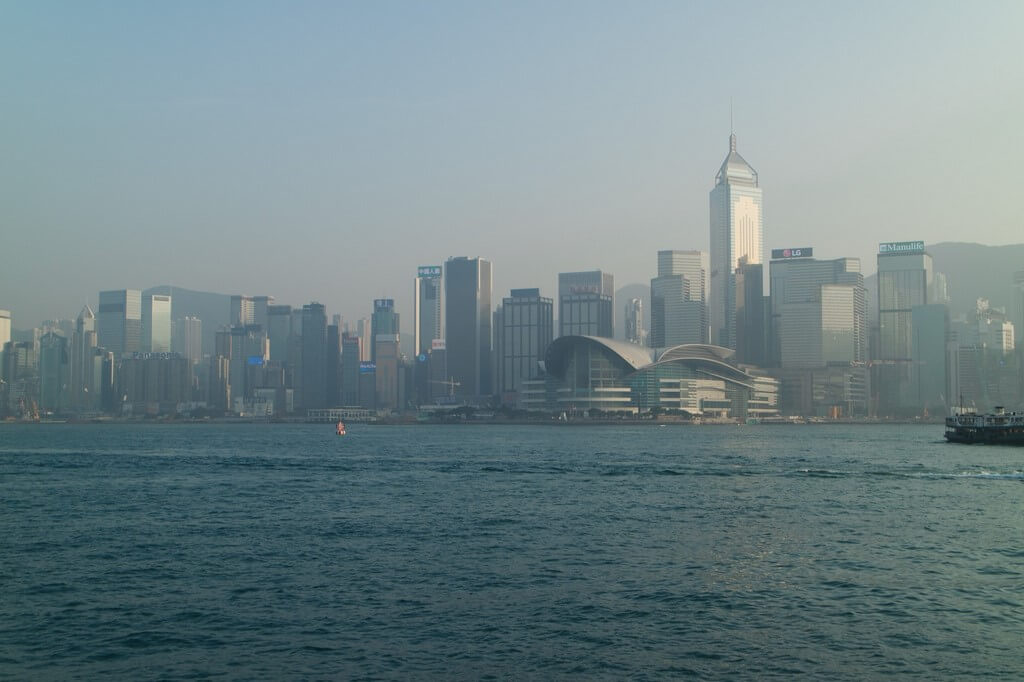 While I got (another) massage, Dane went back to the room to start getting us packed up for the next day. On my walk back to the hotel, I noticed an "authentic Mexican restaurant" and realized that I hadn't been to a Mexican restaurant in over a year. All of a sudden I need enchiladas more than I needed air. We'd hardly had a chance to explore the Wan Chai district (where our hotel was located) so we walked back out and discovered great nightlife and a huge expat community. After I stuffed myself with salsa we went to Taboo, a corner bar with a British vibe and grabbed a street-side table along a wall lined by open doors.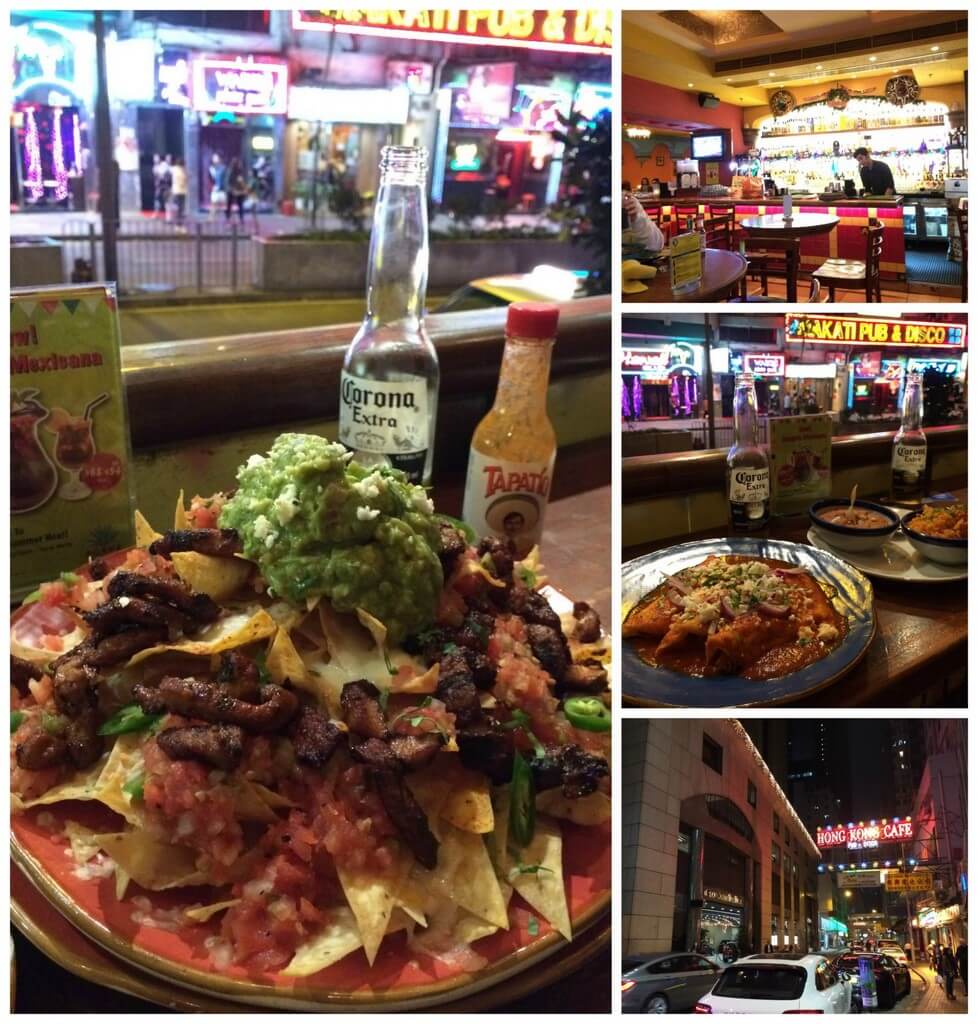 The next morning we were headed back home to "real" life. It gave us both a great taste of Hong Kong but left us both wanting more. I've already started planning our next trip and it will include at least a day (or two) in Macau without question!