Missed Part One? Check it out! It's one of my favorite Indonesia posts. Are you allowed to have favorites?
---
As we drove away from that family compound, I was sure that I would remember it as the highlight of my day with Koolman. Had he not spoken to them on our behalf and had they not invited us in and given me full permission to take photos, I would never have had the chance to see that authentic side of Bali I had been craving.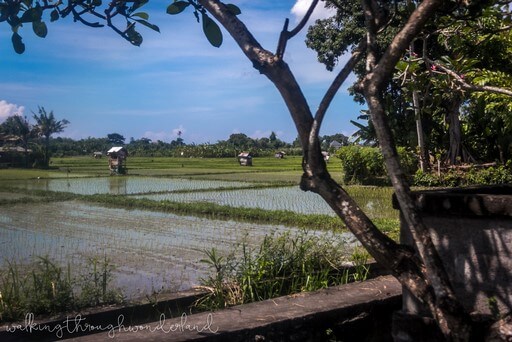 We drove by fields and fields, which is common to anyone who has ever visited Bali. You see mostly rice fields, protected by the kites that dance over them and the cloth strips who must look to the birds like they are ready to fight. "Do you like watermelon?" Koolman said slowing as we neared a field. I do not like watermelon, but after our last visit I wanted to do whatever it was he had in mind, so I lied.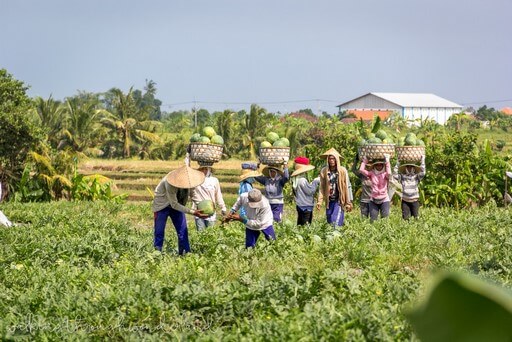 He pulled over and started talking to some watermelon farmers. "Come on," he said, lowering the ropes that surrounded the field so that he could step over them. I grabbed some loose rupiahs so that I could buy this fruit I doubted I would ever eat, and Dustin (my travel companion for the day) and I hopped over. Two men stood on opposite sides of a trench. One picked up the melons and threw them to the next guy who caught them and put them in a basket. The women carried these heavy baskets on their heads to the truck. One of the men smiled at me and pretended he was going to throw the watermelon. I reached out, as if to catch it, and he laughed- but didn't throw it to me.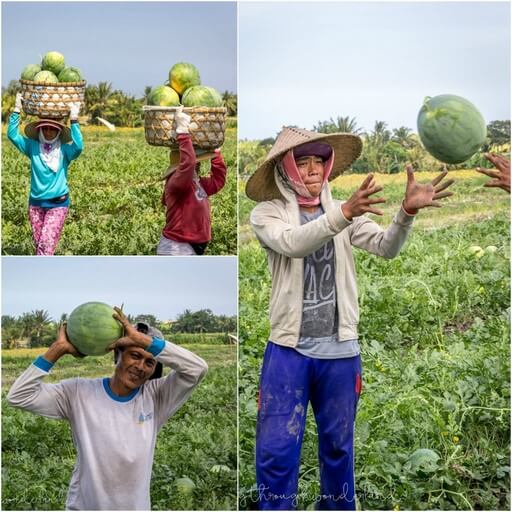 Again I reached my arms out, he nodded at me, as if to ask if I was really ready for this. I nodded back with false bravado, unsure that I was. He took several steps closer to me and half-tossed, half-set the watermelon in my arms. This was probably a smart move. It was heavier than it looked. Then he nodded to the next guy, signaling that I should throw it to him. He took his catching stance. I gave it my best effort. It made it almost all the way, but let's just say that had it not been for his quick moves, I am afraid that watermelon might have landed with a crack. It's no easy thing, watermelon tossing! As we walked back to the car I felt like Baby from Dirty Dancing. "I carried a watermelon," I thought to myself with just a little bit of satisfaction.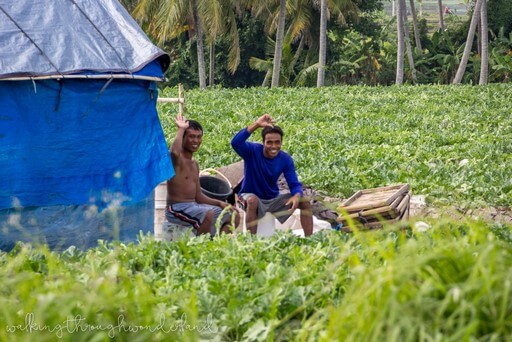 Next on the list were some of Koolman's favorite temples. He said would take us to some of the ones that "the tourists don't visit." He'd impressed me with his photography skills back at the family compound, so I kept giving him my camera to get pictures while we explored. Okay, Dustin didn't really want them… but I did!
Across the street from one of the temples, I noticed a few little boys watching us. They would smile at me, but as soon as I smiled back, they would hide. I crossed the street with my camera and pointed to it asking, "Do you want me to take your picture?" They did. And here's my proof: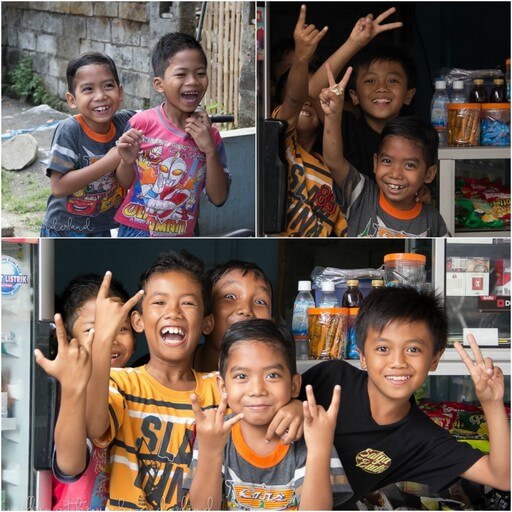 It was hard for me to believe that I'd spent an entire week in Bali and hadn't gone to the beach once. I guess that makes up for the ten days I spent in Legian in 2013 where I did absolutely nothing but sit on the beach and try to surf in one particular spot. Koolman asked if I had visited Echo Beach on my last trip. I hadn't, so we put that next on our list.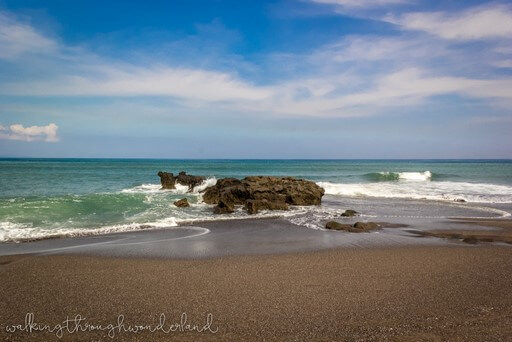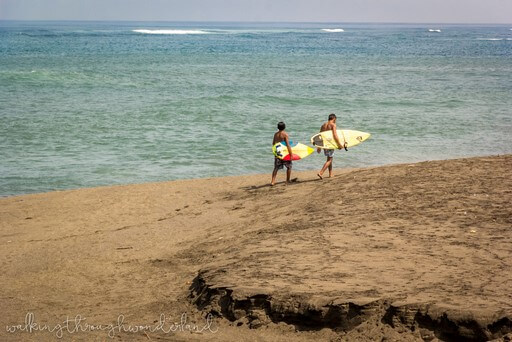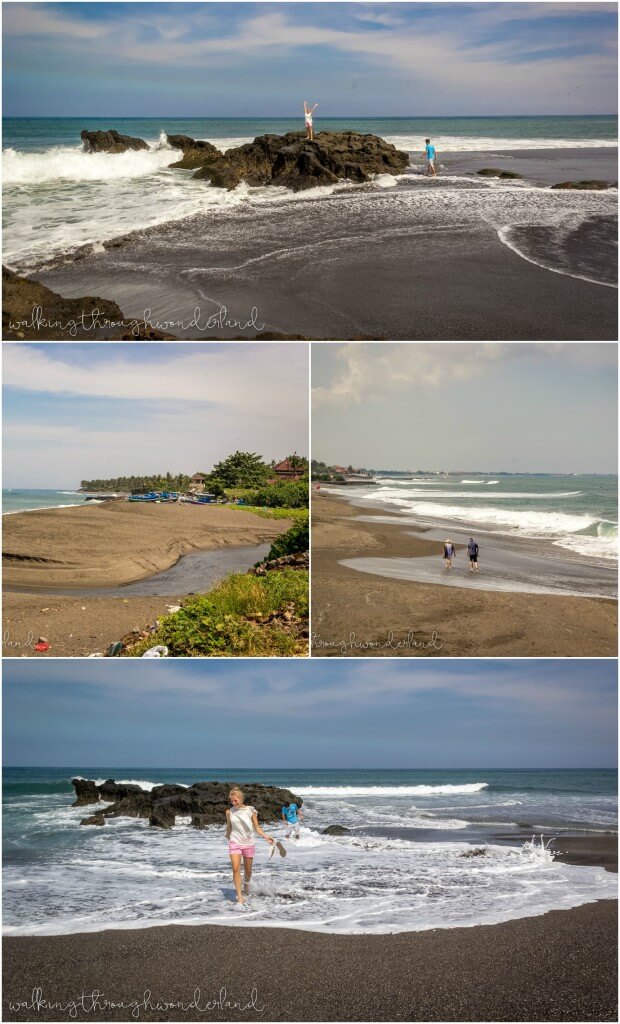 After Echo Beach he took us to a local's fishing beach. It was lunchtime when we arrived so most people were taking a break from the sun but he promised that when my husband and I return together, he would introduce us to some of his fishermen friends so we could go out with them one day.
From this spot on the beach we could see the airstrip and watched as planes landed. He suggested that we have lunch here at a little market where you pick from the catches that have come in so far and they cook them up for you. I'm still not exactly sure what we ordered, but it was fresh and it was good.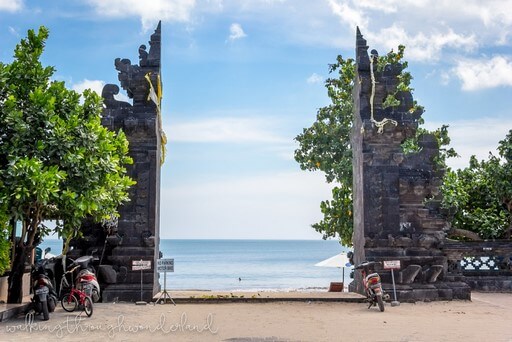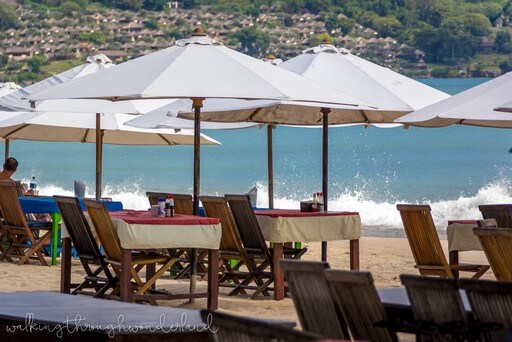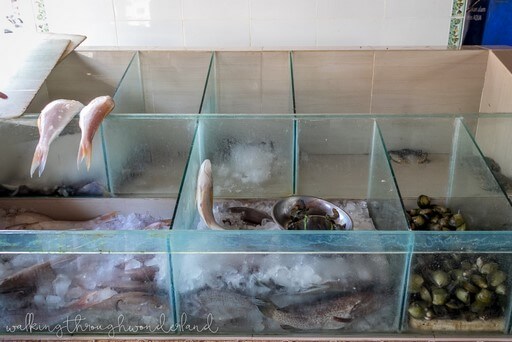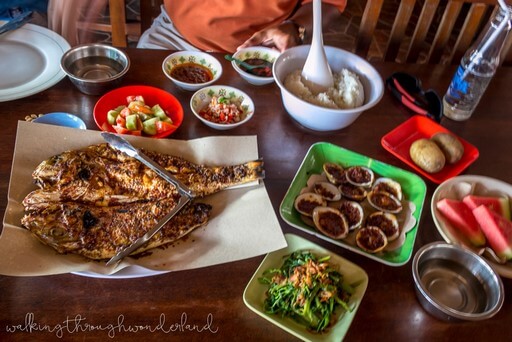 The only thing that Dustin had wanted to do that day was to get one last massage, so that was the last thing on our list of things to do before we went to the airport. Unfortunately, because we were so close to the airport, we were running into more of the tourist spas and therefore, the tourist prices. The spa we stopped at, Tamaha Spa, was as cute as can be and I'd recommend it based on looks alone, but we decided against getting massages there. The prices (while still cheap by Western standards, approx. 30USD an hour), were over three times the prices that we had paid in Ubud and Tabanan so "on principle" he passed.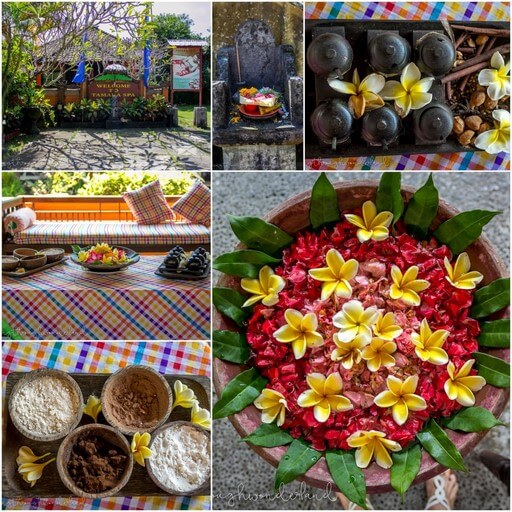 Looking to book Koolman as your own personal Bali Driver/Guide? Contact him at: komangkoolman@gmail.com