We landed at the Kilimajaro Airport thoroughly exhausted, yet somehow equally exhilarated. After over 30 hours of traveling, we had arrived!
As we stepped outside we were immediately greeted by Gaudence who held a sign with our names printed on it. "Welcome to Africa," he said as he grabbed our bags. "I will be your driver, you are welcome." What I didn't know at the time, was that he did not mean that he was going to be our driver from the airport to our first resort Rivertrees Arusha, he meant he was going to be our driver and guide the entire time that we spent in mainland Tanzania. Turns out, we hit the driver jackpot. There couldn't be a more accommodating and knowledgeable safari guide in all of Tanzania.
He picked us up every morning and spent all day driving us around the national parks, teaching us as he tracked everything we wanted to see. But now I am getting ahead of myself, back to our arrival in Kili.
"This will be your vehicle for your time here," he smiled pointing at the biggest and nicest 4×4 in the lot. "You are welcome."
"Thank you!" I said, happily, feeling like maybe I should have thanked him more quickly.
"We have a few welcome gifts for you. You are welcome," he said before handing me a beautifully beaded box filled with handmade soap. I thanked him as I took the gift. "You are welcome," he said to Dane as he handed him a package that contained paperwork, safari notebooks and pre-stamped postcards. "Thank you!" we both responded quickly. "You are welcome," he said again.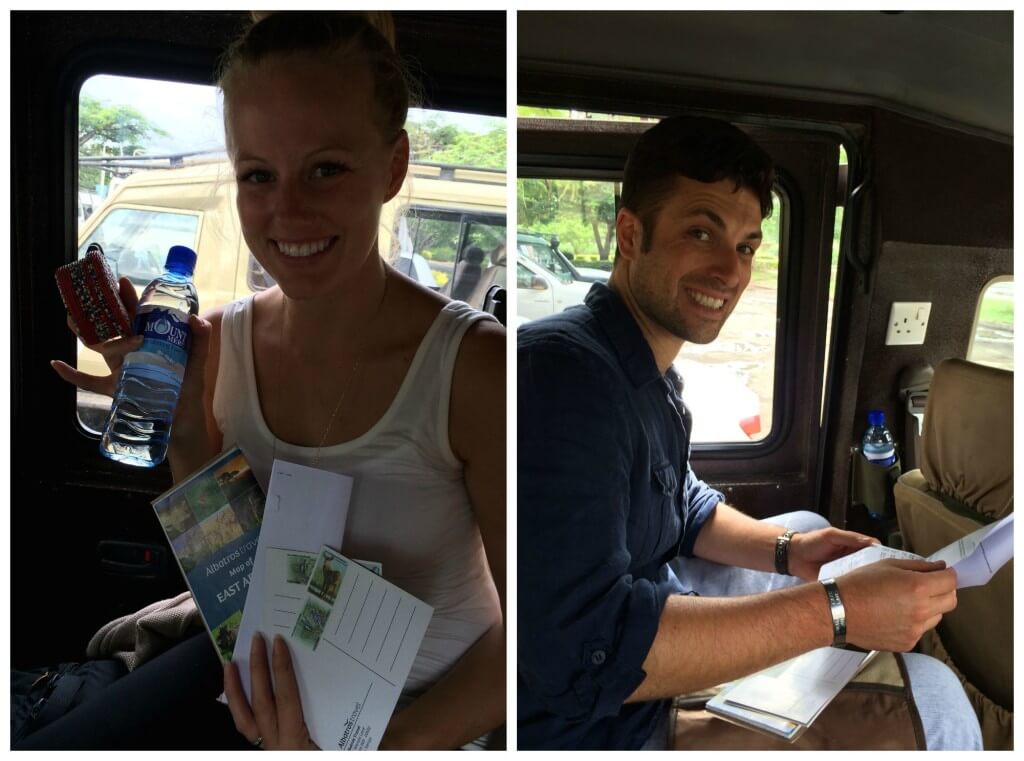 "Tonight I will take you to Rivertrees. You are welcome." he told us. At this point we started to realize that he was literally telling us that we were welcome here. He was happy to have us both in his vehicle and in his country. The welcome, was not contingent upon being thanked, and often came after statements that would not naturally loan themselves to a thank you. "The weather is beautiful for you," he said waving his arms toward the trees and sky. "You are welcome."

Rivertrees Country Inn is located less than 30 minutes from the airport, so it's a popular place to stay on your first and/or last night in the country. All we wanted upon arrival was a hot shower and a nap, and this seemed to be the way most people that we met there felt.
We arrived to welcome drinks around 4 p.m., promising ourselves that we would explore and have dinner and drinks before we even allowed ourselves us to think about climbing into bed. We were immediately met by a representative from the tour company we had booked most of our trip through. He met us in the "reception banda" to give us the rundown of our next two weeks as one of the attendants rolled our luggage passed us in a wooden wheelbarrow.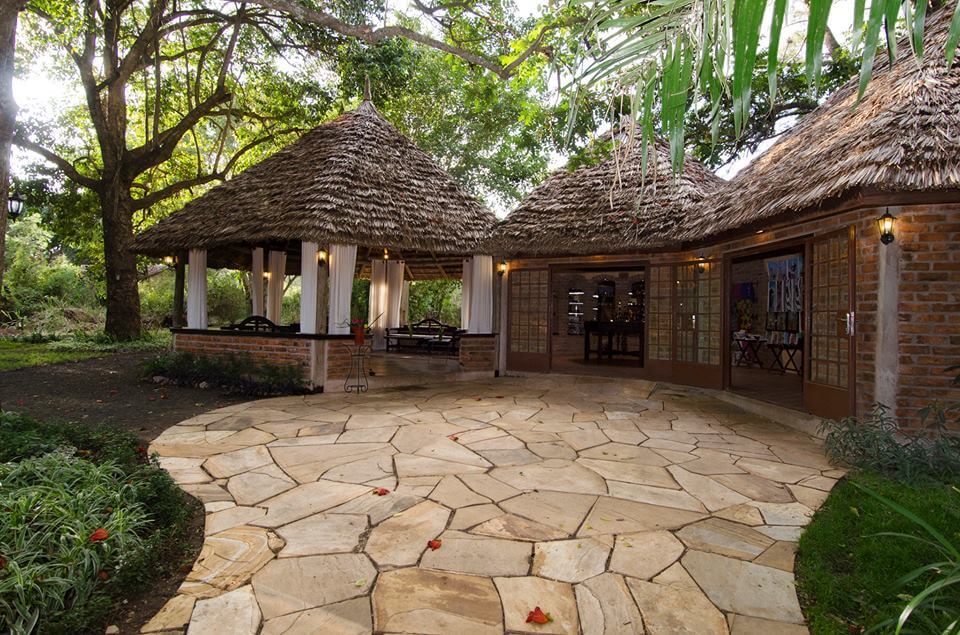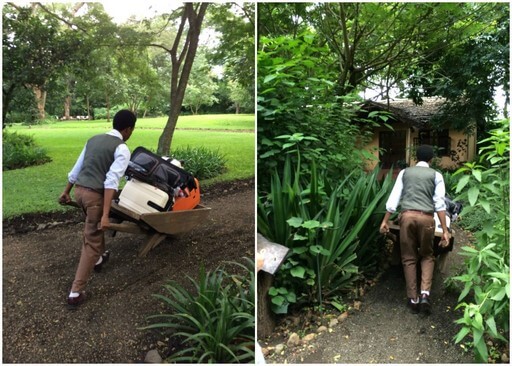 "You will love it here, and you are most welcome," he told us. Dane and I smiled at each other knowingly. We'd caught on to this "welcome" thing in our first hour. Surely we couldn't be that jet-lagged!
Feeling thoroughly briefed, we followed him down a winding path to one of the superior garden view villas. As soon as I walked through the door I was transported. Everything was covered in rose petals. The bed, the bathroom, the concrete tub… everything. I might have set a new record for the amount of time it took me to sink into that rose petal bath. All of the exhaustion and sore muscles that come from two days of travel spiraled down the drain thirty minutes later and I was left feeling refreshed and ready to explore.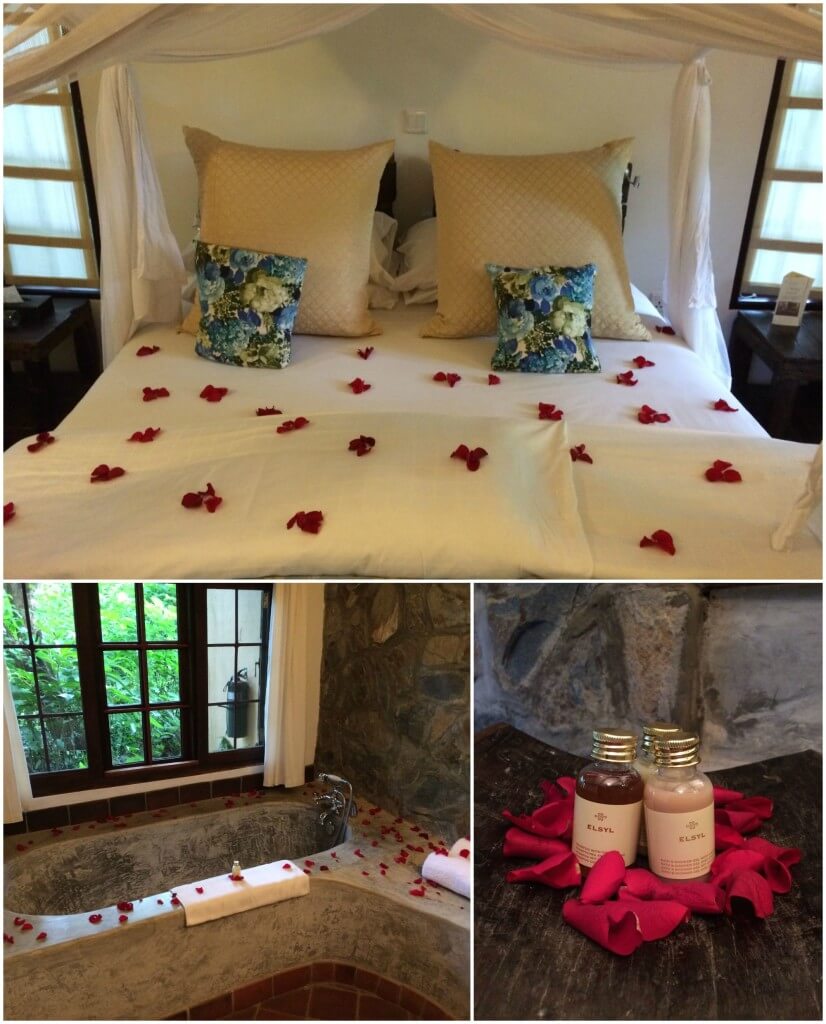 As we stepped outside we were immediately greeted by a troop of monkeys in the tree that spread over our little bungalow. Naturally, I was enchanted. We walked the grounds, explored the river and kept exclaiming that this looked nothing like the Africa we had expected. Everything was deeply green, lush and almost rainforest-like.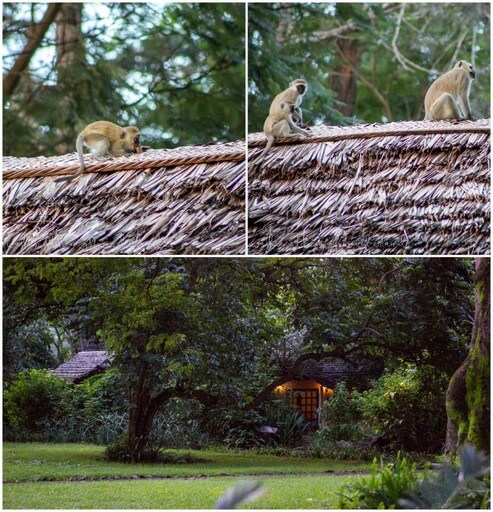 We sat at the bar for an hour or so, snacking on the freshly roasted cashews and chatting with two young bartenders- one from Tanzania who had gone to university in Kenya and one from Kenya who had come to Tanzania to study. Both spoke English beautifully, had big dreams for the future, and completely captivated us as they gave us our first (of many) Swahili lesson. We also tasted our first (of many) Kilimanjaro beers.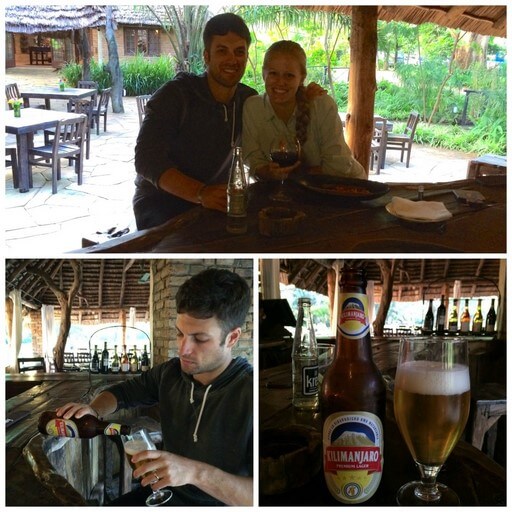 Later that night we found ourselves gathered around the fire with a group of expats from all over the world, who all live in Arusha now. They had gathered for dinner and drinks at the beautiful Rivertrees Restaurant, a place I've decided I, too, would frequent if it didn't require five flights to get there.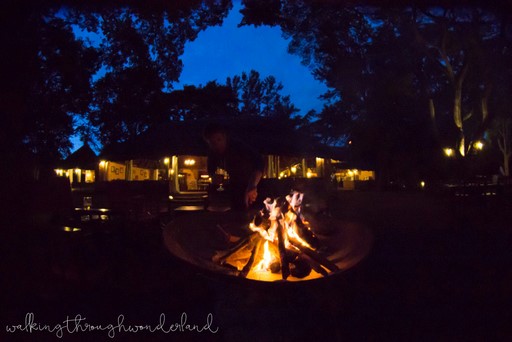 Dinner was lovely, and again we were surprised by the rose petal presentation. (I could really get used to this honeymooning thing.) We both ordered the set menu which included a spinach and feta pastry, tuscan bean soup, roasted lamb or a traditional choroko, black forest cake and coffee. Neither of us are huge lamb fans to begin with, and had never had choroko so we figured, "When in Tanzania…" The choroko was a delicious mung bean, tomato, garlic dish that was served with some of the best homemade bread we had ever tasted.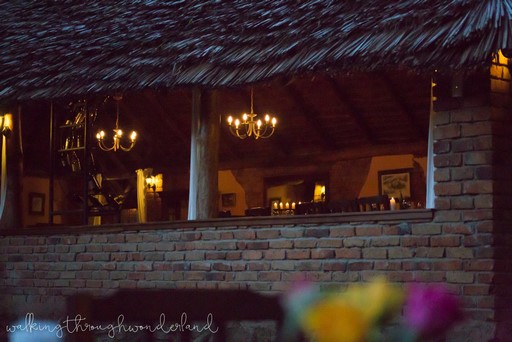 I could hardly keep my eyes open while we were waiting for dessert to be served, so as soon as we had finished, we wished our new friends a good night and retired to our villa. I blew kisses to the sleeping monkeys and we headed to bed, knowing we'd be filling our bellies again at 7 a.m. before heading off for our first safari day in Tarangire National Park!