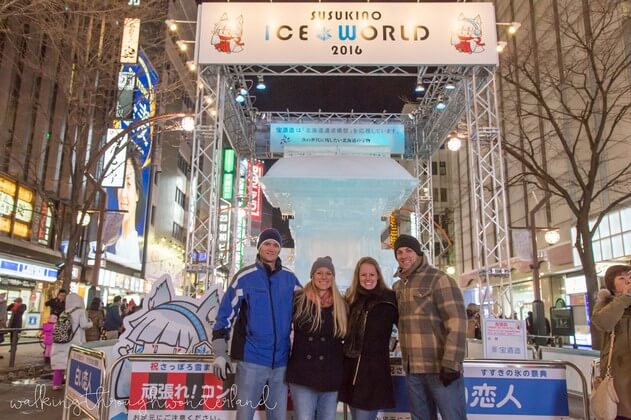 Dane grew up in Michigan. The other three of us grew up in Florida. "So this is what it's like to travel with reptiles," he said with hardly a trace of sarcasm in his voice. It was our third hot wine break in less than three hours and we Floridians stood huddled around an electric fireplace in one of the warming tents.
Why, yes. Yes it is.
Of course it would be just tragic for the ice artists if the Sapporo Snow Festival wasn't freezing… but man was it cold up there! Luckily for us, you won't walk a dozen yards before reaching the next vendor offering hot mulled wine, hot buttered rum and hot chocolate. As is typical of a Japanese festival- food is the main attraction. Well, right behind the "main" attraction– for some I suppose.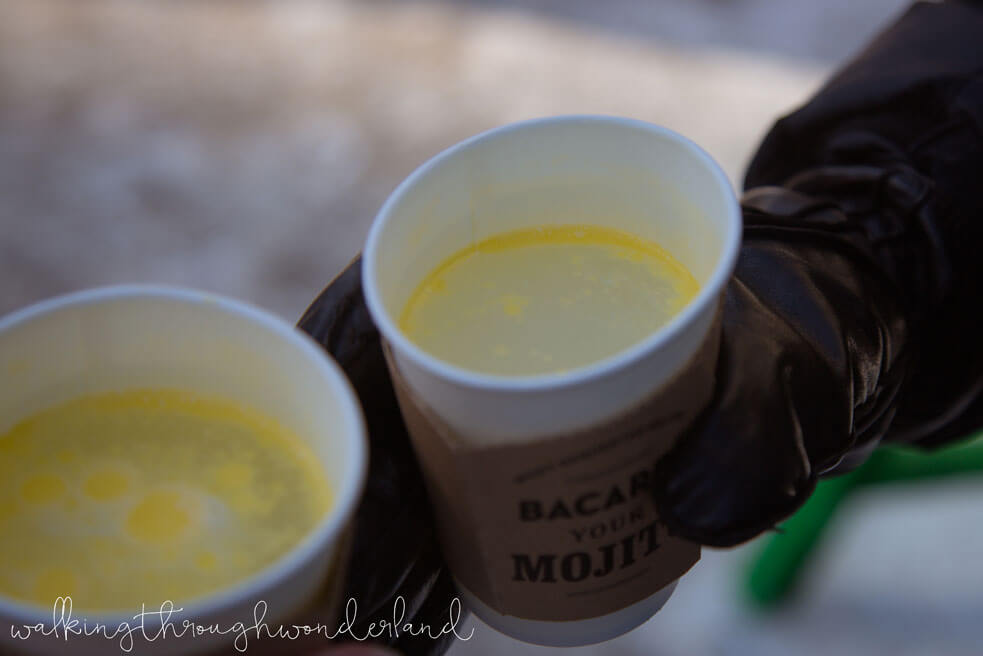 In Okinawa we usually have a lot of the same fare available at our festivals: Okinawan soba, champuru plates, yakisoba, omelet & taco rice, yakitori skewers, shaved ice, etc. But Hokkaido takes festival food to new levels. Giant crabs and scallops were the standouts among an impressive selection of fresh seafood. There were table-sized pans of paella, mountains of roasted & candied nuts, and chocolate covered everything. You could also sip on cups of corn and seafood chowder as you wandered the park.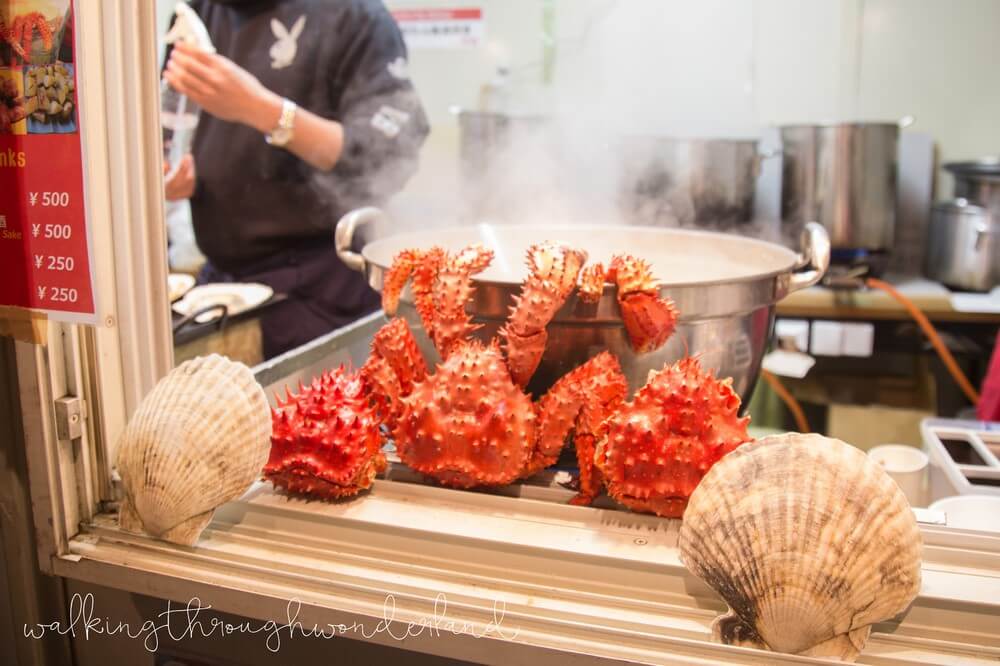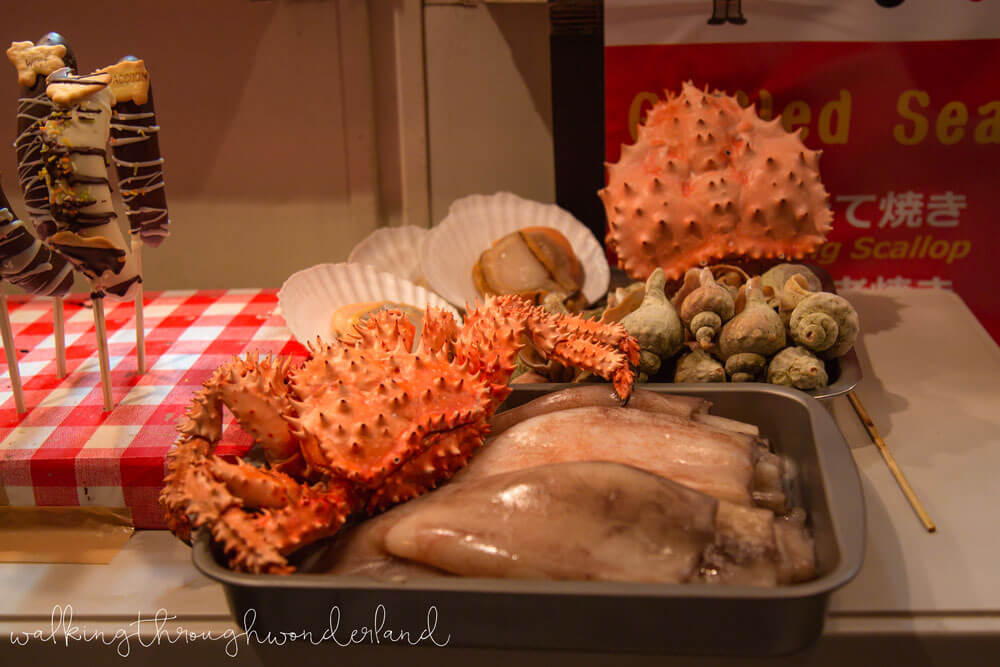 Hokkaido is known for its miso-based crab ramen and after a particularly frozen hour we wandered off to find the famed ramen alley. Each of the small ramen houses that line both sides of a narrow alley seat somewhere between 6-12 people, so people were queuing outside the doors waiting for their chance to defrost (I mean eat). I desperately wish my fingers had been warm enough to operate a camera, but they weren't.
Okay so now that we have covered (in some detail) the food part, let me tell you a little bit about the Sapporo Snow festival. The festival itself is broken up into three main parks.
Sapporo Snow Festival
Susukino: Ekimae-dori (Station Avenue); Minami 4 jo ~ Minami 7 jo

Odori: Odori park; Nishi 1 chome~ Nishi 12 chome

Tsudome: 885-1 Sakaemachi, Higashi-ku, Sapporo-shi, Hokkaidō 007-0852
Susukino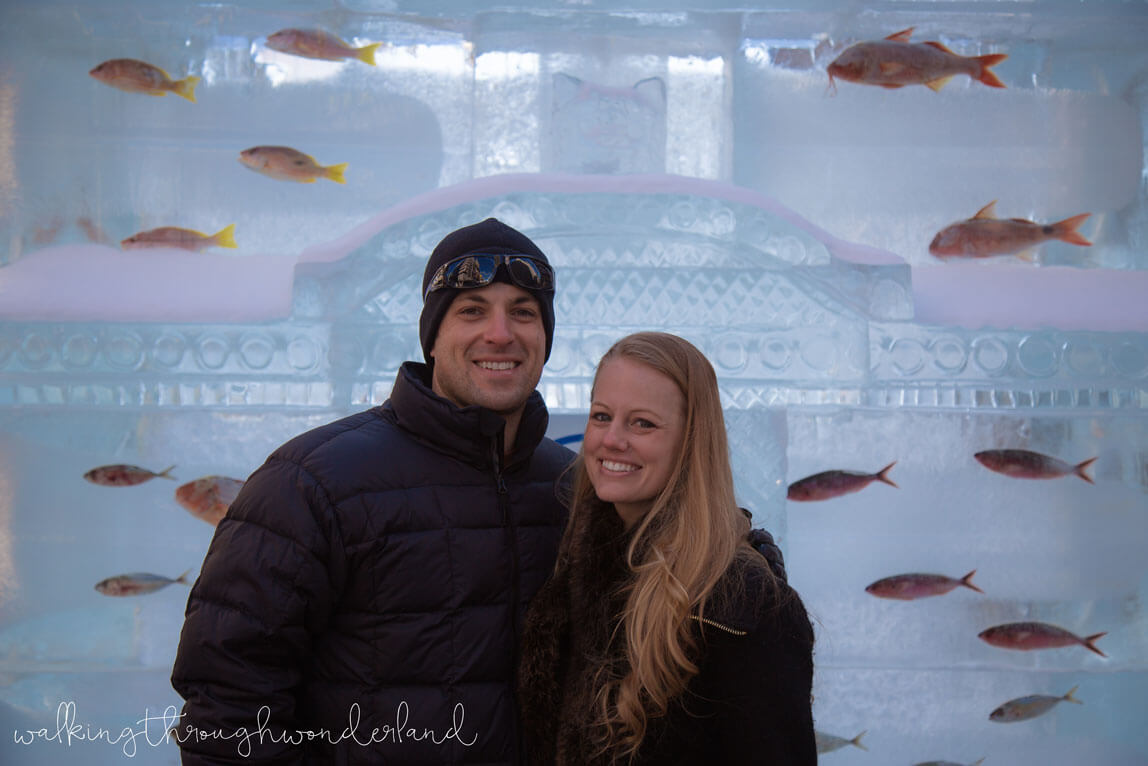 Susukino was just around the corner from our hotel. This is not a "park" so much, as it is a street, with ice sculptures down the median. Ice slides and ice bars break up two rows of ice sculptures that face opposite sides of the street, so the view walking down one side of the street differs from the view walking back up the other side. Of course every site is a combination of sculptures made from both ice and snow, but I would say the Susukino site is primarily ice while the Odori site is primarily snow. (And the Tsudome site is more of an interactive snow experience… but we will get to that later.)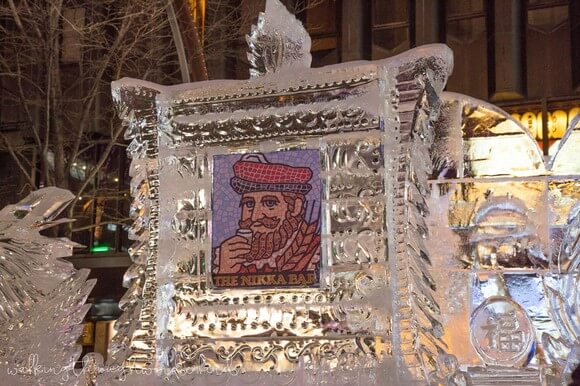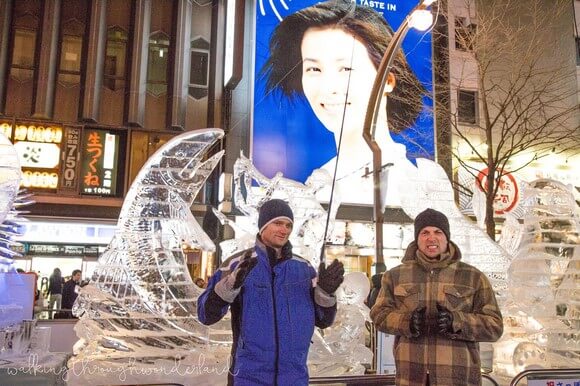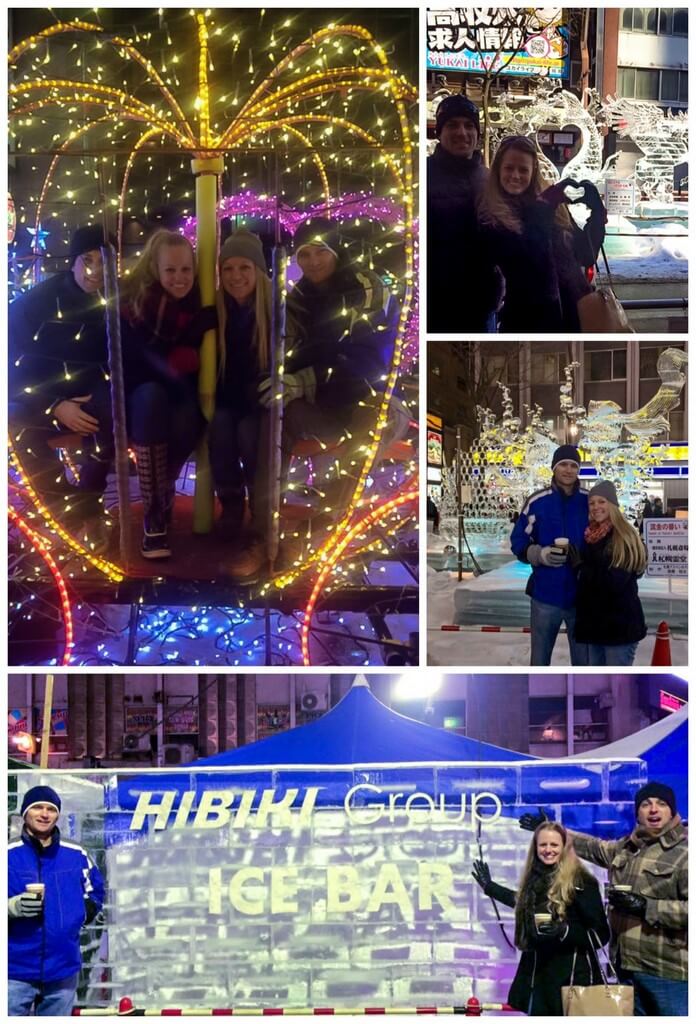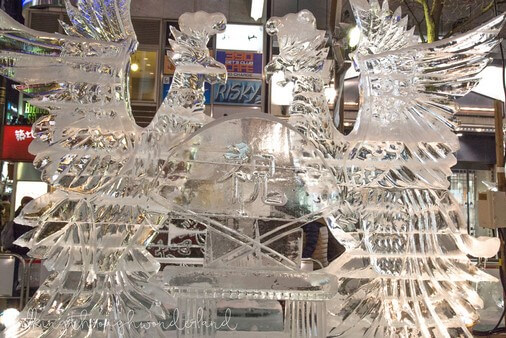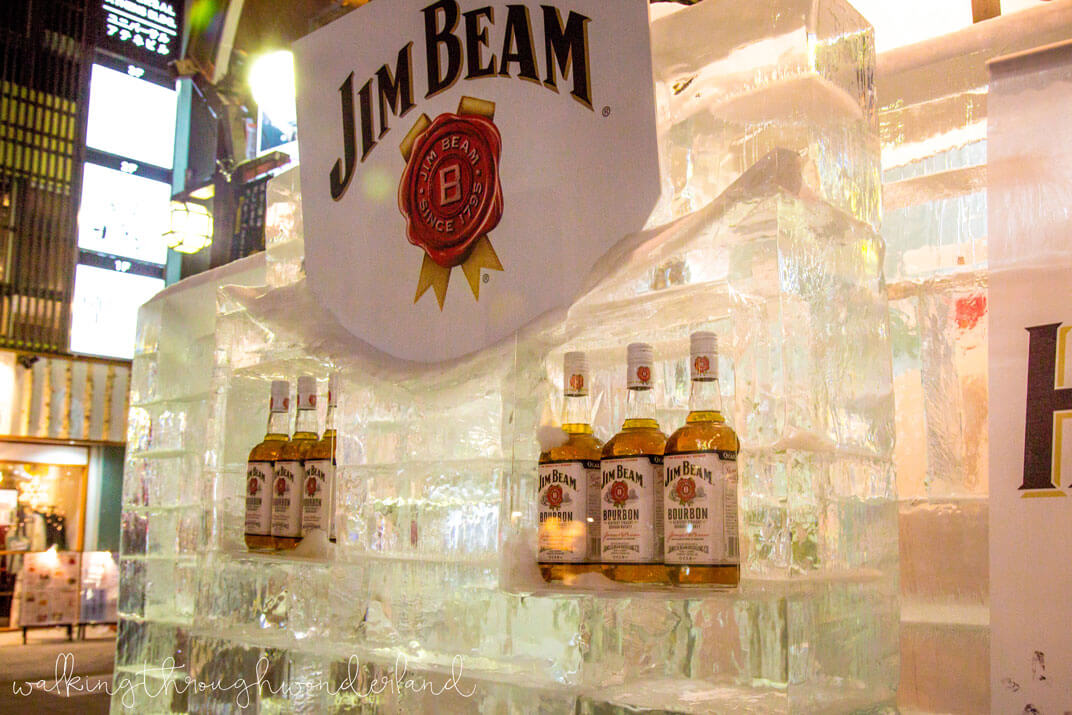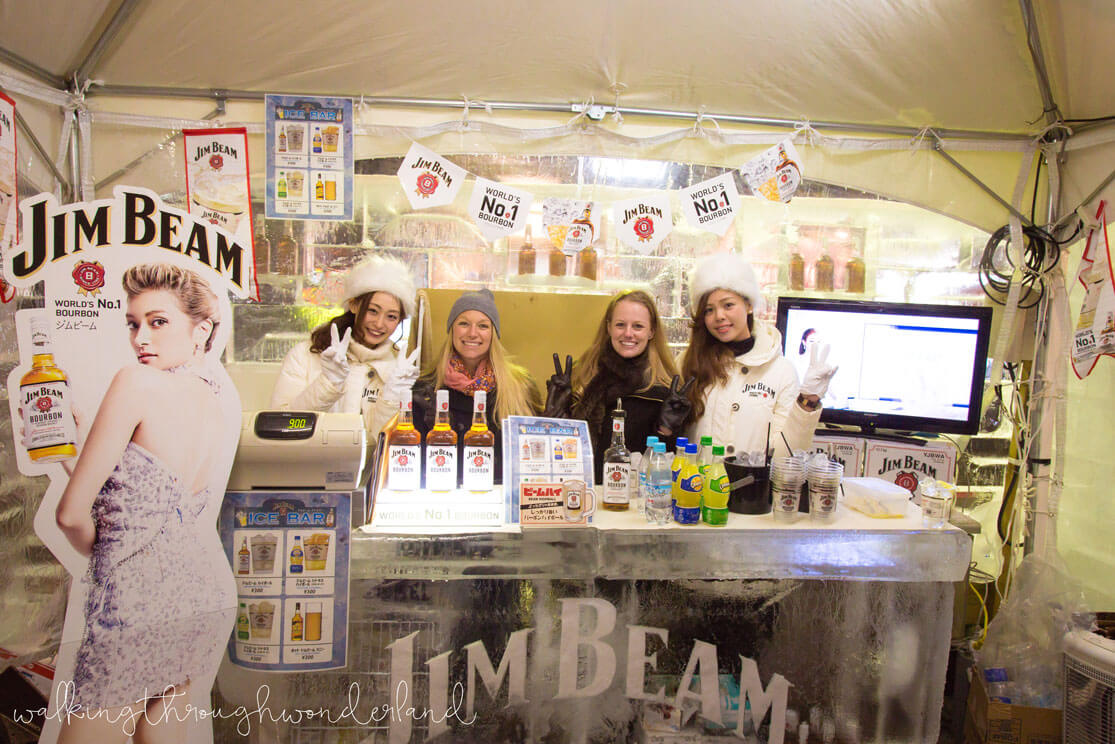 Odori
The Odori site is the main park people think of when they think of the Sapporo Snow Festival, and Susukino street leads you right there. This is where you will find the majority of the snow sculptures and food vendors.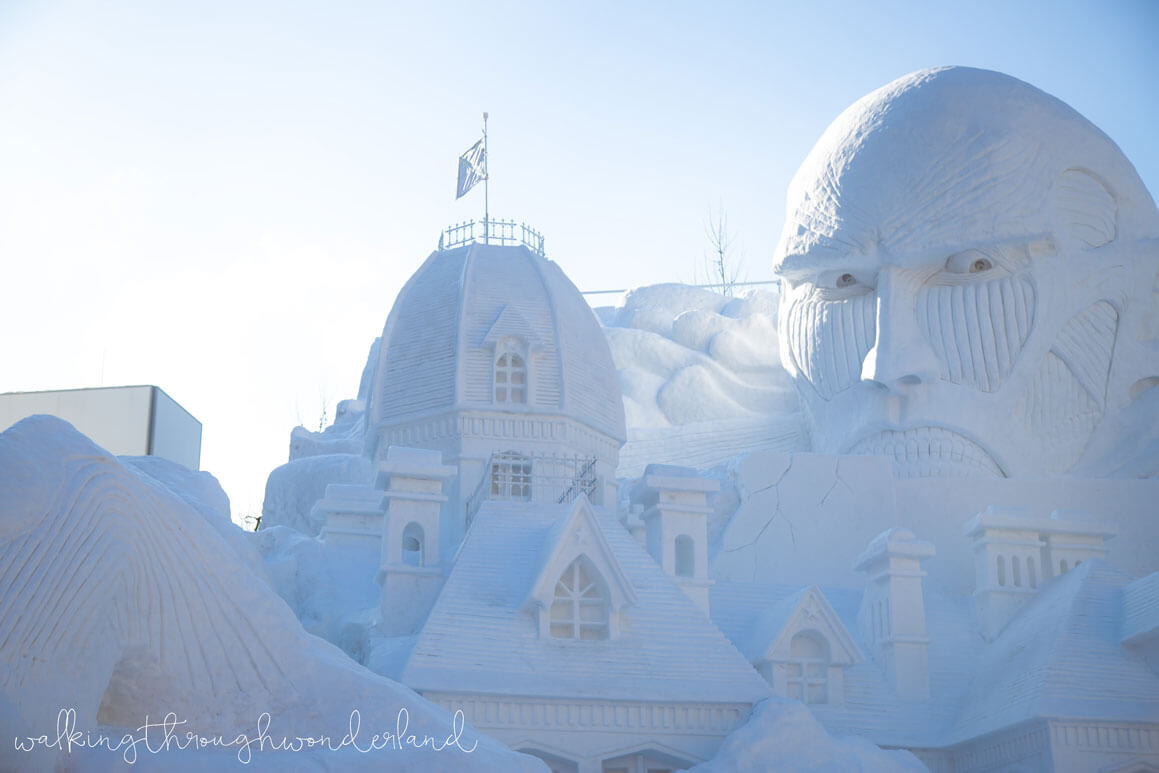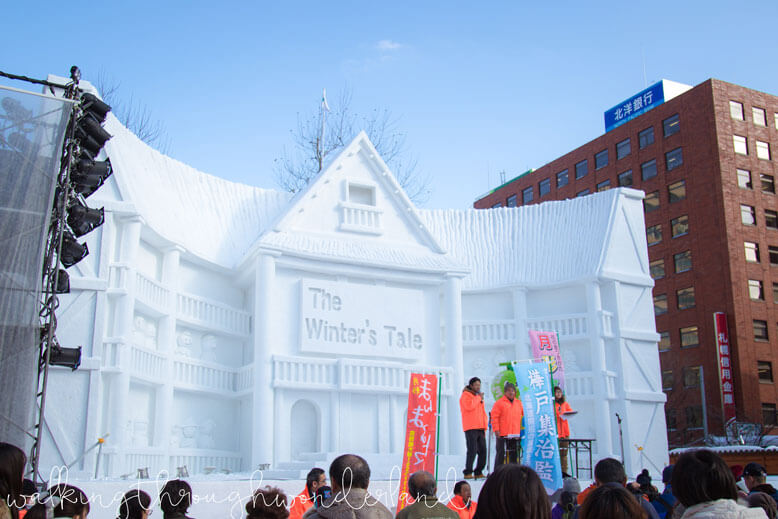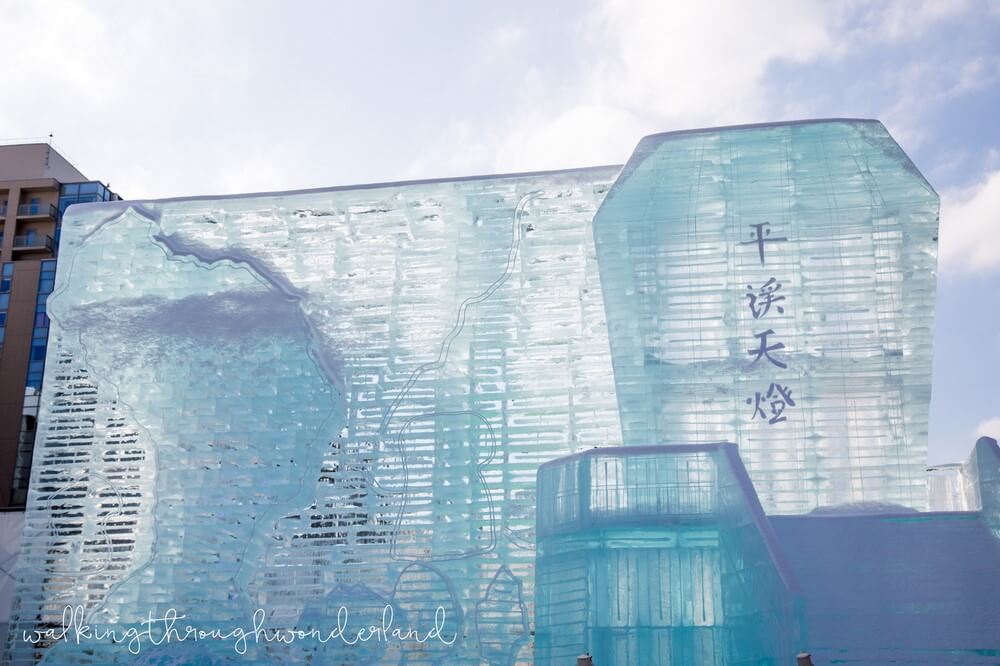 Many of the snow sculptures are sponsored by different countries and some of the prefectures of Japan (including Okinawa- whoop whoop!).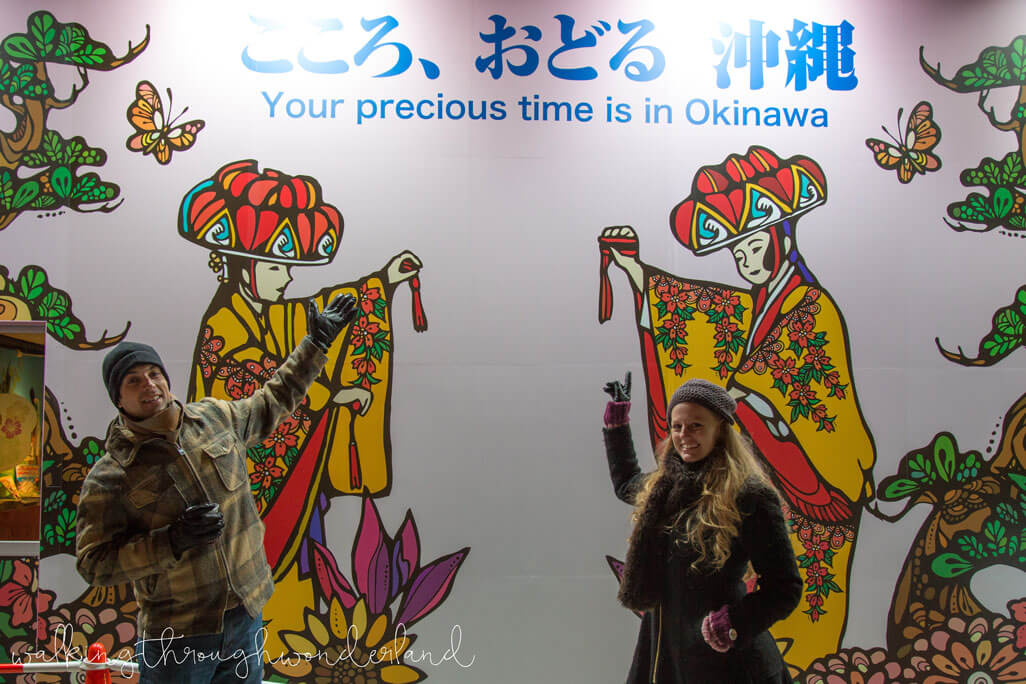 One of the main attractions this year (2016) was the facade of the Ruins of the Church of St. Paul sponsored by Macau. It was intricately constructed and breathtakingly detailed. At night, a light show depicting the history of Macau was projected onto the sculpture. For some pictures of the * snow * show stoppers of years past, check out the archives. We're talking an ice Angkor Wat, snow Taj Mahal, etc. It's really a beautiful way to pay tribute to so many of the beautiful sites of the world.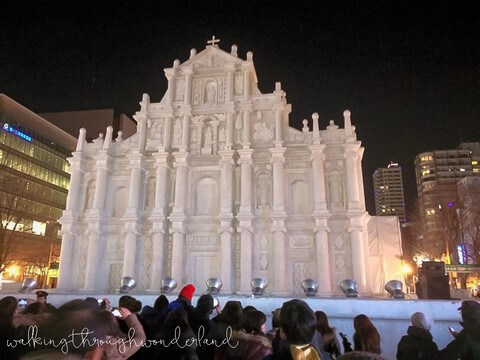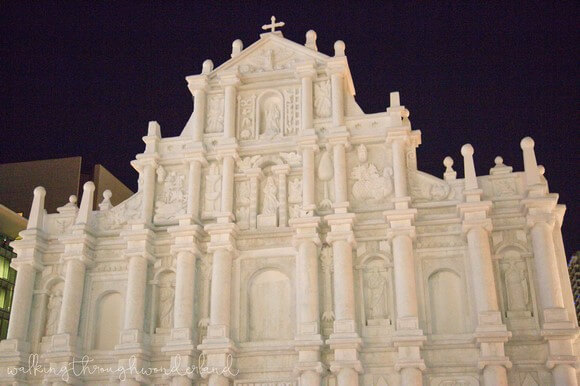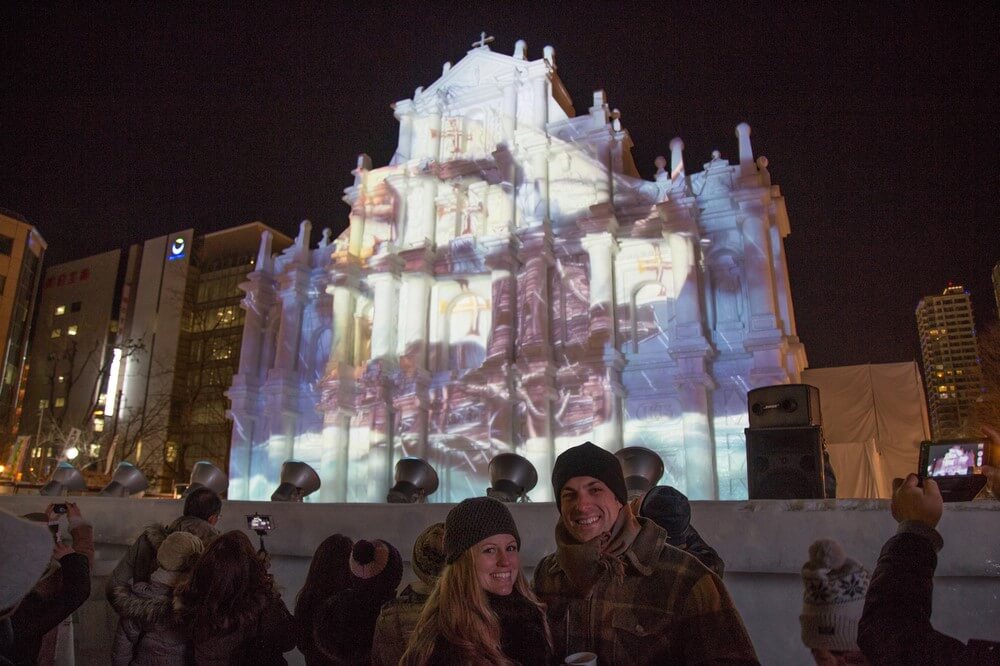 Of course there are also many (many) character sculptures. I'm not super educated on the Japanese anime culture, which is okay with me, but it's entertaining all the same. There's a variety of entertainment all day, including ski jumping and singing and dance performances.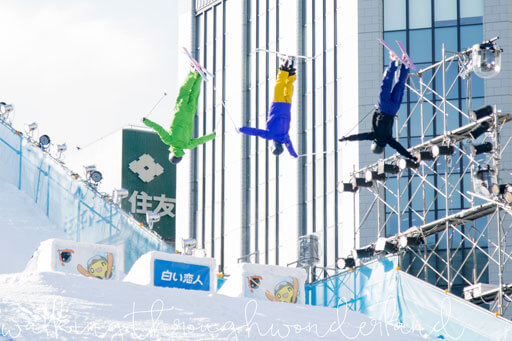 We visited the Odori site twice, once in the daylight and again after the sun went down. I think it was even more magnificent the second time, everything just glowed and there were dazzling light shows projected on some of the more significant structures.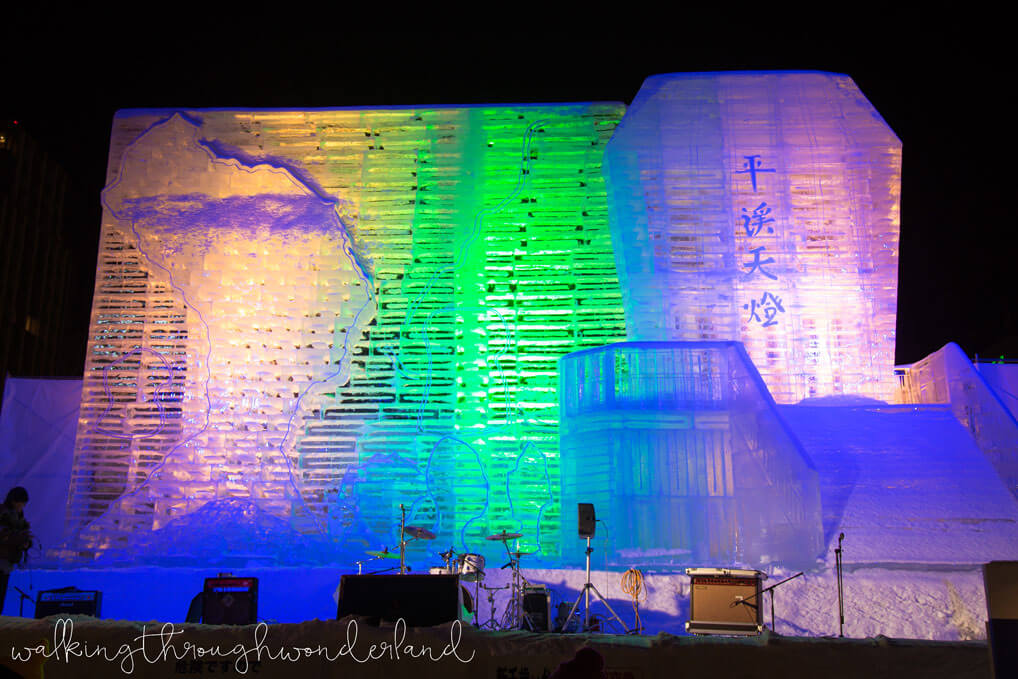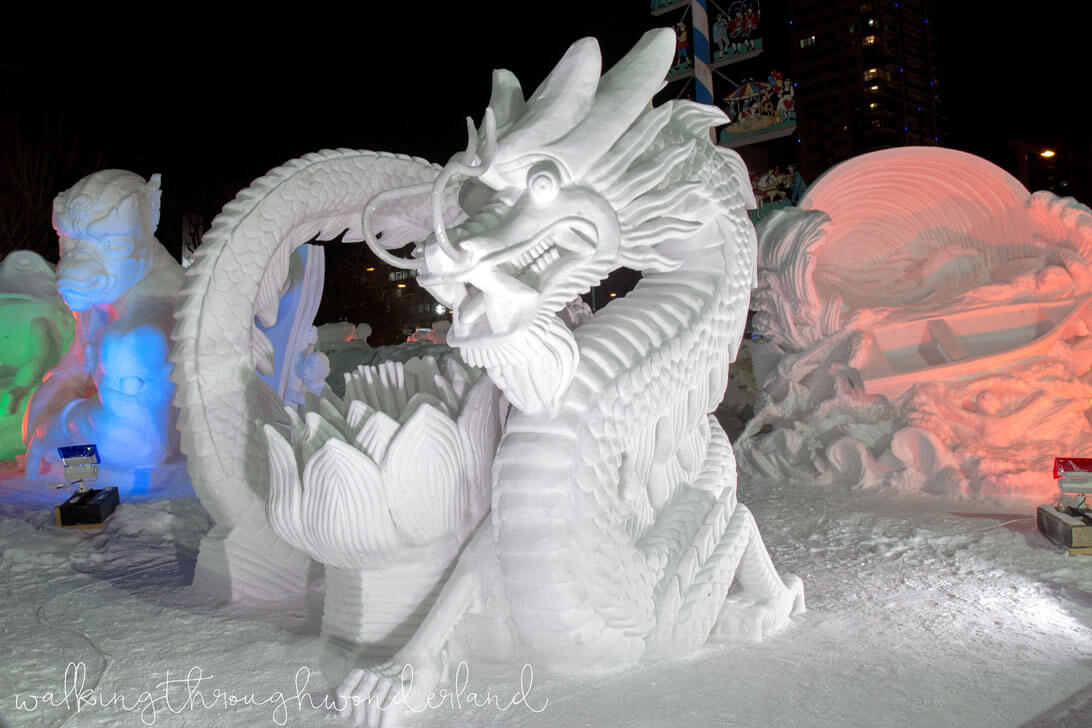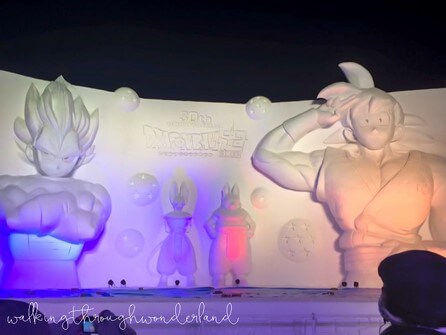 Tsudome
On the third day we headed out to the Tsudome, Sapporo Community Dome, for our third and final site of the Sapporo Snow Festival. I'm not going to lie… I was disappointed. I can see that this site might be a highlight for those with small children, but it was anticlimactic for us. They offer snow mobile rides and snowman building contests, an ice maze and bamboo skiing for kids. We did manage to find a "grown-up" sized slide that was pretty fun. It's the only site that is not walking distance from the others- you need to take the subway there and then walk about 3/4 of a mile, so that may have been part of what added to my disappointment. It's worth a visit, and probably unmissable if you are traveling with the 12 and under crowd, but if you are short on time- just spend those precious hours eating instead!
Which brings me back to food. (Again.) Interested in our two favorite culinary finds in all the land? Stay tuned for a post on "The Crab Castle" and the "Whiskey Room" coming later this week.