I love baths– Love them. However, I've never really considered bathing a particularly social activity. Until two weeks ago, most of my baths had been a pretty private affair, usually in the comfort of my own home.
Not anymore.
Months ago I heard about this incredible onsen down on Senaga Island. "A series of hot baths and saunas," it had been explained to me. It's been stated that I love baths- so this sounded like a great way to spend an afternoon to me! I asked my friend Laura (my grown-up adventure buddy) if she wanted to add it to the list for our Oki Adventure Days. She enthusiastically agreed and I didn't give it another thought. Later that night she sent me a text message suggesting we wait a week or two because she had just gotten waxed. I thought that sounded like a good reason to go as quickly as possible! She must have picked up on the fact that I didn't know why she was asking, because she responded with:
"You know they don't wax in Japan, right?"
No, I didn't know this, but I also wasn't exactly how they would notice my grooming habits so I wasn't particularly worried. That must have come across.
"You know that we have to be naked to go into an onsen, right?" she asked.
No, I didn't know this either.
Huh. So I had unknowingly just asked my friend on a naked date. And you know what? She was cool with it! That's when I knew our friendship was going to last. I googled onsens for the first time and realized it wasn't just a bunch of hot tubs as I had assumed. It was a bunch of hot baths. Read: no bathing suits allowed.
Laura had been to several onsens in mainland Japan, but never one in Okinawa. I'd clearly never been to one at all, but I was excited. A little nervous, but mostly excited. We made plans to go that Monday. On Sunday I broke my foot. "We might have to postpone our adventure for a few days." I texted her, unaware at the time that I'd spend the next months in a cast and baths would be a thing of the past. "I should be good to go by Wednesday though." False.
Finally, two weeks ago we made good on our plans!
Even after googling onsens, I still had no idea what to really expect. It was one of the coolest experiences I have had since moving to Japan so I'm going to break it down for you step by step. I'm even including a sketch of what the place looked like. I wish I could share pictures, but I can't, for very obvious reasons. So instead… I drew diagrams! That's how excited I am about this place!
When we arrived we slipped off our shoes at the end of a long hall. Very normal in Japan. There were shoe lockers off the hallway, so we left our shoes there and took the key with a number. Then we checked in at the front desk where they gave us each two towels. One about the size of a camping towel and the other somewhere between the size of a hand towel and a wash cloth. They gave us wrist bands with a number, a barcode and a key attached to them. As we walked to the locker room there was another set of lockers for "high value items". I had my camera with me, but this is Okinawa, so I figured it would be safe enough in the main lockers. The number on our band corresponded with our locker number so we used the key to unlock those and left all of our clothes there. Both of us wrapped our towels around our bodies, but others around us seemed unaffected by their nakedness.
The Japanese are traditionally quite conservative, so it's not as if nudity is particularly commonplace. We have no topless beaches and women tend to cover more of their bodies than you would find in many other cultures. But clearly in this setting, nudity was no issue to anyone.
As we left the locker room, Laura pointed out a small "shower" room, where we sat down at a counter to wash ourselves.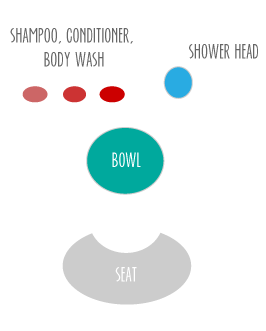 "I feel like this must have been how concumbines bathed back in the day," I whispered as we sat with expensive bottles of shampoo and conditioner and body wash displayed in front of us. When we arrived we were the only ones in the shower room. When we left each station was occupied.
Each "station" had a small seat, a bowl and a removable shower head on the wall. We wore our hair up- because getting hair in the water is an onsen no-no, so we decided we'd wait to wash our hair.
After lathering up and rinsing off, we entered the onsen. The onsen consisted of 7 hot baths, one cold bath, two saunas and a massage room, where we both got 30-minute salt scrubs.
The area was mostly outdoors, although there was a roof above us, and two of the pools overlooked the Red China Sea. You pay for your entrance and can stay as long as you want, so Laura and I went back and forth between hot baths that ranged in temperature from scalding to quite warm, and plunged into the cold bath (16° C) whenever we needed to cool off. My favorite baths were three terra-cotta pots that sat in the middle of the onsen. One person could sit in each of them, and we felt like bathing Anne Geddes babies as we soaked in them.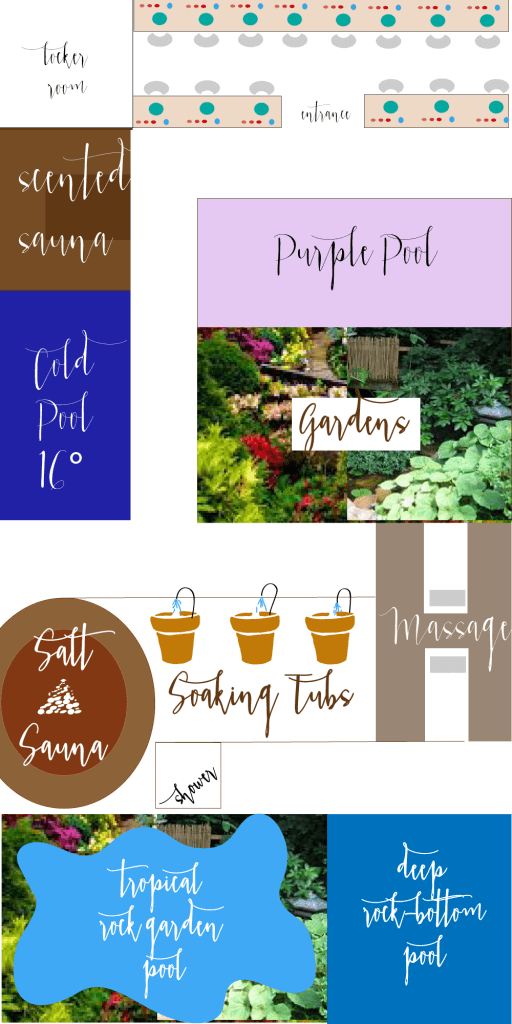 No one else spoke English, but one lady happily chatted with us in Japanese, acting out some of her gestures. We were able to gather that she respected us and viewed us as "champions" because we were able to withstand longer in the cold pool than anyone else at the onsen.
Onsen Champions. Success!
There were two saunas- one looked (and felt) a lot like a pizza oven, and had benches around the perimeter. There was a giant barrel of salt in the middle, and we would take handfuls of salt and rub it over our skin as we sat there and sweated. The second was a scented dry sauna with four levels of seating. There were hour glasses all over the room, so that people could tell whether they had been in for five or ten minutes. That was the room I found most unbearable. Even on our second try I don't think we lasted more than two minutes.
We arrived around 2 in the afternoon and moved from pool to pool until sunset, taking a break around 4 p.m. to look for water. We went into the locker room expecting to find multiple vending machines (which are as common in Okinawa as stray cats) but found only one. And it was FULL of glass bottles of milk. Hundreds of glass bottles of white or chocolate milk, but not a single bottle of water. I don't know about you, but when I'm hot and dehydrated, nothing sounds less appealing than a bottle of milk… but there were signs in the bathroom to "drink milk" and we looked around and other people seemed to be drinking them, so we thought maybe when you have been sweating for so long, milk becomes more appealing. We both got a bottle. As expected… they were not refreshing. But oh well. When in Japan.
We made appointments at 5:30 to have two nice Japanese ladies rub us down with more salt for 30 minutes. Laura said it looked like our skin came off in ropes. I wish I had looked but I was so relaxed I forgot to open my eyes. However, as I left my skin was softer than it's ever been.
We watched the sunset over the East China Sea from the "Deep Pool" whose floor was lined with stones. We could see people getting dinner on the terraces of Senaga Island and wondered if they could see us too. We didn't care, we realized.
By the time we left we felt refreshed, renewed and empowered. I was expecting the first two, but the third came as a pleasant surprise. When I first arrived, I was self consciously covering my body in between pools with my towel. As the hours went on and I realized that I was becoming more and more comfortable in my own wrinkly skin. No one expressed embarrassment or shame for their bodies. In fact, it seemed that everyone at the onsen, no matter what age or shape, embraced their bodies… even loved their bodies. We were all there taking care of the bodies that take care of us. The bodies that withstand all that we put them through every day. It felt good. It felt natural. It felt empowering.
…And when we saw bottles of Pellegrino lined up by the register (next to the milk) on our way out, we grabbed and gulped them. On our drive home we were both glowing, and only half because we'd left a layer of skin behind. We'd just spent an entire afternoon catching up and "chillin"… naked.